CONTENTS
Section 1: PURPOSES AND TYPES OF SIGNAL GENERATORS
Section 2: A-M SIGNAL GENERATORS
Section 3: MARKER GENERATORS AND CALIBRATORS
Section 4: SWEEP GENERATORS
Section 5: FREQUENCY CHARACTERITICS
Section 6: OUTPUT-VOLTAGE CHARACTERISTICS
Section 7: TERMINATING, MATCHING, AND GROUNDING
Section 8: PRINCIPLES OF SWEEP-RESPONSE ANALYSIS
Section 9: HOW TO SET UP FOR TV SWEEP ALIGNMENT
Section 10: OTHER SIGNAL-GENERATOR APPLICATIONS
I. A-M RECEIVER ALIGNMENT
II. A-M RECEIVER PERFORMANCE TESTS
III. GENERAL A-M SIGNAL-GENERATOR APPLICATIONS
IV. GENERAL APPLICATIONS OF SWEEP GENERATORS
Section 11: SIGNAL-GENERATOR MAINTENANCE AND TESTS
---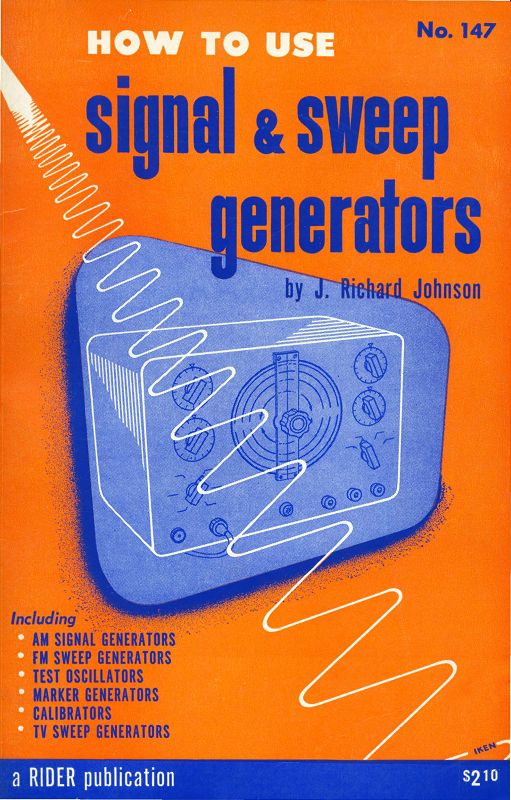 This guide is based on the above 1953 book.

PREFACE

Signal and sweep generators are of great value and importance to any radio or tv serviceman, experimenter, or student. While much has been written about the theoretical aspects of these instruments, there has been a scarcity of information about their actual manipulation and applications to practical problems. This book aims to provide just such information. The emphasis in on the methods of setting up the instrument, setting the controls, making proper connections, use of accessories, and the general techniques of operating the instrument itself. It felt that many people who are now hesitant about using signal and sweep generators to their full capabilities would, after receiving this information, be able to put them to their full use.

The book includes sufficient information about the fundamentals of generator operation to make the purpose and reason for all practical steps clear. Otherwise, theory discussions are avoided in favor of practical instruction. Besides its appeal to radio service technicians, experimenters, hobbyists, and radio amateurs in the field, the text should be a valuable aid in radio and television laboratory courses of technician schools.

The book is written in such a way that the reader need have only that basic knowledge of electricity, radio, and electronics possessed by most members of the groups of readers mentioned above. It is designed to tell him, specifically:

(1) The types of equipment available.

(2) Their basic principles of operation.

(3) Controls and adjustments, what they are, their purposes, and where to find them.

(4) How to set up and adjust generators for various applications.

(5) How to maintain, generators.

The practical flavor and authenticity of the text were greatly enhanced by the cooperation of the John F. Rider Laboratories, whose facilities were made available to the author for gathering important practical data. In addition, the author wishes to thank Milton Snitzer, managing editor of John F. Rider Publisher, Inc., for his helpful technical editing, corrections, and additions to the book.

It is my earnest hope that this book will enable many more to derive the great benefits of full and complete use of signal and sweep generators.

Sept, 1953; J.R.J.
---
Also see: Servicing by Signal Tracing (1939)
More Advanced Uses of the Multimeter (1989)