---
---
By Ralph W. Wight
[About the Author: From 1951 to 1958 Ralph W. Wight was Manager of the Recording Equipment Division of Westrex Corp. with headquarters in Hollywood, Calif. In 1958 Westrex Corporation was sold to Litton Industries under the terms of a consent decree entered into between the United States Justice Dept. and AT&T Company. In 1959 Mr. Wight became Vice President of the Westrex Division of Litton Industries, and in 1960 was made Vice President of Litton Systems, Inc.
From 1962 to 1972 Mr. Wight was President and Vice President of Technical Products Engineering Co., which he formed to engineer, manufacture, and install radio communications control center equipment for governmental subdivisions such as police, sheriffs, and fire departments.
In 1972 Mr. Wight formed Ralph W. Wight Associates, a consulting organization working in the radio communication control center field and associated areas. The firm currently has offices at 10920 Wilshire Blvd., Los Angeles, Calif., 90024. ]
IN THE Home Furnishings Daily of Thursday, September 26, 1957, out of New York under the by-line of Henry Brief, it was pointed out that "the future of stereophonic sound, which has been closely linked with tape and tape recorders in the past few years, may now have to share or perhaps even be dominated by stereo phonograph records." The article then described the recently developed stereophonic disc recording and reproducing system being shown to the record industry by Westrex Corp., then a wholly-owned subsidiary of Western Electric Co.
Subsequent events bear out Mr. Brief's appraisal of the situation. However, the events leading up to the final acceptance of the Westrex 45/45 System as the American standard, make a very interesting story.
---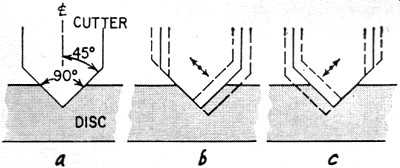 above: The basis behind the wrong idea that each channel is cut into one wall of the groove in the 45/45 system: a - no modulation; b - modulation in channel 1 appears to cut only the right wall; c - modulation in channel 2 appears to cut only the left wall. See RFcafe for more info.
---
Prior to the introduction of the "StereoDisk," the record industry had been stumbling along the best way it could in the face of competition from tape in the home entertainment field.
The ready adaptation of tape to stereo left the record people with practically no place to go and business was showing the effects. Indeed most record producers were swinging into the tape field as fast as practical, but none were happy with the price of the end product nor were they willing to give up on records. By March of 1957 the stereo tape business was undergoing a phenomenal boom, and it was felt that a stereophonic record at approximately half the price would greatly broaden the market.
Because of the early success of its tape program, RCA had decided to also explore all developmental work going on associated with the recording and reproducing of stereo on records. Major Westrex disc recording licensees at that time included RCA, Decca, Columbia, London-Decca, and others. All were clamoring for a competitive stereophonic record system and were following any lead, foreign and domestic, in this direction.
BY September of 1957 RCA had become the largest single user of 1/4-in. tape in the country, recording six million feet a week for home entertainment use.
For a year prior to the height of the tape boom, Westrex had been quietly working on a stereo cutter to replace the outmoded monaural Westrex cutter. The new cutter was to be capable of functioning with the many Western Electric and Westrex feedback amplifiers then in use.
Development of the new cutter progressed slowly on a more or less routine basis in the Westrex Hollywood laboratory until on August 16, 1957, when out of the blue, a call was received from A.L. McClay, General Manager of Record Manufacturing and Engineering at the RCA Victor Record Division in New York City, telling us that "if we had anything to show on stereo for records, we had better do it and do it now." Otherwise the industry might be forced to accept a vertical-lateral system being promoted by Sugden of England and Telefunken of Germany. This telephone call was based on information obtained by RCA's Allen Pulley (Manager of RCA's recording studio in New York City) on a recent trip to England and the Continent where he had listened to a demonstration of the Sugden vertical-lateral stereophonic recording system, both the recorder and reproducer having been designed and built by Sugden. Pulley reported that the reproduced quality would be quite acceptable commercially and that Sugden was then working on some 10 recorders which were about 15 to 20 percent complete when he visited the plant. Design problems were being experienced with the reproducer but it was thought that reproducers would be available in limited quantities by the first of 1958.
Pulley next visited London-Decca where their Dr. Haddy was experimenting with vertical-lateral recordings made on a Telefunken recorder and played back on a reproducer developed by Dr. Haddy. Pulley reported that the quality of reproduction there was also quite acceptable, and he had been advised Telefunken was in a position to go into manufacture on their vertical-lateral recorders at once. Because of the progress reported from two different sources in Europe, McClay was very anxious to find out what progress Westrex was making. He felt it was imperative that the Westrex position be made known not only to RCA but to the other licensees at the earliest possible moment, since it was felt that, from the progress reported from Europe, the market might be flooded with European vertical-lateral stereo recordings within the next six months.
Even though Westrex had only two hand-made models of the new StereoDisk cutter, it was decided that the system should be unveiled immediately. It was also decided that the first exposure should be at the engineering level and that it should be done in Hollywood. Arrangements were made at once for such a demonstration.
Appropriate listening facilities were set up in the Hollywood laboratory of Westrex and engineering representatives of all interested organizations were invited to attend a single session so that there could be no possible complaints of favoritism. The demonstration was held on August 26, 1957.
Dr. Haddy of London-Decca came and brought with him a trunkful of equipment plus vertical-lateral recordings he had made on the Telefunken recorder. He also brought his own hand-made reproducer, and displayed some excellent test material.
Westrex had not advanced very far in the development of a reproducer, but had one in the design stage. The first Westrex test reproducer consisted of two ESL cartridges taped together. The reproducer built by Dr. Haddy was a superior device which appeared to function equally well on either vertical-lateral or 45/45.
Dr. Haddy's demonstration material had been developed over a considerable period of time and was excellent. The Westrex 45/45 material was also excellent, particularly when played back via the London-Decca reproducer.
An interesting facet of the demonstration was the reaction of the audience, many of whom had never heard stereo from a phonograph record and did not know quite what to expect. A representative of one of the major companies, whose responsibility had been that of furniture and packaging of home entertainment systems, expressed the opinion that he had been through similar demonstrations many times and had yet to hear any new development involving an improvement sufficiently outstanding for the average customer to detect. The listening room where the demonstration was held happened to be an almost optimum size and shape and had been treated acoustically to provide the correct reverberation time for this type of use. Two Altec professional corner-type two-way speaker system were used and placed for the most pleasing effect.
Capitol Records, although not a Westrex licensee, was located close to the Westrex laboratory and furnished invaluable cooperation and assistance in providing test material. The material initially used for the demonstration was obtained by re-recording Capitol's tape "Introduction to Stereo" (with which most everyone is familiar) to the Westrex StereoDisk system. Facilities were provided in the laboratory so that the original tape and the re-recorded StereoDisk version could be played back in the listening area.
Switching facilities were provided to permit instantaneous comparisons between both types of material. Colored lights indicated the material to which the audience was listening.
At no time did the demonstration take on the appearance of a contest between vertical-lateral and the Westrex 45/45. This was easily accomplished since neither London-Decca or Dr. Haddy were equipment suppliers. They were simply concerned with doing what they could to come up with a better product to help bail the industry out of an insecure business situation.
Various tests and counter tests were made, listening to Westrex recordings on Westrex equipment and London-Decca recordings on Westrex equipment, the process then being reversed to play the same material in all possible combinations. We were careful to seat the obvious skeptics in the preferred location. After only three or four revolutions of the turntable, our firmest skeptic stood up and said "I see what you mean." After a full day of listening it was the consensus that, while both systems exhibited excellent reproducing characteristics, it appeared the Westrex 45/45 system was the more practical since it recorded two separate recordings of identical sound quality and therefore did not require different electrical equalization characteristics for each track, as would be required with vertical-lateral.
Another governing factor was that a vertical recording/reproducing system was more susceptible to turntable rumble than a lateral system.
Thus, if rumble was present on the vertical-lateral, it would be more pronounced in one channel than the other. While the Westrex 45/45 system appeared to have more susceptibility to turntable rumble than a conventional lateral system, at least the rumble was the same in both channels.
While it was by no means the prerogative or responsibility of those attending this Hollywood demonstration to set the standard for the industry, the reaction of those present actually accomplished exactly that. The Westrex 45/45 system was formally adopted as the American standard by the Record Industry Association of America (RIAA) on December 27, 1957.
Immediately after to the initial demonstration, tremendous pressure was put on Westrex to supply cutters to its licensees. As a stopgap measure, it was agreed that a sufficient number of units would be hand-made to provide one cutter to each licensee at the earliest possible moment, after which Westrex would go into production on a substantial quantity of cutters on a routine basis.
Additional demonstrations were made on October 11, 1957, before the 9th Annual Convention of the Audio Engineering Society held in New York City. The following week further demonstrations were made at the Park Sheraton Hotel in New York City for record and phonograph company representatives.
IN looking through various old records recently, I came upon one entitled "Westrex StereoDisk Recording, Heifitz-BSO-Beeth. Conc." Also scratched in the surface was the name "C.C. Davis 7-12-57." This record is the original first full-length cut on the experimental model of the Westrex 45/45 feedback cutter. Although there are a few ticks and pops, the record exhibits excellent sound quality and an amazing dynamic range. The material looks like an early vinyl-type base.
Charlie Davis, more than anyone else, was the moving spirit in development of the Westrex 45/45 cutter.
His contributions to this form of entertainment have gone largely unrecognized although many of his basic equipment developments and operating techniques are still being practiced. Davis, however, cannot be given credit for the "invention" of the 45/45 system since the Bell Telephone Laboratories had anticipated the possibility of this type of recording in patents issued to them covering certain elements of the early "hill and dale" vertical recording method as well as those covering the Western Electric lateral feedback monaural recorder.
During his lifetime, Charlie Davis made three significant contributions to sound recording and reproducing.
His first contribution was the development of the " Davis Drive," used in film recording machines by professional motion picture agencies throughout the world. The Davis Drive involved the first "Tight Loop" mechanical filtering system resulting in a uniformity of film motion which set new worldwide standards. The basic principles of this system are still in use by most manufacturers of film recording and reproducing equipment.
Davis applied the same design philosophy he used in high-speed film-pulling mechanisms to low speed disc drives and came up with the same accurate mechanical motion. Low-frequency flutter and wow has not been much of a problem for many years in the disc recording and reproducing field because of his pioneering work. Uniform motion is no longer a problem even in reasonably inexpensive drive mechanisms.
Charlie Davis was very ably directed in his efforts by Dr. John G. Frane, Engineering Manager of Westrex for a long period of time. Dr. Frane is well known and highly respected for his contributions to the technology of professional motion picture recording, as well as the disc recording and reproducing field.
Others who played a prominent part in making the 45/45 system the American standard and bringing it to its present state of perfection include Bill Miltenberg and Bob Moyer of RCA; Dr. G.F. Dutton of the Record Division of EMI, Hayes, Middlesex England; Ed Uecke, Chief Engineer of Capitol Records; Dick Crane, Bob Davis, and Ed Dickinson of the Westrex Hollywood laboratory, and many others. Enjoy their efforts!
(Source: Audio magazine, Mar. 1975)
Also see: A History of Home Recording (Apr. 1975)
Direct Metal Mastering-- A New Art In LP Records (April 1987)
= = = =