---
---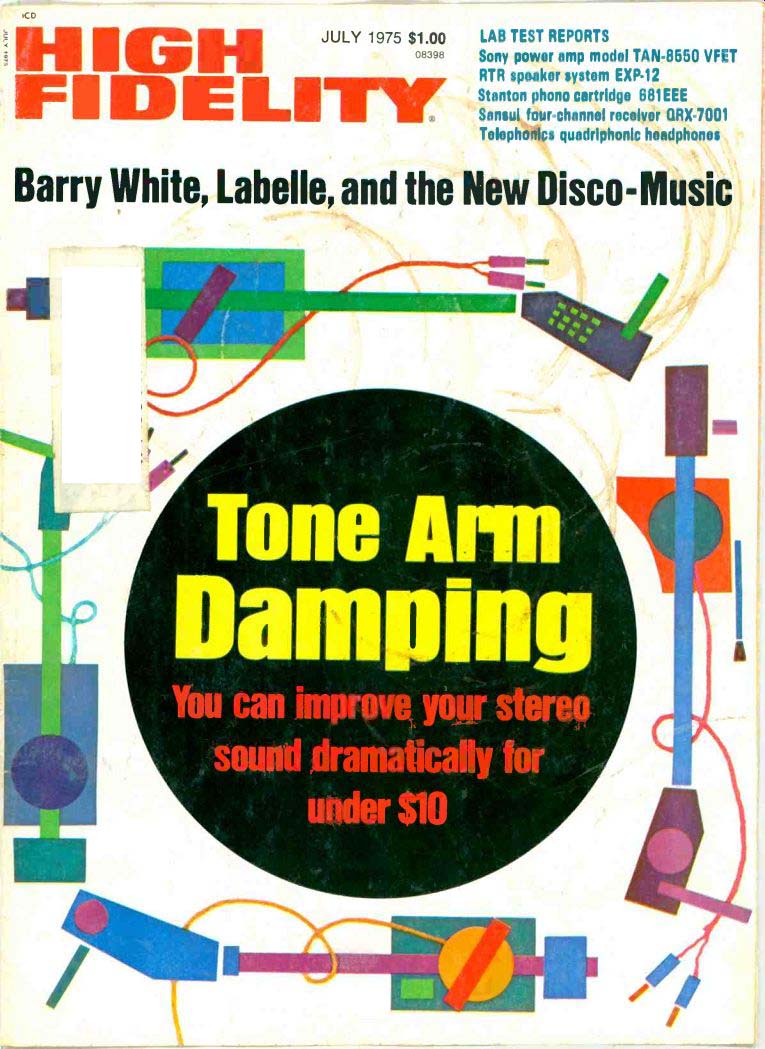 High Fidelity (USA print magazine) was published from April 1951 until July 1989 covering audio and high fidelity audio equipment, FM radio, FM stereo, video equipment, audio recordings, and related fields. In mid-1989, the title was acquired by Stereo Review, which began adding "Incorporating High Fidelity" on the cover of the October, 1989, issue. High Fidelity was founded by Milton B. Sleeper, a noted radio designer and publisher and began with a technical emphasis which soon broadened in to all aspects of consumer audio and recordings.
---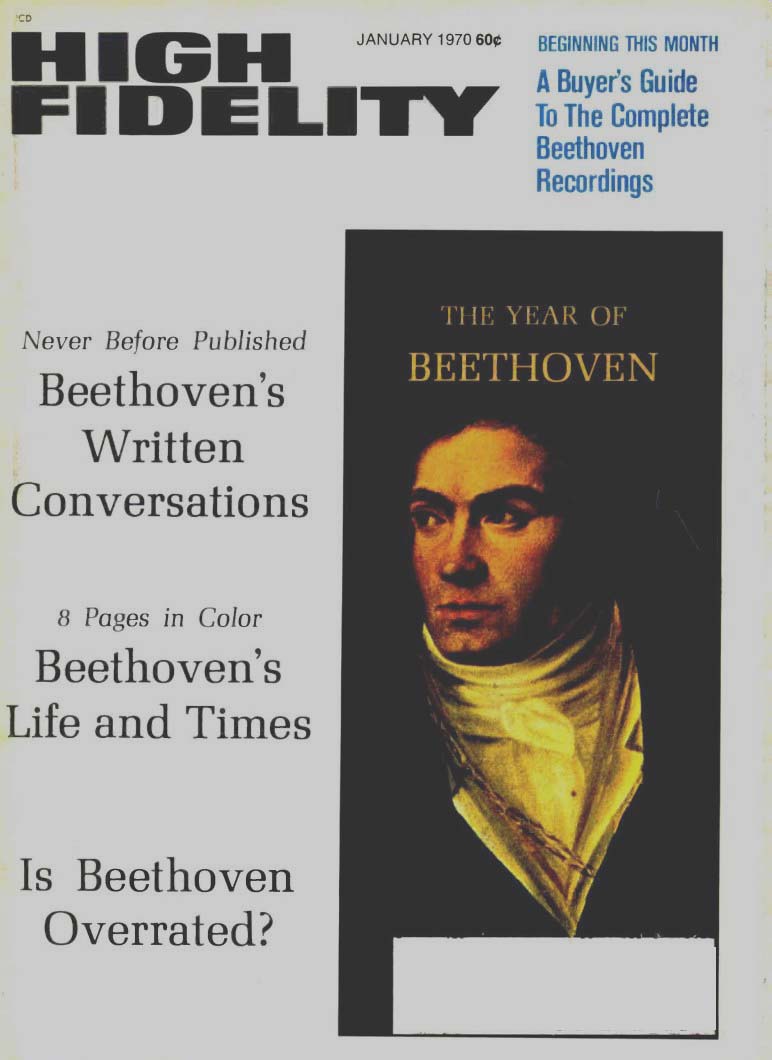 (Jan 1970)
music and musicians:
audio and video:
recordings:
etc.:
ADs:
---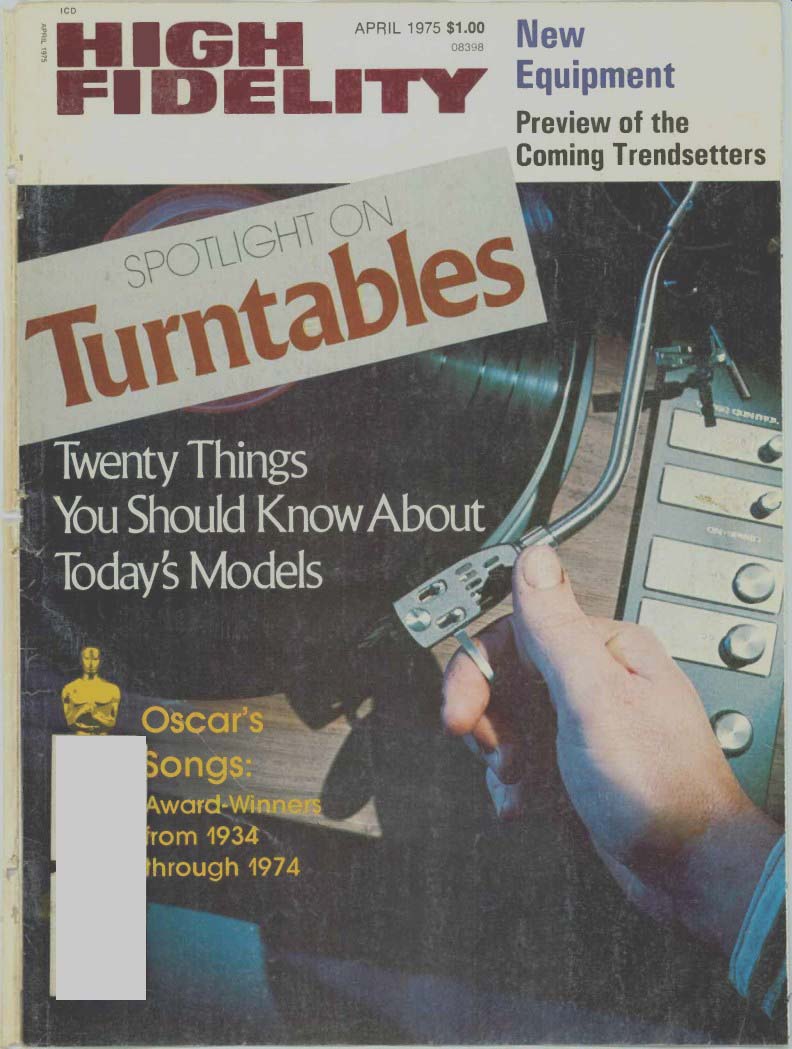 (April 1975)
Music and musicians:
Audio and video:
Record reviews:
Etc.:
ADs:
---
(July 1975)
Feature Articles:
Depts:
Equip. Reviews:
Music and Recordings:
ADs:
---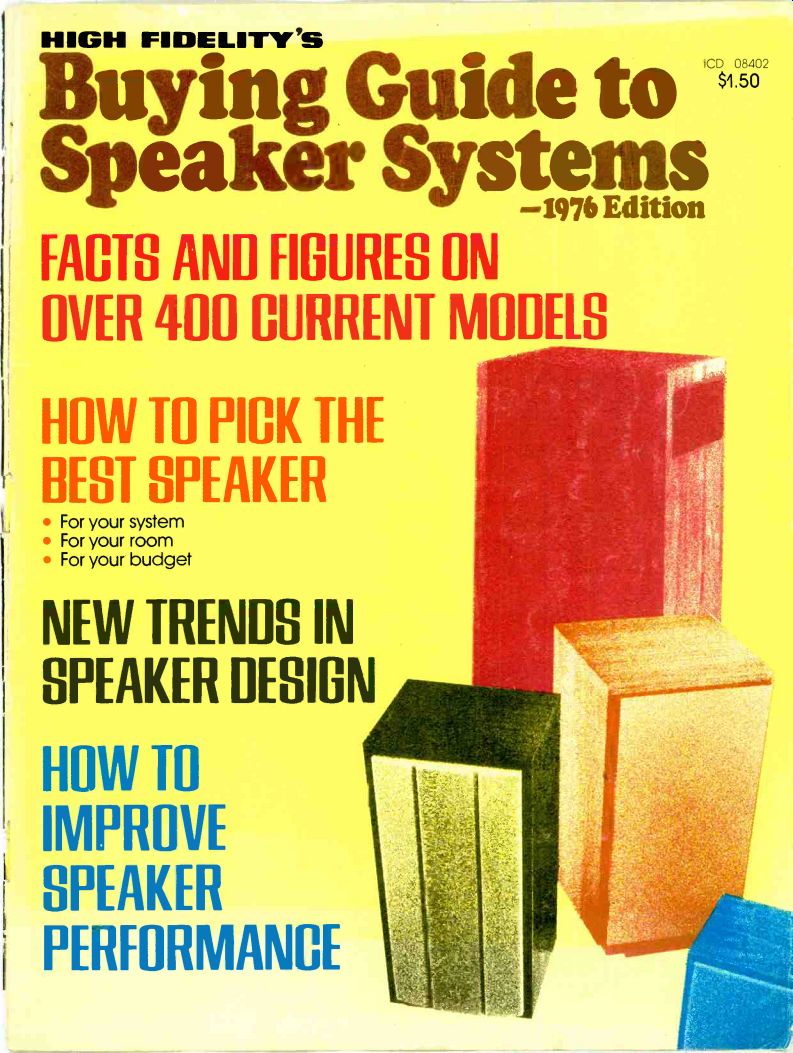 (Guide to Speaker Systems--1976 Edition)
Features:
HOW SPEAKERS WORK--All speakers make sound, but some make it differently than others.
HOW to CHOOSE YOUR SPEAKERS--A guide to test reports plus hints on running your own listening tests.
HOW to INSTALL and LOCATE YOUR SPEAKERS--How the listening room affects sound, recommended placement for best stereo and best four-channel setups; Tips on wire size.
BUYER'S GUIDE to SPEAKER SYSTEMS--A complete listing of available models from various manufacturers giving important design and performance features, sizes, prices.
GLOSSARY--Definitions widely used in speaker systems.
EDITORIAL -- Introducing the wonderful world of speakers.
MANUFACTURERS' DIRECTORY--Names and addresses of speaker companies.
OMINIDIRECTIONAL SPEAKERS: PRO and CON -- Just what are they and how good are they?
ADDING SPEAKERS for SPECIAL EFFECTS--What they can accomplish, and how to connect them.
CUSTOM TAILORED SOUND--Special equalizers and how they improve speaker sound; the experience of ''tuning" a room.
Ads:
Analog and Digital Systems (ADS)
---
(April 1977)
Selected Feature Articles:
Depts:
Equip:
Music / Recordings:
ADs:
---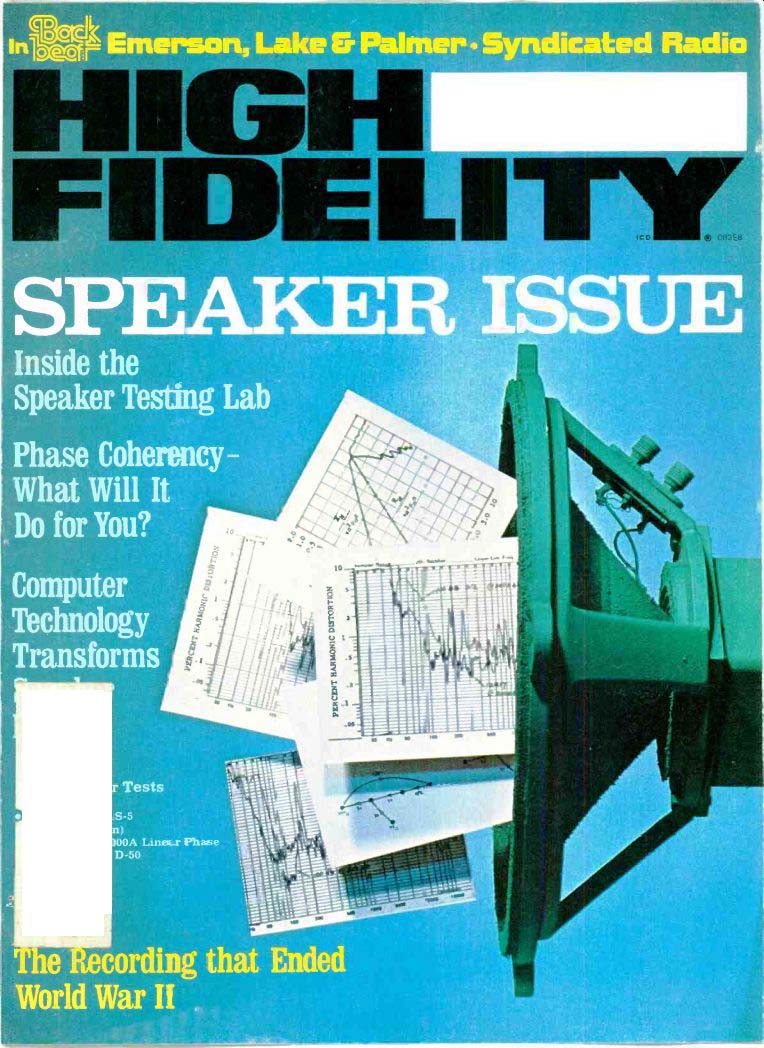 (Oct. 1977)
Depts:
Selected Feature Articles:
Equip:
Music / Recordings:
ADs:
---
(Nov. 1977)
Depts:
Selected Feature Articles:
Equip:
Music and Recordings:
Backbeat:
ADs:
---

(Jan. 1979)
Depts:
Feature Articles:
The Anatomy of Magnetic Pickups
Reviews:
Equip. Reviews (Audio and Video):
Five Mainstream Single-Play TURNTABLES
Marantz Model 5030B cassette deck
Nagatron HV-9100 phono cartridge
SAE Model 2900 stereo preamplifier
ADs:
Philips Project 7 Series turntables
Tandberg TR 2080 stereo receiver
---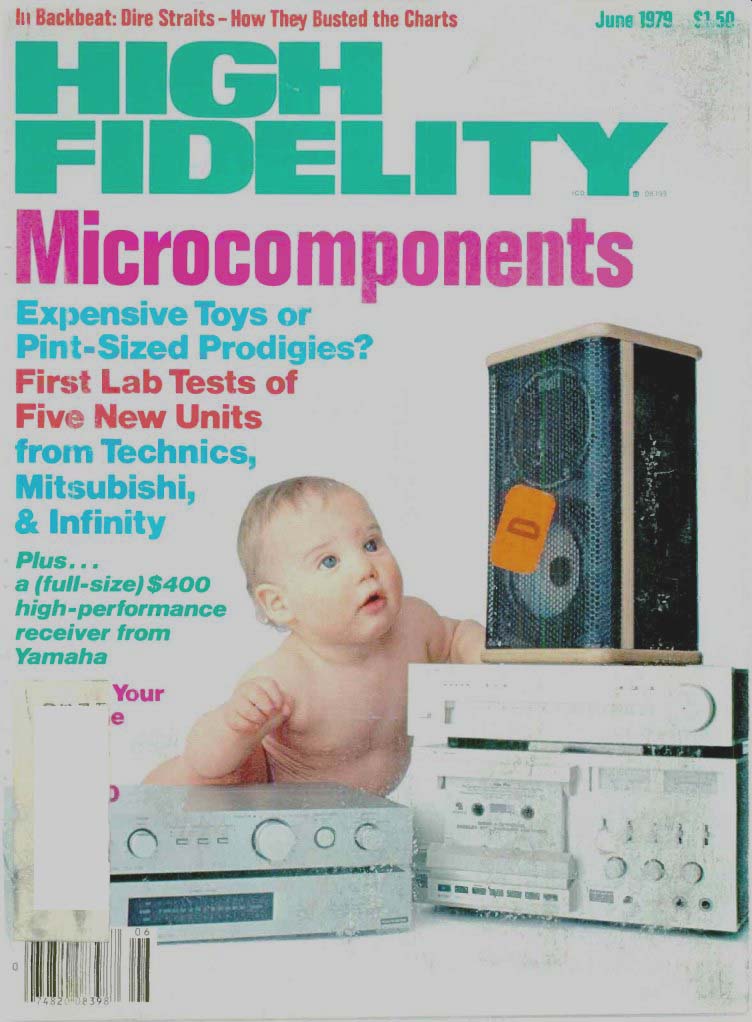 Depts:
Letters
Equip. Reviews:
Infinity InfiniTesimal Loudspeaker System
Mitsubishi Model M-F01 stereo FM tuner
Mitsubishi Model M-T01 cassette deck
Technics Model SU-001 stereo preamplifier
Technics Model SE-C001 stereo/mono power amplifier
Yamaha Model CR-640 stereo FM/AM receiver
Feature Articles:
The Pickup/Preamp Confrontation
TRACKING-ANGLE ERROR: A NEW SLANT
Why--and Whither--Micros?
Music and Recordings:
New Releases -- John Williams / Superman
ADs:
Bose Spatial Control Receiver
Klipsch La Scala speakers
Meteor Vamp1
Osawa High Performance Phono Group
Philips Direct Control turntables
SAE -- Scientific Audio Electronics, Inc.
Sansui AU-919 integrated amplifier
Sparkomatic Corporation (car audio)
---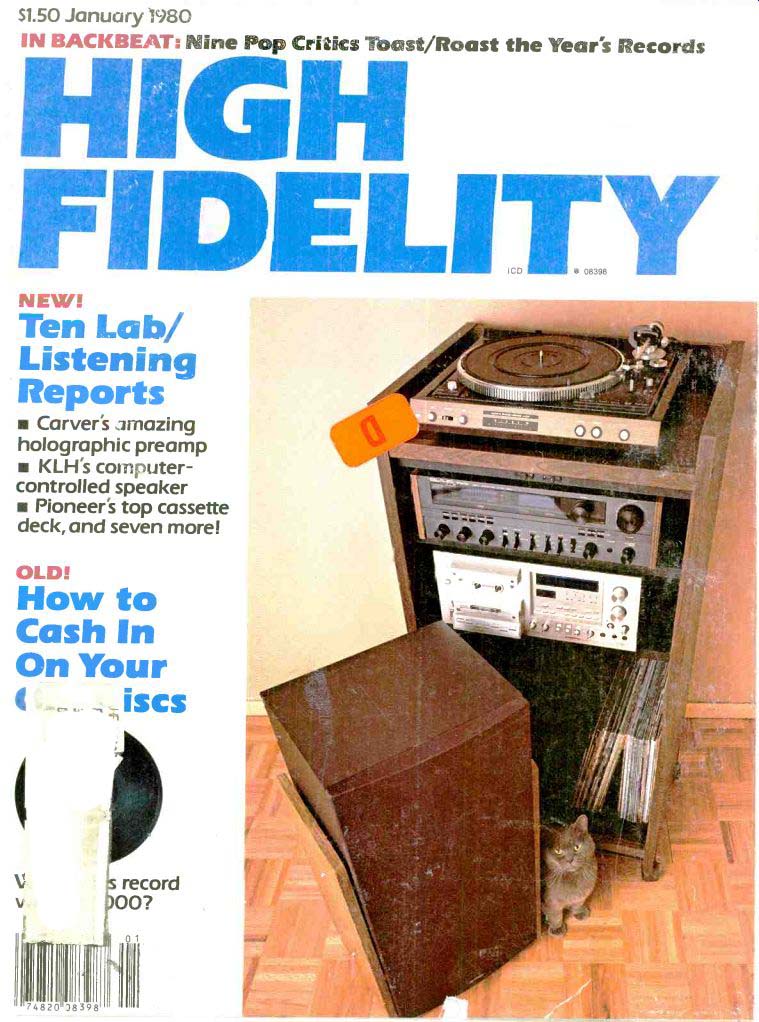 (Jan. 1980)
Music and Recordings:
Are Your Old Records Worth $$$?
Depts:
Equip. Profiles:
Carver Model C-4000 preamplifier
KLH Model 3 loudspeaker system
Ortofon Concorde 30 phono pickup
SAE Two Model R-6 stereo FM/AM receiver
Phase Linear Model 5100 Series II tuner
Pioneer CT-F1250 cassette deck
Dual CS-7310 automatic single-play, direct-drive turntable
Spatial TVA-1 preamplifier
ADs:
Aiwa AD-6900MK II cassette deck
Bang & Olufsen MMC 20CL phono cartridge
Sound Guard Total Record Care System
Technics SL-1600 MK2 turntable
---
(Jun. 1981)
Et Cetera:
Audio:
Music/Musicians:
Backbeat:
ADs:
---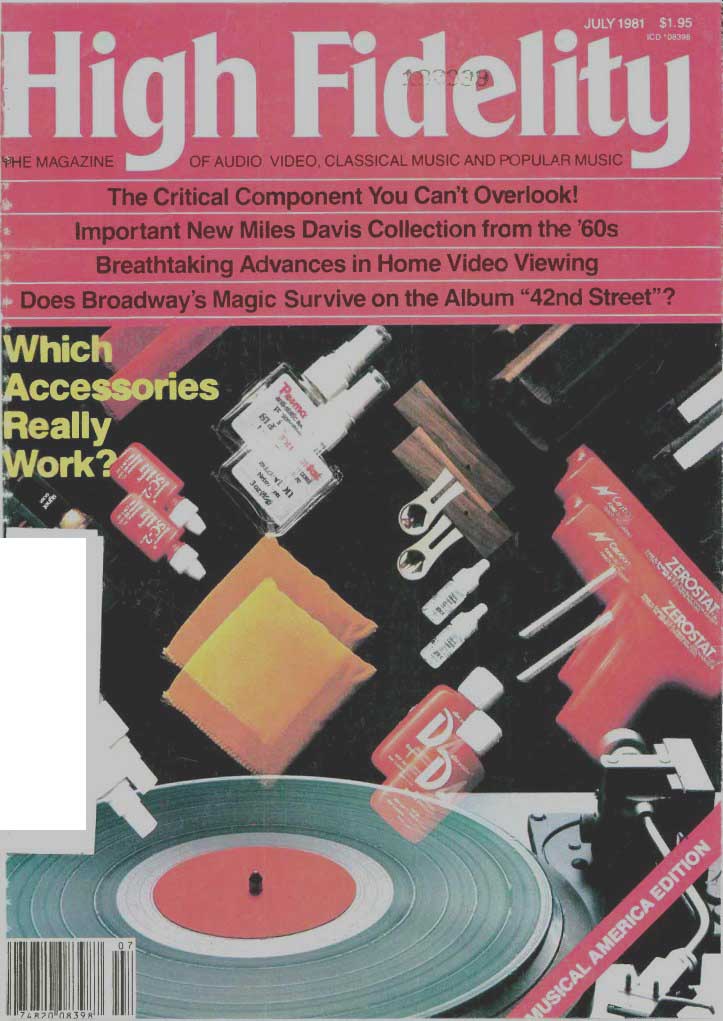 (Jul. 1981)
Audio:
Classical Music:
Backbeat:
Depts:
ADs:
---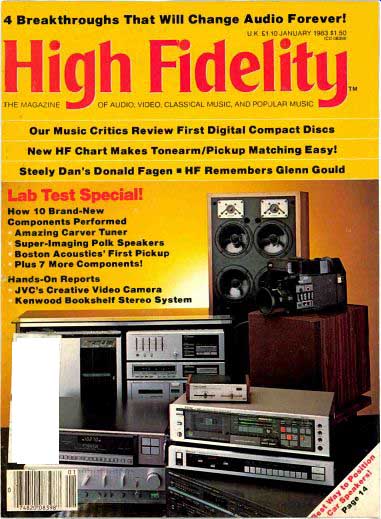 (Jan 1983)
Depts:
Selected Feature Articles:
Equip:
Music / Recordings:
---