---
---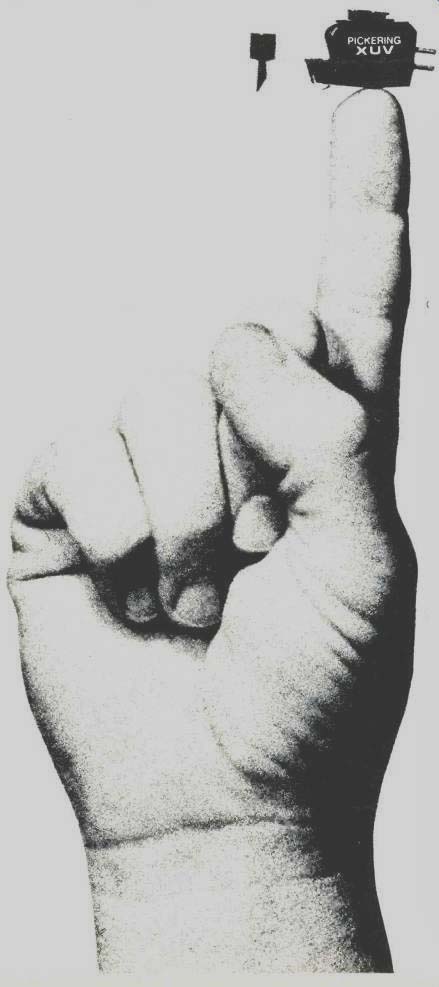 The source of perfection in sound ... tracks at one gram (or less) in stereo and discrete.
Frankly, perfection doesn't come easily.Pickering's engineers pursued the idea of a totally new departure in cartridge design with all the zeal of true crusaders.
They had a reason ... there was a demand for a pickup to play both stereo and discrete (as well as SQ and QS) with total and absolute precision at one gram.
That they succeeded is a remarkable achievement because this cartridge successfully tracks all types of records at forces even lighter than one gram. It is a real first to do it this accurately.
The Pickering's XUV/4500Q possesses excellent performance characteristics that provide outstanding frequency response and separation beyond 50 kHz. These improvements make possible the most faithful reproduction of the 30 kHz FM modulated material on discrete records.
It is noteworthy that Pickering's exclusive, new design development, which provides superior 4-channel discrete performance, also greatly enhances the reproduction of stereo records.
The XUV/45000 features Pickering's patented Quadrahedral stylus assembly.
The Quadrahedral stylus assembly incorporates those features that produce extended traceAbility for 4-channel as well as stereo. This means that it possesses not only superior performance in low frequency tracking, but also in high frequency tracing ability. When combined with the exclusive Quadrahedron stylus tip, a brand new shape, it can truly be called: "the Source of perfection in Sound", whether the playback requirement is stereo, SO, QS or discrete 4-channel.
The specifications are so exciting that we hope you will write to Pickering and Company, Inc., Dept. A 101 Sunnyside Blvd., Plainview, New York 11803 for further information.

PICKERING--"for those who can hear the difference"
(Audio magazine, June 1975)
Also see:
Pickering phono cartridges (Oct 1970)
Pickering XSV/3000 phono cartridge (Dec. 1976)
Basics of Turntables (June 1975)
= = = =