---
---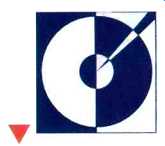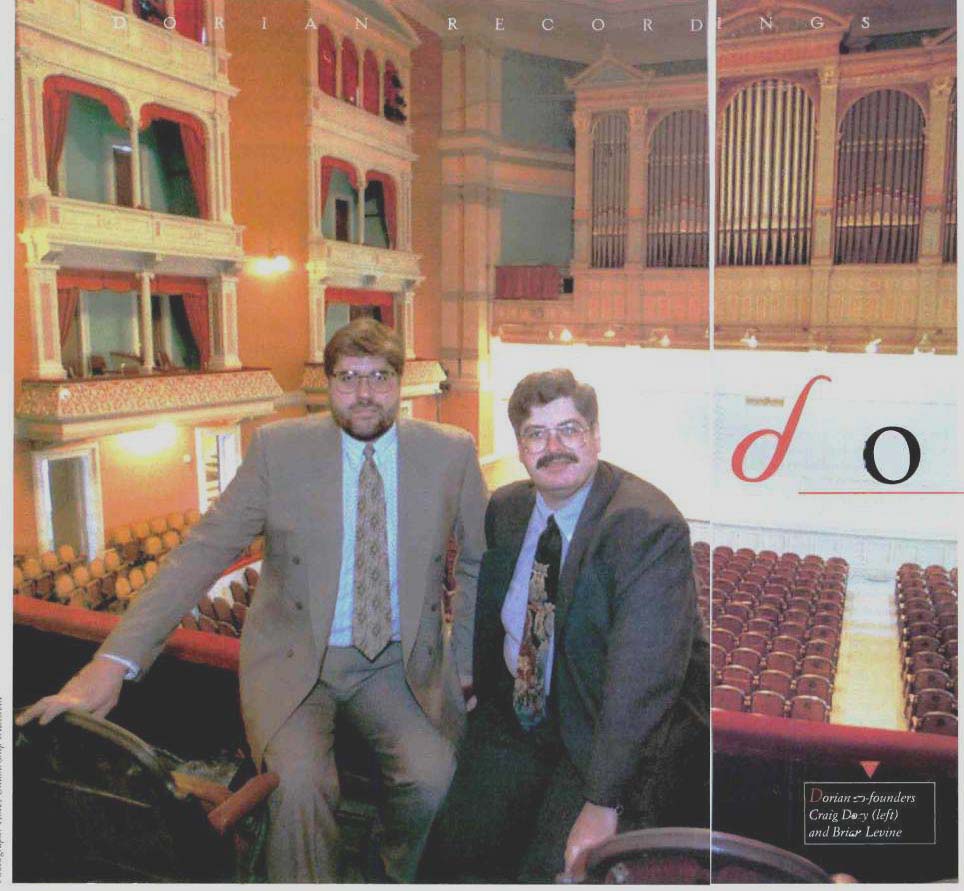 above: Dorain founders: Craig Dory [left] and Brian Levine
by David Lander
Troy, New York--it's inauguration day. President Clinton has advocated harmony, and Ken Kolodner, Robin Bullock, and Laura risk oblige him joyously. Kolodner is a dulcimer virtuoso and, accompanied by bullock on guitar and Risk on fiddle, he's playing in the troy savings bank music hall, a theater that was built during Ulysses S. Grant's administration. The music hall was a grateful bank's gift to the community, and a very lavish gift at that; it cost $435,000 to build. Its seats are empty tonight, but the performers have a captive audience. Closeted in a balcony-level control room, Brian Levine, David Walters, Doug Brown, and I listen through monitors to music being played and recorded for a future Dorian CD.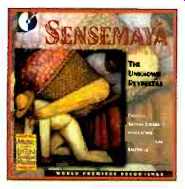 Levine is one of two Dorian principals. In 1988, he and Craig Dory set up shop in Troy to take advantage of a hall so acoustically sweet that conductor George Szell vowed he'd stand in front of it with arms outstretched if it were ever slated for demolition. Walters, the producer of this recording, is an Indiana-bred classical pianist who came to Dorian from the Tonmeister program (which combines music and music production) at Berlin's prestigious Hochschule für Musik. Brown, a bass trombonist with experience playing in orchestras here and abroad, is temporarily sitting in as engineer for Dory, who is out sick.
All four of Dorian's producer/engineers are seasoned musicians who, like members of a submarine crew, can fill in for one another. At just past 18:00 hours on this session's second day, Walters and Brown navigate the sound waves with palpable skill. Seated behind a folding table, they gaze dead ahead at a pair of Waveform monitor speakers mounted on cinder blocks, and Brown occasionally grabs a nearby pair of Stax electrostatic headphones. Their ears tell them all they have to know about the performers, who are out of sight; they detect off-pitch notes as readily as sounds that bloom unpleasantly.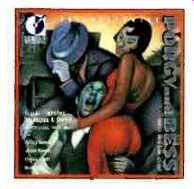 After a year and a half of law school, Brian Levine just couldn't see himself in that profession, so he signed on as a research associate with a Canadian government agency.
Nearly two years later, he entered the nonprofit sector. While moonlighting in the classical music field and managing the organist Jean Guillou, Levine met Craig Dory. It was Dory who led him to the Troy Savings Bank Music Hall.
A colleague who accompanied them on that 1986 visit was able to play the resident piano, a Steinway D. Though the instrument, then about 30 years old, was only "in reasonable shape," hearing it was enough to stun Levine, who immediately understood that "something really, really remarkable was going on acoustically. My mouth dropped open," he recalls. "It was an astonishing experience." He also marveled that this lovely old concert hall was "hidden away" in a town he hadn't so much as heard of until shortly before his trip.
It its April 1875 premiere performance, the Troy Savings Bank Music Hall was somewhat more grand than it is today. The frescos that adorned the 60-foot-high ceiling are gone, as is the magnificent chandelier that boasted 14,000 hand-cut French prisms. (Initially, they reflected light from 260 gas burners, but Troy's fire marshal ordered the last of the hall's gaslights removed after a dressing-room lamp ignited a ballerina's headdress in 1928.) A century ago, the Music Hall could have been compared to a princess. Now a dowager, she retains many of her original details: Multistory stained-glass windows continue to gaze down on the lobby, and an ornate iron staircase climbing to the balcony level reminds visitors that Troy was once a leading manufacturer of cast iron. The auditorium's seats also are framed in old iron and, over horsehair padding, wear their original leather upholstery. The seats provide minimal comfort, but the bank, which still owns the facility perched atop its downtown headquarters, is reluctant to make changes that might impair the hall's vaunted acoustics.
Just how good are those acoustics? Consider the opinion of Harold Schonberg, who for many years covered classical music for The New York Times "It was a startling experience, being exposed to such raw, detailed yet colorful power," he wrote after hearing an orchestra perform at the Music Hall in 1971. "Only Boston's Symphony Hall, in this country, begins to match this kind of acoustic response." After Dorian was established, Dory, its chief engineer, relocated to Troy from New Jersey while Levine, who oversees artists and repertory, remained in his native Toronto. About six times a year, Levine takes a nine-hour train trip to Troy, where he usually stays for about two weeks. A lifelong big-city resident, he never learned to drive, which can make these visits even more taxing.
Nonetheless, he feels the acoustic superiority of the Music Hall justifies the bother, only in part because it improves the sound quality of the CDs the company records there.
In fact, the hall also affects performance, "invariably in a very positive way," Levine maintains.
Since Dorian's artists are involved in acoustic music, he explains, "They spend a good deal of their lives fighting substandard environments. They learn to protect themselves by holding back in some ways. Basically, they're not free." As an example of the aesthetic limitations imposed by venues whose acoustics are poor, Levine cites musicians' fear of playing pianissimo passages as expressively as they might. They know, he relates, that some performance spaces would render the sound inaudible in the rear seats.
------------
D O R I A N RECORDINGS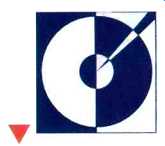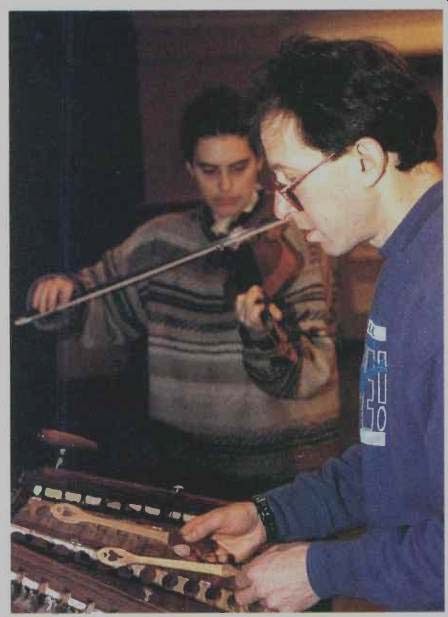 Laura Risk on the fiddle and Ken Kolodner on hammered dulcimer.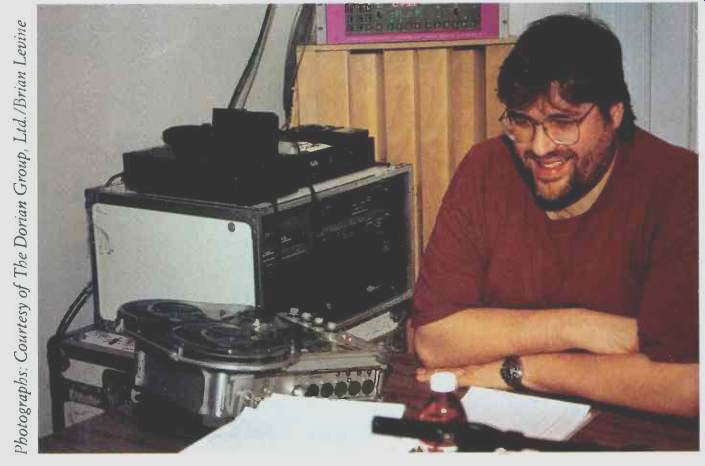 Craig Dory, president and chief engineer, at the controls.
-------------
The Troy Savings Bank Music Hall, however, is known for projecting sound, a quality that has been demonstrated by dropping a pin on the stage for visitors, who can hear it 125 feet away, from the balcony. At most volume levels, tones are warm, rich, and full while remaining startlingly clear. That "really unleashes every bit of creativity. It unlocks the ability of artists to do exactly what they want," Levine remarks.
Dorian has recorded about two thirds of its own 150 productions in the Music Hall. (The Discovery label is attached to another 50 or so titles in the company's catalog; these are produced by others.) Even after working in numerous venues in a half dozen countries, Levine continues to find this hall "the most versatile for smaller ensembles and, overall, the most pleasing." Its acoustics "allow you the flexibility to create the sonic signature that's appropriate," he says, noting it's possible to create "the apparent effect" of a salon by treating the larger space with damping material. Dorian is actually able to tailor the hall for a wide range of acoustic effects.
Dorian's control room at the Music Hall measures about 12 x 15 feet and may once have been a storage facility. Old paint (an indeterminate shade of green) is, in part, covered by large patches of acoustical damping material. The only illumination is a bare bulb dangling from the ceiling. This rooming-house ambience camouflages an elaborately rebuilt floor, constructed in several layers to resist vibration, and it contrasts starkly with the cutting-edge equipment Dorian favors. In one corner, a device custom-built by Wadia converts photonic digital signals that stream in through fiber-optic cable to the AES/EBU electrical format for recording. (Dorian was employing fiber-optic technology as far back as 1989; Dory says the cable can carry digital signals for "kilometers" without compromising their integrity.) Three storage devices are in use at recording sessions. A Macintosh computer running Sonic Studio software by Sonic Solutions is connected to an external 9-gigabyte Seagate SCSI hard drive for storing sound files. Primarily for noise-control reasons, this is housed in a separate room, along with the CPU, an Exabyte tape drive for archiving, and an additional 9-gigabyte drive. The Wadia also feeds the control-room playback system, a Sony DAT recorder, and one of Dorian's two Nagra-D digital tape recorders. (Dorian was the first record company in the world to own a Nagra-D.)
In the auditorium, a pair of microphones-Dorian always works with omnidirectional mikes-stands close to mike pre amps and a custom high-resolution A/D converter that has been modified at least five times. Digital conversion is done in the hall to keep analog cable runs as short as possible, thereby avoiding time-domain propagation error and eliminating electromagnetic interference (EMI) and radio-frequency interference (RFI). There are also regulated power supplies, isolated in a heavy wooden enclosure so they can't be heard.
A continuing search for repertory that, in Levine's words, "is not overly recorded, is really distinctive, and fills important gaps in an appealing way" leads Dorian to a variety of places. The Southern Hemisphere became one of them after conductor Eduardo Mata helped inspire a series called Music of Latin American Masters. In November 1992, the company began recording Venezuela's Simón Bolívar Symphony Orchestra under Mata. That project was the first in what has since grown to more than a dozen titles showcasing Latin American composers and performers. Dorian initially committed to a five-year plan, which is about to conclude, but even though Mata died in a 1995 plane crash, the series will continue. "One thing about this endeavor of finding interesting and unique repertoire is that you simply don't appreciate how rich the music bank is until you begin to poke around in it," Levine explains. "I had no idea how vast the Latin American repertoire is. There have been dozens and dozens of composers who most people are completely unfamiliar with, and many of them wrote simply fantastic music."
==================
DORIAN RECORDINGS
HOW TO HEAR THE TROY SAVINGS BANK MUSIC HALL
Between mid-September and mid-June, some 60 concerts are held at the Troy Savings Bank Music Hall, which is at the intersection of Second and State Streets in the city's downtown district. (The box office is at 7 State Street, nearer the corner of First Street.) The Troy Chromatics, a century-old organization that first used the Music Hall in 1902, continues to bring world-renowned classical artists to the facility and now sponsors four or five concerts a year. There's also a series with top-ranked jazz performers, an acoustic folk music series, and 10 free Music at Noon concerts, held on the second Tuesday of the month and featuring regional performers. The Albany Symphony and other musicians from the area near New York State's capital appear in the hall as well. For a schedule of events, call 518/273-0038.
-D.L.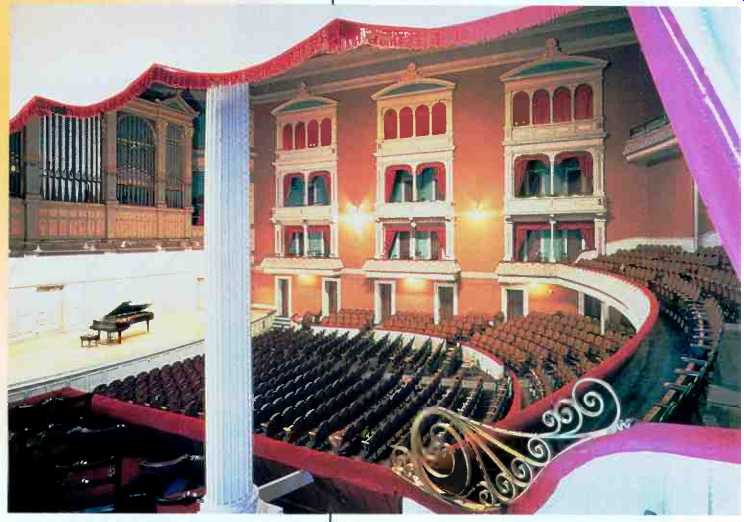 ===================
Music of the present day represents a growing interest for Dorian. Many young, talented composers are discovering that "it's important for them to connect with an audience," Levine notes, adding, "I think we're finally passing the `Who cares if you listen' stage." (The quote, from composer Milton Babbitt, represents an attitude to which some avant-garde figures have subscribed, possibly as a defense.) A new release, which Levine says reflects an important facet of Dorian's future, features the Mexican-based percussion ensemble Tambuco performing contemporary compositions by Japan's Minoru Miki, Britain's Graham Fitkin, Eugenio Toussaint of Mexico, and others.
Dorian has always maintained that its artists provide performances that can't be found in every record-shop bin. As an example, Levine cites the Baltimore Consort, one of the company's best-selling groups. Contemporary classical composition, jazz, rock, and folk all play a part in the Consort's collective background, and Levine sees this as a key to the players' interpretations of "music that, in its own time, people would sing to, dance to, have fun to, get drunk to. They have really been able to enliven Renaissance music," he enthuses. "I think it's often performed in a way that's very academic." The German violinist Ulrike-Anima Mathé is a classical musician who mines a different vein.
Levine is quick to laud "her concept of sound production," remarking that it results in "a very Old World sound, the kind of sound you can associate with an older generation of European players who represent a golden age. That whole concept is different from the North American school, which is characterized by an edgy, penetrating sound designed to nail the back row of the audience." The latter approach is "hyperkinetic," while that of Mathé "is more relaxed, deeper, and more spiritual," Levine contends.
Last fall, Dorian began sponsoring a concert series, Dorian Live, in the Troy Savings Bank Music Hall. "We have world-class musicians doing fabulous things here," Levine states.
"And then they're gone." Prior to the Dorian Live events, he notes, "no one in the community had a chance to share this." Not only do music lovers from the Troy/Albany/Schenectady region and beyond get in on the company's acts, but the concerts raise money for the Music Hall. Some concert segments have been broadcast on the popular public radio program "Performance Today," garnering attention for the artists, the hall, and the label. [For information on attending the Dorian Live series, see box on facing page.]
The Music Hall ran a deficit for many years but is now operating in the black, says Peter Lesser, managing director of the group that oversees operations. Because Dorian pays a fee for each of the 50 to 80 days it records in the hall each year, the company is an important contributor to the organization's coffers. Still, both Craig Dory and Brian Levine understand that filling seats is critical. "The hall is a live concert venue," Levine reasons. "If we can attract any part of our audience to it, perhaps they'll keep coming back." Dory worked for AT&T Bell Laboratories after earning his bachelor's and master's degrees in mathematics. He's very much at home in the digital realm, and he speaks authoritatively on a number of other technological topics. Yet for many years, Dory was on his way to becoming a professional saxophonist: He won a statewide high school competition in Iowa and, while playing lead tenor sax in Iowa State University's top jazz band, won an international competition. As a graduate student, he played lead tenor in the University of Michigan Jazz Ensemble.
Very possibly because he was a serious musician before turning his talents to recording engineering, Dory's interpretation of the term high fidelity goes well beyond its traditional definition. His goal is to capture and preserve the signals that Dorian's artists generate within themselves-feelings and concepts that their instrumental or vocal talents help them externalize.
"Musicians are musicians with or without their instruments," he asserts. "They're musicians internally. The instrument is simply a vehicle, a communication device.
"I'm trying to transcend the physics of sound, the physics of a particular instrument, the physics of recording," he continues. "I'm trying to get the best possible rendition of the music that's in an artist's soul. If we have to create new equipment to do that, we do."
Because Dorian is recording its Ken Kolodner project with just two microphones and without a recording console, repositioning a mike or a performer is the sole way to adjust balance. Earlier in the session, David Walters changed the angle of Kolodner's dulcimer. Walters also provided a small rectangle of carpet for Laura Risk, the fiddler, to stand on (it mutes her foot tapping) and asked that she aim the fiddle's neck at a particular point, a light to one side of her. Tape strips on the stage indicate Risk's ideal position, but she tends to shift around as she plays. When she moves, even a fraction of an inch, Walters and Doug Brown can hear the balance and the sound of her fiddle change.
At one point, Brown is bothered by the instrument's lower register and, over the talk hack system, asks Risk to "ease forward on the carpet about a boardwidth." She does so and plays a couple of test bars. Then Brown asks her to move back. "I have a really stupid question," he says after the next position shift and a few more notes. "What would happen if you split the difference?" Though demanding, both producer and engineer are unfailingly delicate with the performers and invariably treat them with respect. Clearly, this is a key reason why returning Dorian artists tend to request the personnel they've worked with on previous projects.
On take 16, Brown hears "something murky that wasn't there yesterday." It might be an increase in humidity, he speculates, noting that this can raise the apparent level at the microphone by as much as 6 dB. (More moisture in the air means sound moves faster and reverberation increases.) After a short exchange, the production team decides that caution on the performers' part has triggered "a loss of energy." So, when the three stop playing, Walters advises them to take whatever critical comments he has made "with a grain of salt. Play with all the gusto you want," the producer urges. "I feel like I can use a little bit more freedom."
Kolodner responds affirmatively to this directive. "It's supposed to be fun," the dulcimer player's disembodied voice says over the monitors. Walters agrees. He prompts the artists to have fun, and he cues them with a new slate: "Take 17." Again, the three propel themselves into their music.
Brown listens intently and approves. "I like it," he says to his colleague. "I think the point you picked for the dulcimer makes all the difference."
---- D O R I A N RECORDINGS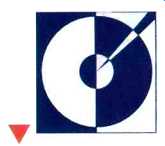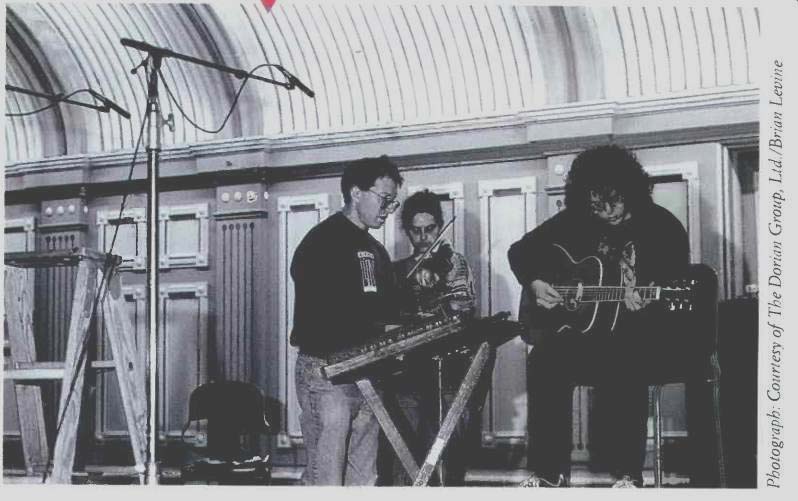 above: In session with Dorian Recordings: Ken Kolodner on hammered dulcimer, Laura Risk on fiddle, and Robin Bullock on guitar.
(adapted from: Audio magazine, Jun. 1997)
Also see:
The Audio Interview--Jack Pfeiffer: RCA's Prince Charming (Nov. 1992)
Made In America -- Advertising Supplement (Dec. 1992)
= = = =