---
WE HAVE CHOSEN THIS RATHER UNORTHODOX WAY TO PRESENT THE NEW BIC TURNTABLES--BECAUSE THE NEW BIC TURNTABLES ARE RATHER UNORTHODOX.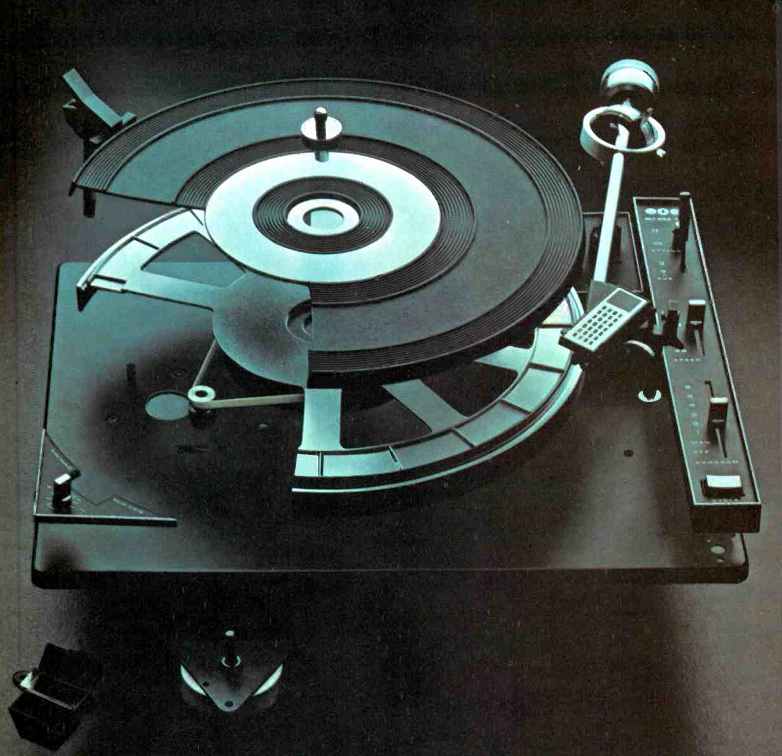 Traditionally, new audio equipment (new anything for that matter) is introduced with orthodox "product shots". In the case of the BIC 980 and 960 we're breaking that mold. We're taking you inside and underneath because much of the real beauty of these instruments lies in the innovation and engineering that's there.
In the exploded view at left you see a combination of things not found in any other turntable--a belt drive system and a record support post. Never before has there been a belt drive turntable with automatic multiple play capabilities. Only BIC has this combination.
At right you can see the BIC program panel. With it you can operate these turntables manually. Or you can elect to play a single disc automatically. Or you can repeat a single disc as many as 6 times. Or you can play from 2 to 6 discs in series.
For the first time one turntable combines the advantages of a manual unit with the convenience of perfect automatic record handling-without sacrificing playback performance.
The Worm's Eye View
The underside of the turntable is revealing.
Compare it with the underside of any unit you choose and you'll be struck by the simple, clean appearance of the BIC
Many moving parts found in turntables with automatic features have been eliminated. (We've sold and serviced millions of automatic record players over the past 37 years and one thing we've learned is that simpler is better and less is more.)
The motor is a 24-pole, 300 RPM unit. It has the torque to move the platter to playing speed in 1/3 a revolution. The 1800 RPM units used in automatic turntables are simply no match for its smoothness, silence, and durability.
Only BIC has a 300 RPM 24-pole motor.
The 4 shock mounts at the edge of the unit plate form an acoustically damped interface between the unit plate and base. These hollow rubber, spherical cushions were designed specifically for BIC Programmed Turntables.
Conventional units use metal springs.
Other Intriguing Features
The BIC tone arm includes features you won't find on any other arm at any price.
The cartridge shell can be adjusted so that optimum 15° tracking can be achieved no matter how deep or shallow your cartridge body is.
Cueing time can be adjusted for from 1 to 3 seconds via a knob on top of the unit.
Seven other adjustments can be made from the top of the instrument which permit easy fine-tuning of the tone arm system, to a greater degree than has ever been possible before.
The control tabs and linear scale for anti-skate and tracking force adjustment are unique.
The cycle button which controls play is unique. Etc. Etc.
Dependability
BIC Programmed Turntables are made in the United States, in our own factories. We mention this because quality control is probably the most important factor in building this kind of equipment. The fact that the specifications for these turntables have been created and quality controlled by BIC is more important than you might guess.
Also, the considerable investment you are making in a BIC turntable is going into the turntable -- not into import duties, currency fluctuations, and transportation.
Performance The BIC 980 and 960 bring you an order of performance which is both outstanding and fast becoming essential in the new era of 4-channel reproduction.
They are bound to be copied.
For the time being, however, they are absolutely unique in their field-fundamentally different from any other turntable, be it fully automatic, single-play automatic, or manual.
We barely have space here to hint at the things you should know about these turntables.
Your audio dealer has a comprehensive 26-page booklet about them which includes performance figures, dimensions and details about the BIC 2-year warranty.
Get this booklet ... or write for more information to Dept. A, British Industries Co., Westbury, N.Y, 11590. We think you ought to compare turntable features before you buy. And if you compare ours with any and all others you're considering (price no object) we'll be happy.
We think you will be too.
The 980 and 960 are identical except for the 980's electronic speed and pitch control circuitry and its lighted strobe.
Accessories available include solid oiled-walnut wood base matte black molded base- and hinged dust cover.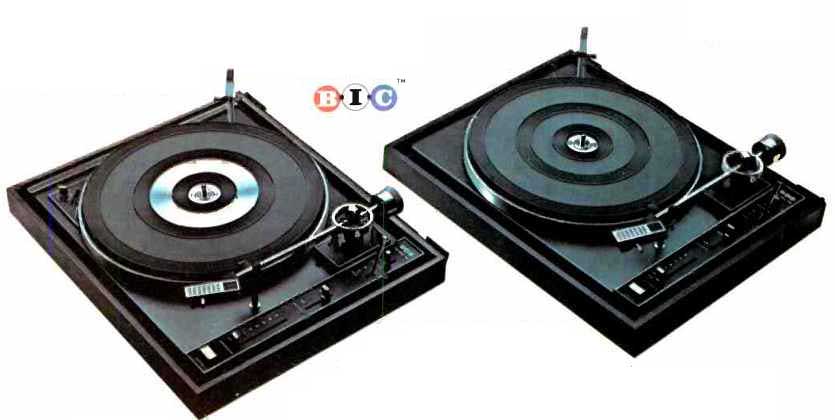 Above: The 980 will sell for approximately $200. The 960 for about $150.
BIC is a trademark of British Industries Co. Westbury, New York 11590. A division of Avnet Inc.
( Audio magazine, Sept. 1974)
Also see:
B-I-C 980 and 960 turntables (Aug. 1974)
= = = =