---
---
When Western Electric told us the first transistors could only work in hearing aids we didn't hear them.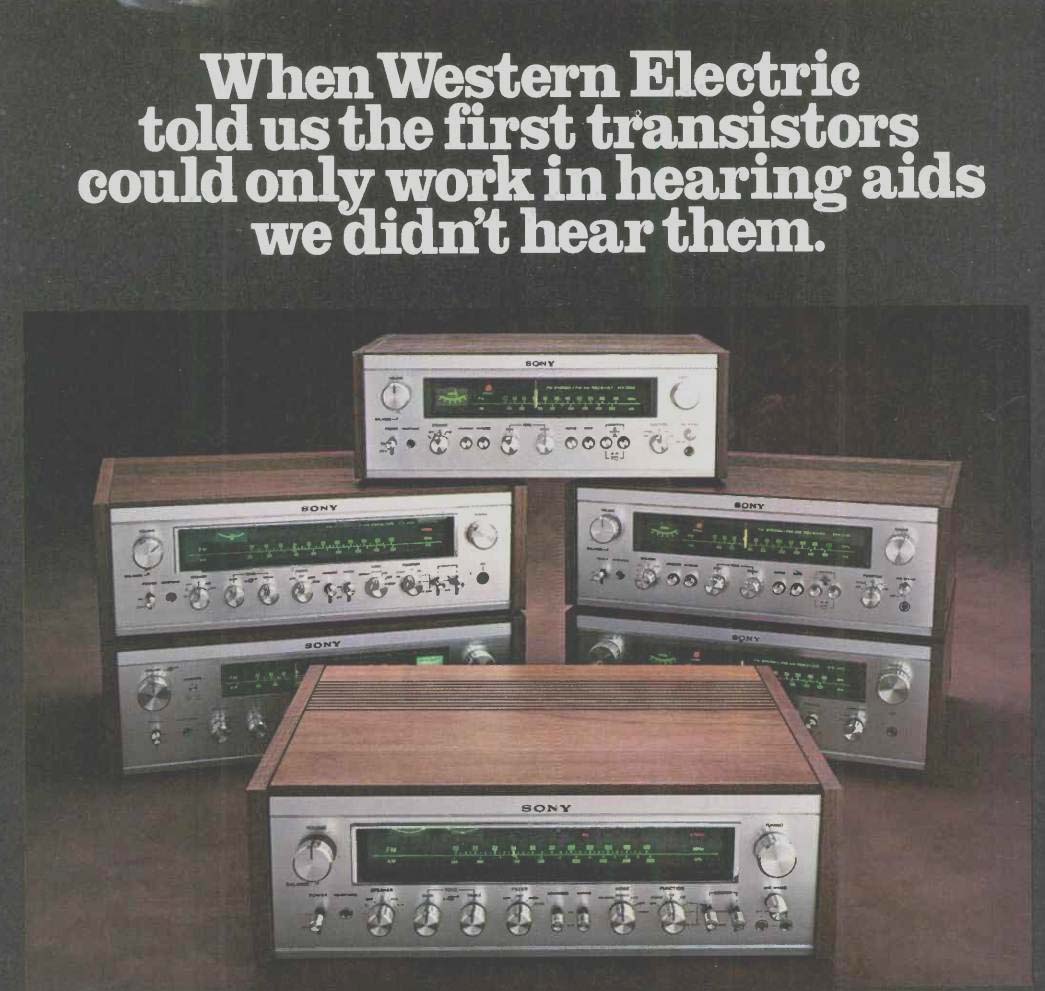 So, we packed the transistors up and took them back to Japan with us.
The rest is history.
Because one year later, in 1955, Sony came out with the first all-transistor radio.
In 1959, Sony introduced the world to all transistor television.
And in 1961, we came out with the world's first transistorized stereo tape recorder.
Then 6 years later, we put everything we had learned into our first transistorized receiver.
A receiver made not only with our own transistors but our own filters and circuitry, as well.
Of course, through the years Sony receivers have changed, but the way we make them hasn't.
We still use our own field-effect transistors, our own solid-state filters and our own integrated circuitry.
All designed or made by our own engineers.
People who now have more than twice as much experience in designing and making these things than anybody else.
And if you take the time to listen to our receivers, you'll hear the difference that experience makes.
For example, in our STR-7065A, you'll hear a receiver that delivers 65 watts minimum RMS continuous power per channel at 8 ohms, 20-20,000Hz with re more than .2% total harmonic distortion.
It has exceptionally high selectivity so it easily ricks up weak stations even when they're on the dial next to strong ones.
It has phase lock loop for low distortion and high stereo separation.
It's made with solid-state ceramic i.f. filters, called "forever filters" because that's about how long they last.
And it's made with complete push-pull complementary circuitry and direct speaker coupling to ensure a purer quality of sound.
So if you're thinking about buying a receiver, stop into a Sony dealer. That's right, Sony.
Because by our not listening to what Western Electric said 21 years ago, millions of people are listening to us today.
1975 Sony Corp. of America.
Sony, 9 W. 57 St., N.Y, NY 10019.

SONY is a trademark of Sony Corp.
(adapted from Audio magazine, Sept. 1975)
Also see:
Sony STC-7000 preamp/tuner (Jan. 1973)
Sony X-series turntables (Nov. 1978)
= = = =