---
---
CONTENTS
Oscillation The Manipulation or Modulation of Radio Waves Consequences of Engineer Decisions Television Engineering Decisions, Economics, and Television Network Relay Systems Distribution Systems
2. History of Broadcasting to 1927
Invention and Development of Telegraphy The Telephone Invention and Development of Wireless; Wireless Inventors and Their Companies An American Radio Corporation Is Formed Broadcasting Becomes a Reality The Coming of Toll Broadcasting Networking Begins
3. History of Broadcasting After 1927
Radio Enters its "Golden Age"; Radio During the Depression 1928-1937; The Evolution of the Disc Jockey Radio During the Second World War 1938-1945 The Influence of Networks on Radio Programming The Business of Networks The Emergence of FM Broadcasting The End of Radio's Golden Age 1948-1956 The Development of Television Postwar Expansion of Television The Licensing Freeze of 1948-1952 The Development of Color Television The Unsteady Growth of UHF The Establishment of National Television Networks Television Programming Fear of Communism Threatens Broadcasting The Invention of Video Tape Television Programming in the 1970s
4. Financial Organization and Programming Practices
Broadcast Ownership Market Areas Broadcast Ownership Patterns The Failure of Diversification of Broadcast Ownership The External Structure of Networks and Stations The Internal Structure of Networks and Stations Broadcast Programming Radio Programming Television Programming Conclusion: Change and the Future
The Role of Advertising in the U. S. Economy Advertising and the Mass Media Advertising and the Broadcaster Buying and Selling Advertising Time Organizations Concerned with Advertising; The Problems of Advertising; Advertising and Program Content
The Economics of Public Broadcasting Program Sources and Funding The Diversity of Public Broadcast Programming Problems Facing Public Broadcasting
7. Ratings
The Reasons for Ratings Conducting Ratings Research Network and Station Response to Ratings Monitoring and Ratings Services
Research Methods; The Communicators; The Audience; The Message; The Effects Future Research
9. Broadcasting, Critics, and Public Interest
The Critics: Who Are They? ; The Issues
The FCC and the Public Creation of the FCC "The Public Interest, Convenience, and Necessity" Structure of Radio Law The FCC as Legislator and Judge Organization of the FCC Operation of the FCC Criticism of the FCC Other Agencies Concerned with Broadcasting Agencies Indirectly Concerned with Broadcasting Self-Regulation Other Forms of Self-Regulation
11. Issues in Broadcast Regulation
Regulation and the First Amendment History of the Fairness Doctrine Monopoly and Broadcasting Failures of the FCC Proposals for Improving the FCC
12. Alternate Technologies, New Directions
Cable Television; The Future
---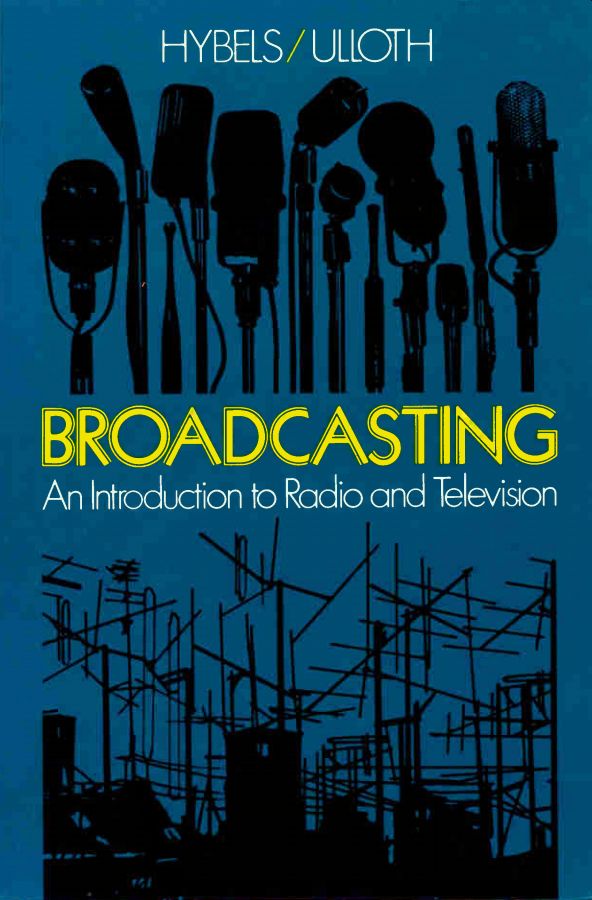 PREFACE:
Broadcasting: An Introduction to Radio and Television -- orig. publ. as a book in 1978 -- is designed for both introductory broadcasting and mass media courses. The guide will serve the needs of students who seek a career in broadcasting as well as those who are curious about the broadcast industry.
The materials address themselves to how the broadcast industry functions and how it interacts with related organizations, such as rating services, advertisers, government regulatory agencies, researchers, and citizen's groups.
The book also discusses in some depth the technology of broadcasting, broadcast history, public broadcasting, cable, satellites, and many of the important issues that are faced by broadcasters. A major focus of the book is centered on the principle that broadcasting is a business and that decisions made in commercial broadcasting can best be understood in regard to business goals.
The text is liberally supplemented with diagrams, tables, and photographs.
The diagrams put difficult technological material into understandable terms and the tables give up-to-date facts and figures from the broadcast industry and related organizations. The book also includes many narratives of an anecdotal character.
The guide is divided into three main subject areas: Sections 1-3 are concerned with the technology of broadcasting and broadcast history; Sections 4-7 explain how the commercial and public broadcasting systems work; and Sections 8-12 deal with research, regulation, broadcast issues, and new technology. The instructor need not follow this organizational pattern, however, since the sections are self-contained, cross-referenced, and may be read in any order.
We hope this guide will both answer the student's questions and pose new ones. We believe that, because of broadcasting's enormous impact on the American public, the broadcast industry merits study and discussion by all of us. It is for this purpose that we have written this guide.
by Saundra Hybels, Dana Ulloth
---
For our mothers, Adrienne and Esther D. Van Nostrand Company Regional Offices: New York, Cincinnati, D. Van Nostrand Company
International Offices: London, Toronto, Melbourne, Copyright (C) 1978 by Litton Educational Publishing, Inc.
Library of Congress Catalog Card Number: 76-47213 ISBN: 0-442-23625-5
All rights reserved. No part of this work covered by the copyright hereon may be reproduced or used in any form or by any means-graphic, electronic, or mechanical, including photocopying, recording, taping, or information storage and retrieval systems-without written permission of the publisher. Manufactured in the United States of America.
Published by D. Van Nostrand Company, 135 West 50th Street, New York, N.Y. 10020 USA; 10 9 8 7 6 5 4 3 2 1
---
Also see: DIY low-power transmitter projects ; Radio Communications Receivers -- A guide to radio receiver design and technology
FM by Transmission and Reception (1954)