---
---
(source: Electronics World, Aug. 1963)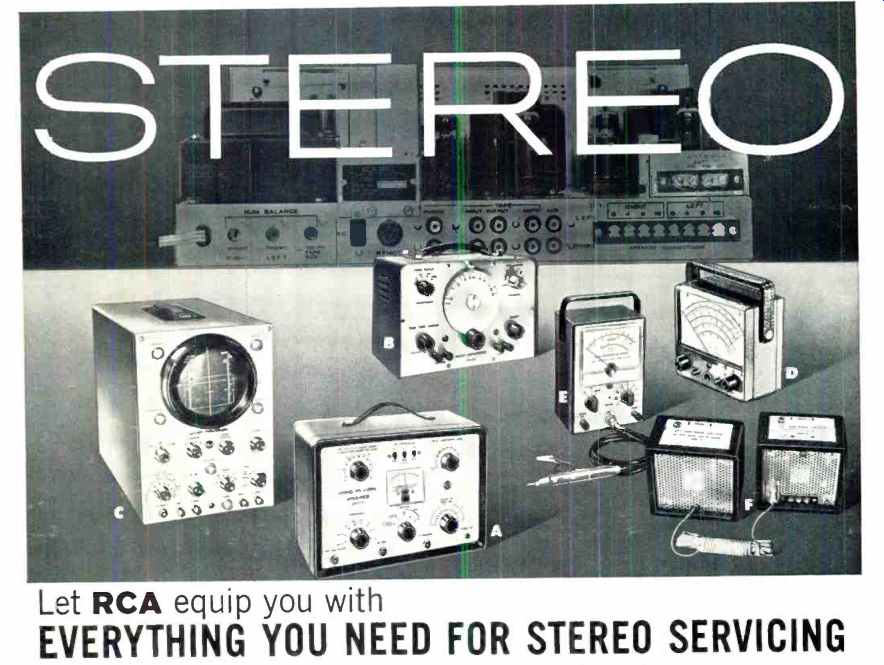 RCA
Let RCA equip you with EVERYTHING YOU NEED FOR STEREO SERVICING RCA--entertainment leader of the world--now offers you a complete set of test instruments to put you in the stereo servicing business. And now's the time to get in because it's growing bigger and more profitable by the day.
A. NEW! RCA WR-51A FM STEREO SIGNAL SIMULATOR
Generates signals necessary to service and maintain stereo multiplex FM receivers and adaptors. Generates ...Choice of 4 FM signals--Left Stereo, Right Stereo, Special Phase Test, Monaural FM Choice of 8 sine -wave frequencies (400 cps, 1Kc, 5Kc, 19Kc, 28Kc, 38Kc, 48Kc, 67Kc) available separately or for modulating FM signals. 100 Mc carrier tuneable ± 0.8 Mc to permit selection of a quiet point in the FM band 19 Kc subcarrier, crystal-controlled within ± 2 cps 100 Mc sweep signal adjustable from 0-750 Kc at 60 cps rate.
Choice of 3 composite stereo output signals -Left Stereo, Right Stereo, Special Phase Test Choice of 3 sine -wave frequencies for composite stereo signals Crystal controlled markers for receiver if and rf alignment Zero-center meter for checking the balance of stereo amplifier output. $249.50*
B. RCA WA -44C AUDIO GENERATOR
Generates sine -wave and square wave signals over range of 20 to 200,000 cps to test audio systems. Can be used to measure intermodulation distortion, frequency response, input and output impedance, speaker resonance, transient response and phase shifts. Less than 0.25% total harmonic distortion over range of 30 to 15,000 cps. $98.50*
C. RCA WO.91A 5" OSCILLOSCOPE
A high-performance, wide-band 'scope serves as a visual VTVM. Choice of wide band (4.5 Mc-0.053 -volt rms /inch sensitivity) or narrow, high-sensitivity band (1.5 Mc -0.018 -volt rms /inch sensitivity). New 2 -stage sync separator provides solid lock -in on composite TV signals. $249.50
D. RCA WV-96C SENIOR VOLTOHMYST
For direct reading of peak-to-peak voltages of complex waveforms, rms values of sine-waves, DC voltages, and resistance. Accuracy: 3% full-scale on both AC and DC, with less than 1% tracking error. Color -coded scales differentiate peak-to-peak from rms readings. New 0.5 volt full scale DC range for use with low-voltage transistor circuits. 6 1/2" meter. $79.50*
E. RCA WV-76A AC VTVM
Measures voltages down to 0.001 volt. Decibel scale for measurements from -40 to +40 db.
Built -in amplifier which may be used separately as a preamplifier. Typical applications include: frequency response tests of preamplifiers, power amplifiers and tone control circuits, signal tracing; measurements of audio level, power level and gain; amplifier balancing applications and general audio voltage measurements. $79.95*
F. RCA WG-380A STEREO PHASE CHECKER
A quick, simple, positive way to check phase alignment of low and mid -range speakers in stereo systems. Completely "sound powered". Snag -proof recessed grille design. For use with a VOM, VTVM, or oscilloscope. $14.95*
See Them all at your Authorized RCA Electronic Instrument Distributor RCA Electron Tube Division, Harrison, N. J.
*User price (optional)
RCA -- The Most Trusted Name in Electronics