---
---
(source: Electronics World, Aug. 1964)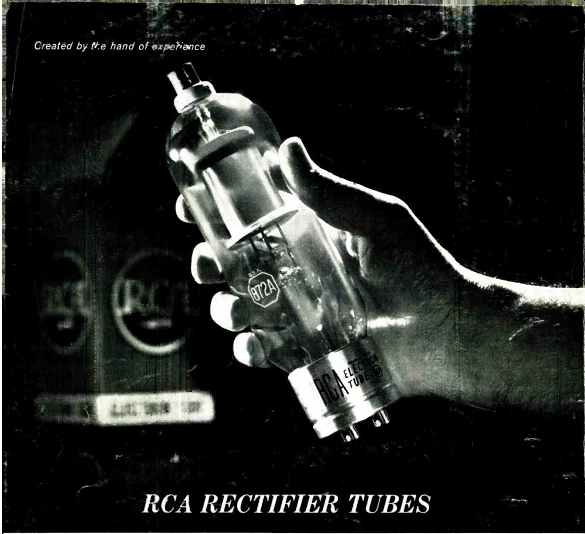 Created by the hand of experience ...
RCA RECTIFIER TUBES
Power ratings for every industrial application What do you need in an industrial rectifier? RCA offers you a choice of 27 different types. Gas-filled, vacuum or mercury-vapor half-wave types. For applications up to 22,000 volts and up to 60 amperes.
Steady, dependable DC power. RCA industrial rectifiers are engineered for maximum reliability and long life-to minimize equipment downtime, tube--replacement, and to reduce operating costs. High operating efficiency and long life are assured by an improved coated filament that prolongs peak-emission capability, by a well-shielded cathode and by low initial voltage drop in all tubes.
Other advantages include wide ambient temperature tolerance and high resistance to transients.
For specifications and applications data on all RCA rectifiers, pick up a copy of this RCA Power Tube Catalog (PG-101F) at your local RCA Industrial Tube Distributor.

RCA ELECTRONIC COMPONENTS AND DEVICES, HARRISON, N.J.
The Most Trusted Name in Electronics
AVAILABLE THROUGH YOUR LOCAL RCA INDUSTRIAL TUBE DISTRIBUTOR