---
---
Contents:
1 INTRODUCTION to FREQUENCY MODULATION
4 PROPAGATION, RECEPTION, and TRANSMISSION of FM SIGNALS
5 R.F. TUNERS for FM RECEIVERS
8 LIMITERS
10 AUDIO AMPLIFIERS and HIGH FIDELITY
14 COMMERCIAL FM TRANSMITTERS - PART 1
15 COMMERCIAL FM TRANSMITTERS - PART 2
16 COMMERCIAL FM TRANSMITTERS - PART 3
LOCATING COMMON TROUBLES, CHECK LIST
---
This guide is based on the 1960 (Third edition) of the book "F-M Simplified" ...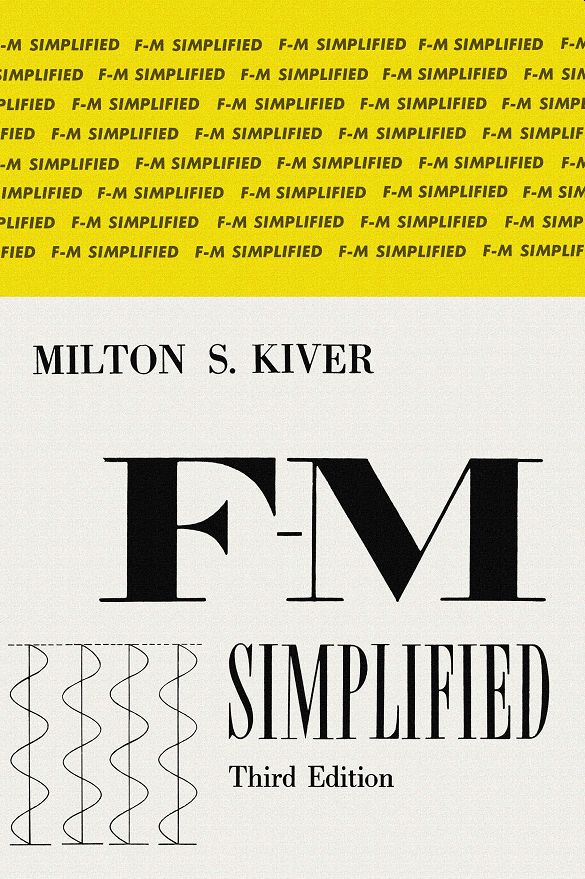 ---
Introduction
The tremendous vigor and vitality that frequency modulation broadcasting is exhibiting-in response to an increasing demand for high fidelity--has prompted a complete revision of this guide. Every section of the text has been reworked to bring it completely into step with current practice.
While the most extensive revision has occurred in those Sections dealing with FM reception, considerable additional material has been added to the Sections dealing with antennas and transmitters. At the same time, circuits and practices no longer in vogue have been deleted.
The Section sequence has remained unaltered. After the fundamentals of FM have been presented in the first three Sections, a full Section is devoted to the propagation, reception, and transmission of FM signals.
Then, in Sections 5 through 10, FM receivers are analyzed stage by stage and circuit by circuit, at all times adhering to direct, non-mathematical explanations. Section 11 deals with circuit alignment, first with the use of a signal generator and a VOM or VTVM, and then visually with an oscilloscope and a sweep generator. With these circuit explanations and techniques understood, the discussion turns to commercial FM receivers ( Section 12) and to their servicing and maintenance ( Section 13). The final three Sections are devoted to modern FM transmitters.
Equipment of major importance is included. Transmitters are grouped according to the process they utilize to generate the FM signals, i.e., whether it is by the reactance method or by the phase-shift method.
A set of questions is placed at the end of each Section for those who wish to gauge their progress through the guide and their understanding of the principles involved. With the exception of the few mathematical problems, no question can be properly answered with a single word.
New to this edition is a bibliography which has been selected, in part, to direct the reader to those references which outline the foundations upon which FM rests, its advantages and limitations. Often, these articles were written by the men who pioneered this field and the reader who takes the time to study these papers in detail will come to appreciate first-hand the development steps that lead to the present state of the art. Other references, more recent in origin, show what is being done now in the field.
A final addition to this edition is a "Common Troubles Check List" which lists the defects most often encountered in FM receivers, their possible causes and the section of the receiver in which they occur.
Highland Park, Illinois January, 1960; M.S.K.
+++++++++++
Also see:
FM -- Transmission and Reception (1954)
++++++++++++