Mullard Circuits for Audio Amplifiers : Intro and TOC
---

Mullard Circuits for Audio Amplifiers -- Power Amplifiers and Pre-Amplifiers for Monaural and Stereophonic Reproduction from Microphone, Radio, Tape and Pick-Up Signals
CONTENTS
SECTION / Topic
Preface (see below)
2 Sources of Distortion in Recorded Sound
4 General Notes on Construction and Assembly
8 Seven-watt, D.C./A.C. Amplifier
9 Two- and Three-valve (tube) Pre-amplifiers
10 Four-channel Input-mixing Pre-amplifier
13 Seven-watt Stereophonic Amplifier
14 Three-valve (tube) Stereophonic Amplifier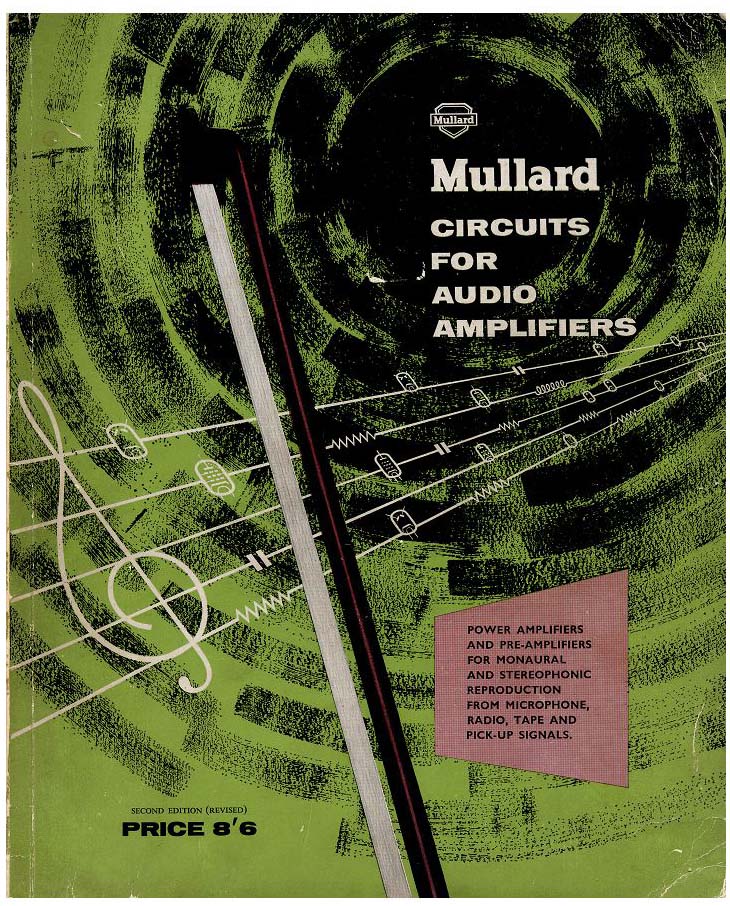 PREPARED BY TECHNICAL INFORMATION DEPARTMENT AND ISSUED BY MULLARD LIMITED, MULLARD HOUSE, TORRINGTON PLACE, LONDON, W.C.1. (TP413)
---------
Preface
The first notable contribution of Mullard design engineers to the specialist world of high-quality sound reproduction was the now-famous 'Five-Ten' amplifier circuit which was introduced in the summer of 1954. In subsequent years, a succession of designs for high-quality circuits has issued from the Mullard Applications Research Laboratory, and these designs include circuits for power amplifiers and preamplifiers, circuits suitable for tape-recording equipment and, most recently of all, circuits for stereophonic reproduction.
Many of these circuits have been described in articles in various magazines or have appeared in the form of booklets or leaflets. The others have only recently been released by the laboratory, and have not yet been published. The object of this guide is to present the most up-to-date versions of the published circuits together with the new stereophonic circuits in a way which will be useful and convenient to equipment manufacturers, service engineers and home constructors. A list is given on page vi of the earlier Mullard publications which have been incorporated in this guide.
These publications may be useful for purposes of comparison, but it should be appreciated that the information given here is the latest available and consequently, supersedes that issued elsewhere.
Most of the material contained in this guide is based on work undertaken at the Mullard Applications Research Laboratory. The largest contributions have been made by:
R. S. Babbs, D. H. W. Busby, P. F. Dallosso, C. Hardcastle, J. C. Latham and the late W. A. Ferguson.
While the circuits described in this guide have been designed by Mullard engineers. it should be noted that Mullard Limited do not manufacture or market equipment or kits of equipment based on the circuits. Mullard Limited will not consent to the use of the 'Mullard' trademark in relation to equipment based on the circuits described, but will not object to appropriate references to Mullard circuits, specifications or designs. Also, the information contained in this guide does not imply any authority or license for the utilization of any patented feature.
-----------
OTHER MULLARD AUDIO PUBLICATIONS
The dates given below are the dates of the first appearance of each publication.
The reference numbers are for the latest reprints of the publications.
5-valve (tube), 10-watt, High Quality Amplifier Circuit August 1954 (out of print)
High Quality Sound Reproduction* August 1955 (out of print)
'3-3' Quality Amplifier Circuit August 1955(TP352)
Circuits for Tape Recorders August 1956 (TP430)(out of print)
Supplement to Circuits for Tape Recorders August 1957 (TP322)
7-watt D.C./A.C. High Quality Amplifier August 1957 (TP325)
Four-channel Input-mixing Amplifier August 1957 (TP319)
Two-valve (tube) Pre-amplifier August 1957 (TP339)
Circuit for self-contained Tape Amplifier August 1958 (TP356)
*The section of this guide headed 'Design for a 20-Watt High Quality Amplifier' was reprinted from articles which were first published in Wireless World, May and June, 1955.
---
Also see: 50 Circuits Using 7400 Series IC's
---
Home
This page was last updated: Friday, 2007-07-20 17:18,Sunday, 2023-07-16 15:23 PST