---
---
Contents
1. FIDELITY, SOUND, and DISTORTION
What Is High Fidelity?--Sound--Distortion of Sounds in High Fidelity Systems--Performance Goals
2. MONOPHONIC and STEREOPHONIC SOUND
Monophonic Sound--Stereophonic Sound--Stereophonic Systems--Compatibility
Basic Components of Stereo Systems--Stereo Recording--Disc Recording--Tape Recording--Stereo Broadcasting and Reception--Stereo Versus High Fidelity?
Record Players--Application of Electron Tubes, Semiconductors, and Integrated Circuits--Tuners--Tape Recorders--Microphones--Television
Power Amplifiers--Power Amplifier Circuits--Preamplifiers Preamplifier Circuits--Stereo Amplification
6. SPEAKERS
Speaker Drivers--Cone-Type Radiators Speaker Impedance Acoustic Impedance and Resonance--Homs and Horn Drivers Directivity of Basic Units--Dual and Multiple Speakers and Systems--Construction Features of Speakers--Electrical Divider (Crossover) Networks--Center Speaker for Stereo
7. SPEAKER BAFFLES and ENCLOSURES
Baffles--Simple Enclosures--Bass-Reflex Enclosures--Acoustic Labyrinth--Horn-Type Enclosures--Compact Hi-Fi Speaker Systems--Electrical Speaker Equalizers--Stereo Speaker Systems --Choosing a Speaker System--Speaker Listening Tests
8. SYSTEMS DESIGN, SELECTION, and INSTALLATION
Requirements--Audio Power--Fidelity--Frequency Requirements Distortion--Gain--Building up a High-Fidelity System--Four Channel Systems--Elaborate Arrangements--Systems Layout--Systems Installation --Feedback
---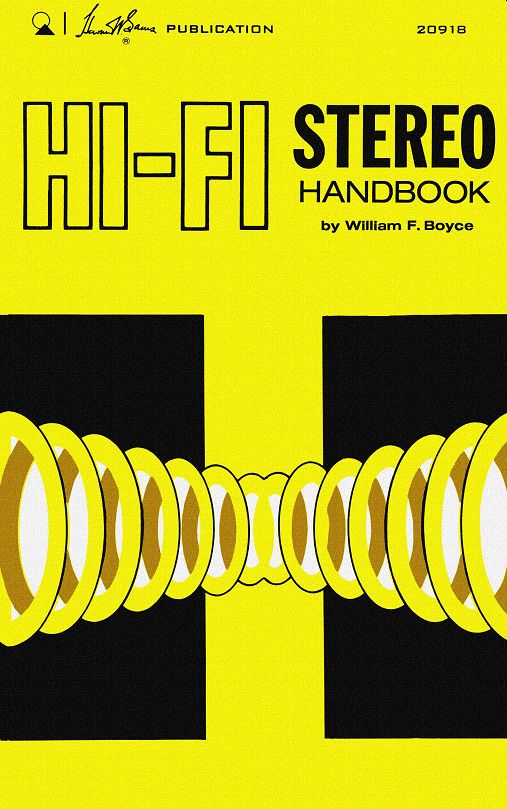 This guide is based on the Sams book Hi-Fi Stereo Handbook--FOURTH EDITION, THIRD PRINTING-1974. Copyright © 1956, 1961, 1967, and 1972 by Howard W. Sams & Co., Inc., Indianapolis, Indiana 46268. Printed in the United States of America.
---
PREFACE
Since the first edition of this guide in 1956, constant change and improvement in sound communication, storage, and reproduction techniques, and the development of low-cost, high-quality stereo compacts have made hi-fi stereo an economic reality for everyone.
These remarkable developments are highlighted by such effects as precision dynamic coupling of pickup devices to much-improved mediums; transistorization; integrated circuits; miniaturization; combination of separate chassis into single integral units; acoustic-suspension, compact speakers; and four-channel systems, encoders, decoders, and synthesizers--all giving dramatically improved performance with more quality and realism at less cost than was hitherto available.
It has been more than a century since geniuses of music creation brought forth the need for mediums, techniques, and equipment to capture and store their great works. The world will forever lament that it was not able to record and store the work of these highly disciplined and talented artists of yesterday. At least from this point on, we can achieve this for our own age and for future generations.
Modern concepts and standards of high fidelity, or hi-fi, provide for the ultimate in the endeavor toward reproduction of sounds exactly as they were originally created. True fidelity, as you will learn in the first Section, is only occasionally achieved, but modem recording techniques provide results with maximum control of source, bearing, vocal, instrumental, and other elements arranged with emphasis, presence, balance, and three-dimensional effects, to create a final mix that can be dramatically superior to live programs.
The art of recording, storing, and reproducing sound electronically has progressed to the point where you, with eyes closed, can almost imagine yourself sitting fifth row, center at Carnegie Hall.
But once your appetite for high-fidelity surround-sound has been whetted, what then? What equipment should you buy? How much will it cost? And these considerations are only the beginning. This guide was prepared as a reference and guide for all persons interested in high-quality sound reproduction. In addition to supplying in formation which will help you in planning, selecting, and installing appropriate systems, it also describes the various system components, plus what they do and how they operate. Thus, no matter whether the subject is new to you or you are a technician or an experienced hi-fi enthusiast, Hi-Fi Stereo Handbook has been written for you. I trust that you will find it informative and highly useful.
By WILLIAM F. BOYCE
---
Also see: Audio Design Guide (1958)