---
---
30 Years Ago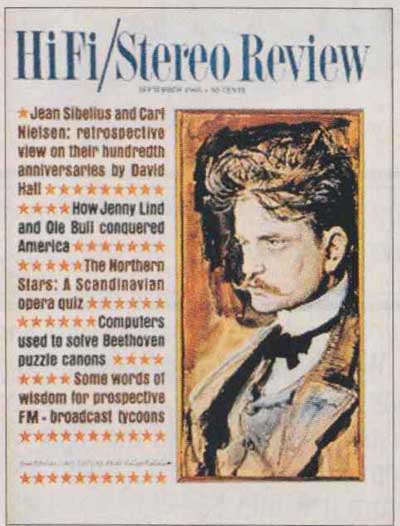 Finn de siècle: William Anderson, introducing in his editorial the September 1965 tribute to Scandinavian composers Jean Sibelius ( Finland) and Carl Nielsen ( Denmark), noted that Nielsen's reputation was increasing while Sibelius seemed to be going out of style. "I do not resent this," he added wistfully, "but it makes me a trifle sad."
---Circle-O-Phonic speaker, 1965 (image coming soon)
New products this month included two new stereo receivers from Bogen (one FM only) with frequency-response ratings of 20 Hz to 20 kHz ±1 dB, Norelco's AKG DX-11 dynamic cardioid microphone with a built-in reverb element, and a new speaker system from Circle-O-Phonic with a revolving tweeter and a high-compliance upward-firing woofer In test reports, Julian Hirsch examined the Oki 555 portable stereo tape recorder (17 pounds without speakers) and the Euphonics CK-15-LS phono cartridge, which had its own power supply (it plugged into an AC outlet on an amplifier).
Thus anticipating alternative rock: Unimpressed by "Glenn Miller Time, 1965," critic Gene Lees suggested, "Maybe when some of the bandleaders who have made livings out of playing tributes to Miller are also dead, we can have albums in tribute to tribute albums."
20 Years Ago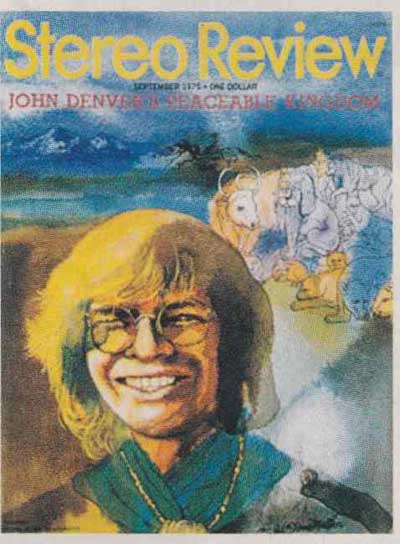 Except for listening to Rocky Mountain High: In Noel Coppage's September 1975 profile, country star John Denver claimed, "There's no such thing as wasting time."
New products noted this issue included six eight-track tape players from Motorola. Associate technical editor Ralph Hodges, reporting on the Consumer Electronics Show, got excited by several introductions, including a 150-watt-per-channel Class A power amp by Stax, which he called "astonishing." Julian Hirsch tested the Sony ST-4950 tuner ("a simply beautiful product") and the Philips 2096S two-speed, single-play electronic record player ("one of the most attractive as well as functional pieces of record-playing equipment we have seen in some time").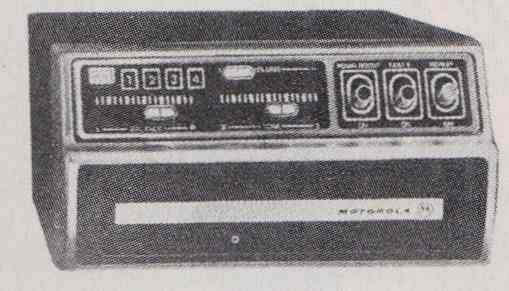 ---Motorola eight-track, 1975
In Best of the Month, Richard Freed endorsed Leonard Bernstein's Columbia recording of Haydn's Mass No. 12 with Frederica von Stade ("hardly less glorious than the music itself"), and Noel Coppage took a liking to the Earl Scruggs Revue's "Anniversary Special Vol. 1," an all-star folkie jam. In other reviews, William Livingstone enjoyed a couple of new recital albums by under-recorded diva Renata Scotto, Steve Simels delivered the first of his many raves for a Richard Thompson album (here the classic "I Want to See the Bright Lights Tonight"), and Paul Kresh dismissed the original-cast recording of the Broadway musical Shenandoah as "Death warmed over."
Monsters from the Id: Reviewing Teresa Brewer's "Unliberated Woman," a troubled Peter Reilly compared it to his recurring nightmare of being "forced to take a coast-to-coast trip on the subway with Ethel Merman as my only traveling companion."
10 Years Ago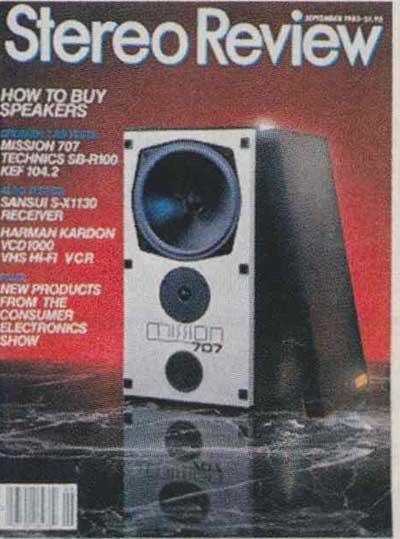 Larry Klein led off this speaker-themed issue with "How to Buy Speakers,"
David Ranada discussed "Music to Judge Speakers By," and Daniel Sweeney examined the current state of the art in "The Search for the Perfect Speaker." In "CES Showstoppers," Gordon Sell and William Burton reported on new products including the wall-shaking Polk SDA Signature Reference speaker system ($2,590). And in test reports, Julian Hirsch confronted Harman Kardon's VCD1000 VHS Hi-Fi VCR ("state of the art") as well as the speaker shown on the cover, Mission's Model 707, a two-way book shelf system, concluding, "A lot of things have been done right in its creation, and the proof is in the listening."
--- Harman Kardon's VCD1000 VHS Hi-Fi VCR, 1985 (image coming soon)
---David Bowie lounging, 1985 (image coming soon)
Return of the Lizard King: Reviewing David Bowie's "Serious Moonlight" video, Louis Meredith opined that the star "looks suspiciously like Lily Tomlin doing lounge singer Tommy Velour."
---
Source: Stereo Review (09-1995)