Know Your Signal Generators [1965]: TOC and Intro
---
Contents
SECTION 1--BASIC PRINCIPLES
SECTION 2--GENERATOR ACCURACY AND CALIBRATION
SECTION 3--MODULATION OF GENERATOR SIGNAL
SECTION 4--UHF SIGNAL GENERATORS
SECTION 5--FM STEREO MULTIPLEX SIGNAL GENERATORS
SECTION 6--SPECIALIZED TYPES OF SIGNAL GENERATORS
SECTION 7--SUPERSONIC GENERATORS
===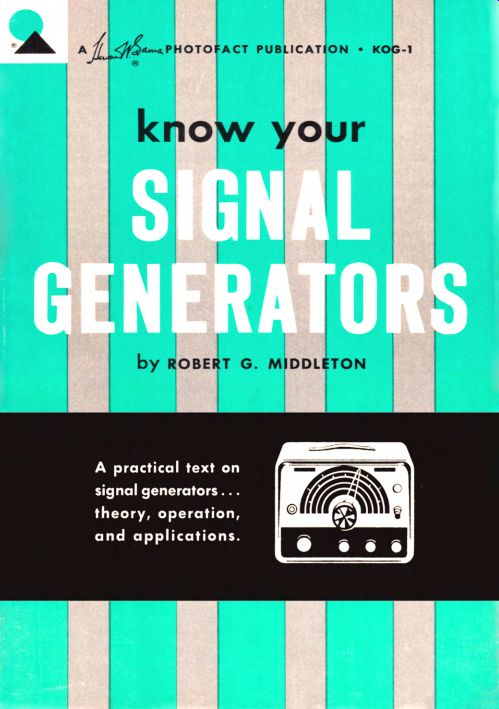 above: This guide is adapted from this 1965 book.
===
Introduction
FIRST EDITION FIRST PRINTING-JUNE, 1965
KNOW YOUR SIGNAL GENERATORS Copyright © 1965 by Howard W. Sams & Co., Inc.
No patent liability is assumed with respect to the use of the information contained herein.
Library of Congress Catalog Card Number: 65-24553
Preface
Signal generators are some of the most frequently used test equipment in modern electronics work: A-m generators are used for alignment and signal-injection tests of broadcast radio receivers. Standard signal generators are used in maintenance and troubleshooting of two-way radio units and other communications equipment. Marker generators with crystal calibrating facilities are often combined with f-m generators for alignment of f-m radio and TV receivers, and uhf signal generators are finding increased application. F-m stereo multiplex generators are required for adjusting and troubleshooting stereo-broadcast receivers and adapters. Specialized types of signal generators, such as dip meters, long favored by radio amateurs, are also widely used in radio and TV service shops.
Another specialized signal generator, called an analyzer, has recently found wide acceptance.
Because of the extensive applications of generators, a thorough understanding of the operating principles, capabilities, and maintenance of the various types of signal generators is essential. Since electronics technology is expanding rapidly, newcomers are entering the field at an unprecedented rate.
Hence, this guide is written for the beginner as well as the old-timer who wants to know what makes the newer types of generators "tick." In this guide you will find explanations of generator circuits, some of the more basic applications, how to calibrate the various bands, analysis of common troubles, and practical tips on how to keep a generator in top operating condition.
Most signal generators employ vacuum tubes ; however, there is a definite trend toward the use of transistorized circuitry, particularly in f-m stereo multiplex generators. Accordingly, this topic is given appropriate coverage. Semiconductor-diode modulators are also detailed, inasmuch as they are now used extensively in service shops and laboratories.
There is also a definite trend toward the use of all-electronic f-m generator circuitry, and consideration is given to permeability-tuned oscillators, as well as junction-diode frequency modulators.
Topical treatment is practical throughout, with a minimum of mathematics. It is assumed that the reader has a basic knowledge of Ohm's law for d-c and a-c circuits. Theory is presented only when it is necessary to clarify practical considerations. Professional technicians, apprentices, students in technical schools, hams, and hobbyists will find that this guide "speaks their language."
- ROBERT G. MIDDLETON
===
Rear:
Since the early days of radio, signal generators have been one of the most versatile pieces of test equipment to be found on the test bench. This guide is an authoritative text on the construction, operation, application, and maintenance of various types of signal generators.
From a coverage of the basic principles of generators, the text proceeds to explanations of generator accuracy, calibration, modulation of the generator signal, measurement of output voltages and harmonic amplitudes, and many more considerations.
The section on specialized types of signal generators should prove to be of special interest to the reader. Dip meters, analyzers, radio test sets, and uhf and super sonic generators are adequately covered.
Another informative section is devoted to f-m stereo multiplex signal generators. Before discussing the generator itself, a very clear, concise discussion on this fundamentals of stereo multiplexing is presented. This is of great help for those who have not quite grasped the fundamentals of stereo-multiplex transmissions. The formation, transmission, and reception of the stereo signal is thoroughly explained and illustrated.
If you have a basic working knowledge of electronics, this guide is a "must" for service technicians, apprentices, hams, and hobbyists.
ABOUT THE AUTHOR
Bob Middleton is one of the few full-time professional free-lance technical writers in - the electronics field.
His many books have proven invaluable to technicians and engineers, because they are based on his own practical experience. His home workshop is filled with a wide variety of test instruments, receivers, and other equipment which he uses in preparing the factual and practical content of his many books.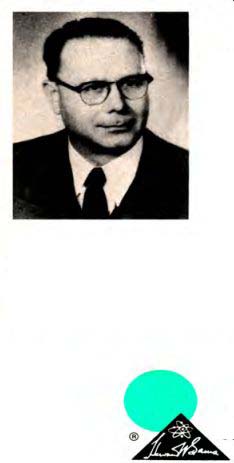 Other Sams books by Mr. Middleton include: nine volumes of his famous 701 Ways to Us. Test Equipment series, TV Tube Symptoms and Troubles, Using the Oscilloscope in Industrial Electronics, Solving TV Tough-Dogs, Bench Servicing Mad. Easy, Troubleshoot With the Oscilloscope, Troubleshooting With the VOM & VTVM, Electronic Tests Equipment Circuit Manual, Practical TV Tuner Repairs, Elements of Transistor Technology, Scope Maintenance Handbook, and Know Your Color-TV Waveform Analysis, TV Servicing Methods Guidebook, Test Equipment, Component Tests and Measurements, Pulse Circuit Technology, and Test Equipment.
---
Also see: Effectively Using the OSCILLOSCOPE
---


Home

This page was last updated: Friday, 2007-07-20 17:18,Wednesday, 2023-08-30 14:05 PST