---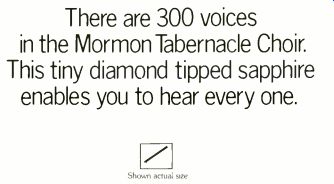 There are 300 voices in the Mormon Tabernacle Choir. This tiny diamond tipped sapphire enables you to hear every one.
What you see above is the diamond stylus/sapphire crystal cantilever of the Bang & Olufsen MMC 20 CL Phono Cartridge.
We chose sapphire because it is one of the most rigid materials on Earth. So there is no audible tip resonance. No distortion of the music. Even when subjected to the 10 G forces which cantilevers encounter when tracking today's records.
And while sapphire may seem like overkill, the fact is that your cartridge, though dwarfed by the rest of your system, has an overwhelming influence on the reproduction quality you achieve. Which is why we go to great lengths to achieve optimum performance where it counts in our cartridges.
Another place the MMC 20 CL excels is its stylus. A Contact Line nude diamond. Super-polished to shun contaminants and reduce record wear. It Shown actual size tracks the groove like a train on a rail.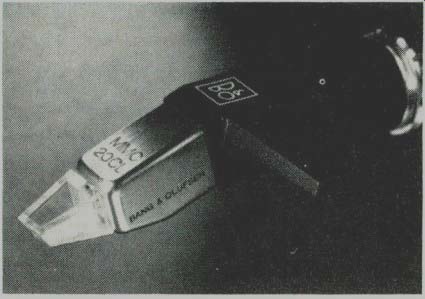 Then there is the Moving Micro Cross, heart of the patented B&O cartridge for years. Now highly refined, it maximizes stereo separation and minimizes effective tip mass (ETM). For extended record life, and unsurpassed trackability.
Since inductance is low, induced noise is negligible. And output is constant, regardless of cable or preamp capacitance.
Bang & Olufsen's other three cartridge models are the MMC 20 EN, MMC 20 E, and MMC 10 E. They are produced to the same exacting standards as the MMC 20 CL. And offer almost equivalent performance.
The top three models each come with their own computer-generated test report showing output voltage, channel balance, channel separation, and tracking ability. The MMC 20 CL is also supplied with its own individually plotted frequency response graph.
While you might wonder just how much difference all of this makes, you can hear it for yourself at your local Bang & Olufsen Dealer.
Or write to us, and we'll send you reprints of what reviewers the world over have been reporting. Which is that Bang & Olufsen Stereo Phono Cartridges are great places for your music to begin.
Bang & Olufsen
Bang & Olufsen of America, Inc.
515 Busse Road Elk Grove Village, Illinois 60007
Attention: Sandy Reinquist
(Audio magazine, Mar. 1981)
Also see:
Bang & Olufsen Model MMC 20 CL (ad, Oct. 1981)
Bang & Olufsen SP-12 phono cartridge (ad, Oct. 1970)
B&O MMC 20CL Phono Cartridge (Equip. Profile, Mar. 1980)
B&O 15° High Compliance Stereo Pickup, Model SP 12 (Equip. Profile, Oct. 1970)
= = = =