---
---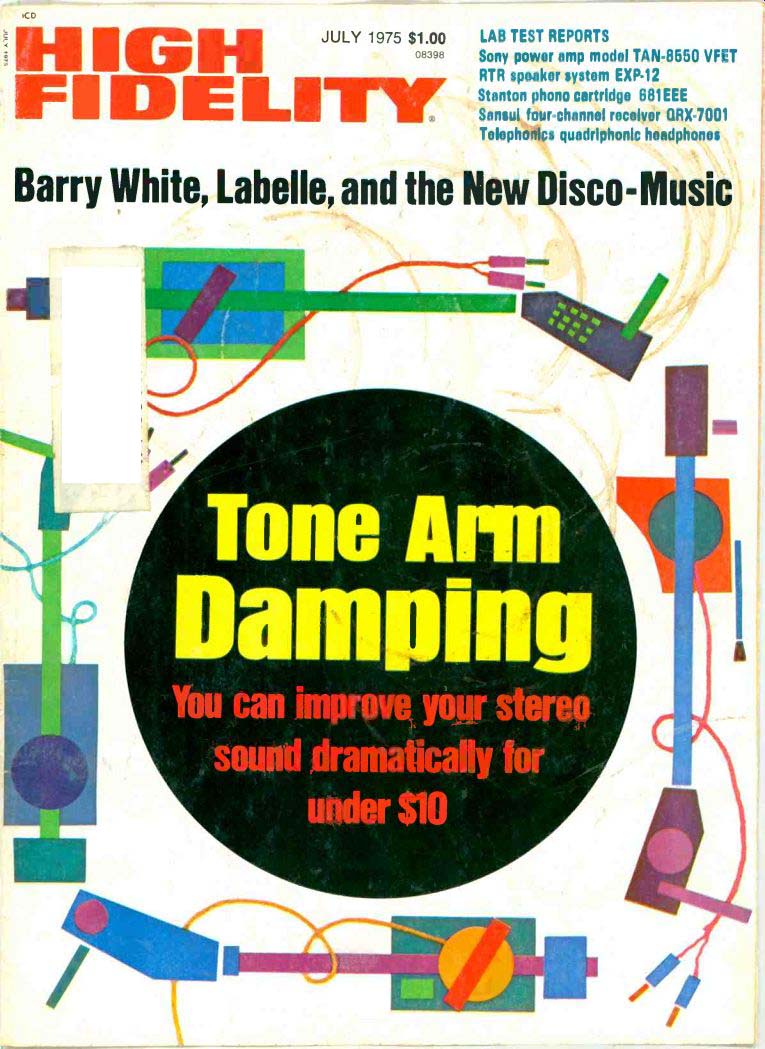 High Fidelity (USA print magazine) was published from April 1951 until July 1989 covering audio and high fidelity audio equipment, FM radio, FM stereo, video equipment, audio recordings, and related fields. In mid-1989, the title was acquired by Stereo Review, which began adding "Incorporating High Fidelity" on the cover of the October, 1989, issue. High Fidelity was founded by Milton B. Sleeper, a noted radio designer and publisher and began with a technical emphasis which soon broadened in to all aspects of consumer audio and recordings.
---
Selected Feature Articles:
(July 1975)
Tone Arm Damping--James Brinton--This overlooked feature can offer better sound for a small investment
(April 1977)
How to Judge Record-Playing Equipment (by Edward J. Foster)
(Oct. 1977)
In the Loudspeaker Testing Lab (by Emil Torick)
Computer Technology Transforms Speaker Design
The Great Phase-Coherency Bandwagon
HIGH FIDELITY's 100 Years of Recording--Part IV: The Microgroove Era
(Nov. 1977)
New Hope for TV sound
Nathan Stubblefield
Nathan Milstein--Brahmin with Violin
(Jan 1983)
HF's Music Critics Take On the Compact Disc (by Allan Kozinn)
Departments:
(July 1975)
Behind the Scenes
Letters--More Russian opera; Bravo Louisville; Brandenburg travesty
(Oct. 1975)
Letters
Culshaw at Large
The Lees Side
News and Views
Equipment in the News
Too Hot to Handle
Behind the Scenes
High Fidelity Pathfinders--The Men Who Made an Industry
(Jan 1983)
About This Issue
Letters
CrossTalk
Sound Views
Basically Speaking
Equipment (Reviews and Reports):
(July 1975)
Sansui Model QRX-7001 four-channel receiver
Sony Model TAN-8550 power amplifier
Stanton 681EEE phono cartridge
Telephonics Model TEL-101F quadriphonic headphone
(April 1977)
Specs Plus in Pioneer Spec-2 power amplifier
Aiwa Model AD-1250 stereo cassette deck
Crosswinds outboard subsonic filter
Audio-Technica AT-605 Audio Insulators
(Oct. 1977)
Technics SB-6000A floor-standing speaker system
Visonik D-50 loudspeaker system
EPI Model 200 loudspeaker system
ESS Tempest LS-5 loudspeaker system
(Nov. 1977)
Sony STR-5800SD stereo FM/AM receiver
Philips AH-572 stereo preamplifier
Stanton Model 881S phono cartridge
(Jan 1983)
Teac V-95RX bidirectional cassette deck
Technics SU-V9 Integrated amplifier
Sherwood S-6020CP preamplifier
Design Acoustics PS-10 loudspeaker
Dynavector DV-23R moving-coil phono cartridge
Boston Acoustics MC-1vdH moving-coil phono cartridge
Vector Research VRX-9500 AM FM receiver
Polk SDA-1 Stereo Dimensional Array speaker
Music and Recordings:
(July 1975)
Soundtrack Albums: Why?--Royal S. Brown--The worth of film music appears when it is parted from its movie
Karajan: Encounters the Second Vienna School--David Hamilton--DG offers a four-disc set
A Tchaikovsky Deluge--Philip Hart--Quantity is more noteworthy than quality in a flood of releases
Ravel: The Real Thing Royal--S. Brown--Skrowaczewski and Vox produce a fine set of his orchestral works
Classical--Blegen and Von Stade; Perahia's Mendelssohn Concerto; Baroque bassoon
(April 1977)
Classical Records--Marriner's Messiah, Davis' Dvorak, etc.
(Oct 1977)
The New Releases--A Window on Lully's Operatic World
The New Releases-- Heinz Holliger: Now That's Charisma
Denon/Reference/Gale Recordings: Art Weds Technology
(Jan 1983)
Glenn Gould (1932-1982)
Messiah: Reduplication Without Redundancy
CLASSICAL--Behind the Scenes Music news and commentary
Rifkin's Bach: A Mass of Evidence
ADs:
(July 1975)
Bang & Olufsen
Dual manual turntables
harman/kardon
(April 1977)
Ortofon moving-coil phono-cartridge system
Realistic STA-2000 and 5000 receivers
Technics Linear Phase speakers
(Oct. 1977)
Time & Life -- Great Men of Music series
BASF tape
The New York Philharmonic Guide to the Symphony (book)
Revox
(Nov. 1977)
Ortofon VMS Magnetic Cartridges
Philips High Fidelity Laboratories, Ltd.
Technics by Panasonic -- SL series turntables
= = = =