---
---
An important achievement in record quality.
Proof-quality records that offer clearer sound, true fidelity, anti-static performance and are produced in a dust-free "Clean Room".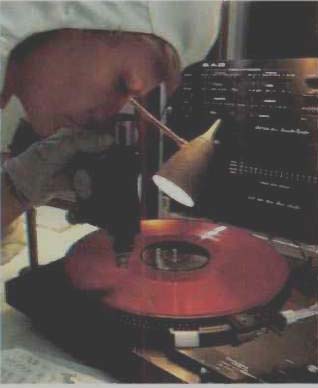 ----- Franklin Mint proof-quality records are pressed in a dust-free, atmosphere-controlled "clean room" where careful methods of production and inspection assure the high quality of these great recordings.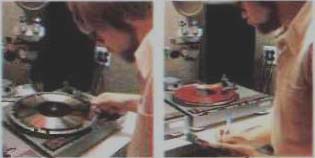 ------- (left) You normally cant tell if the record you buy was the first or last to come from a record stamper, or if the stamper was made from a defective metal mold. But (right) The Franklin Mint Record Society aurally auditions a greater number of pressings than most other producers. And every metal mold is actually played, from start to finish, before it is used to produce stampers.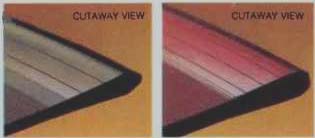 -------- Ordinary records (left) may warp, causing "skipping" and distortions in sound. But Franklin Mint proof-quality records (right) are 36% thicker and heavier than ordinary records and are, there fore. less likely to warp.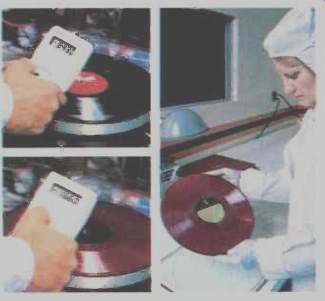 ----- Ordinary records (top), nave static charges that attract dust, causing surface noise when the record is played. But the special vinyl used in Franklin Mint records (bottom) has a built-in anti static element that assures clearer sound. Electrostatic meter tests show that the Franklin Mint record has only one-fifth the static charge of an ordinary record.
The records in this unique collection of The 100 Greatest Recordings of All Time have been produced to the highest standards possible. Each record is exceptional for its clarity as well as its tonal quality-capturing the beauty both of today's finest performances and of the historic performances of the past.
A superior vinyl material, containing its own anti-static element, is used in the production of these records. This exclusive vinyl material, together with the careful process by which the pressing is made, results in a record that is more rigid, durable and resistant to dust. A record that has true fidelity, clearer sound quality and a long life.
Ordinary records (even new ones) can have dust particles embedded in their grooves, and the types of vinyls used increase surface noise. But because Franklin Mint records are produced from this exclusive vinyl formula, they effectively resist dust and capture a fuller sound.
To further assure their quality, the Franklin Mint records are pressed in a special "clean room," similar to the facility in which the mint produces its flawless proof-quality coins. In this atmosphere-controlled clean room, technicians wear vinyl gloves and every precaution is taken to ensure protection for every record. Here, the most meticulous attention is paid to the pressing of the records-in order to greatly minimize noise, to assure a quieter, clearer record and to make certain that the full quality of each original recording is faithfully preserved.
Together, these important features enable The Franklin Mint Record Society to create a collection of proof-quality records-records that offer greater clarity of sound and are quieter and clearer.
To attest to this high standard of proof quality, each record bears the distinctive mintmark of The Franklin Mint.
Most of the recordings in the collection are in full stereophonic sound. But naturally, the very early recordings are monaural. However, all of the records throughout the series reflect the highest fidelity possible-and all are playable on any stereo phonograph or system. No special equipment is needed.
In addition, the recordings of legendary greats such as Enrico Caruso, Rosa Ponselle, Feodor Chaliapin and Giovanni Martinelli have been remarkably improved by electronically removing imperfections that were present in the earlier recordings, thus enabling you to now hear these glorious voices more nearly as they sounded in the actual performances.
Rarely if ever have records of such distinction been produced. Rarely if ever has so much time and attention been devoted to their creation. And these are the superior records which you will receive when you become a subscriber to The 100 Greatest Recordings of All Time-the ultimate private library of recorded music.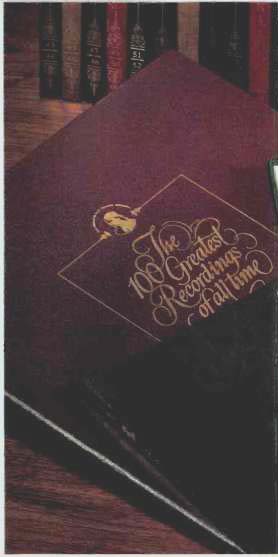 The Franklin Mint Record Society presents the ultimate private library of recorded music.
The 100 Greatest Recordings of All Ti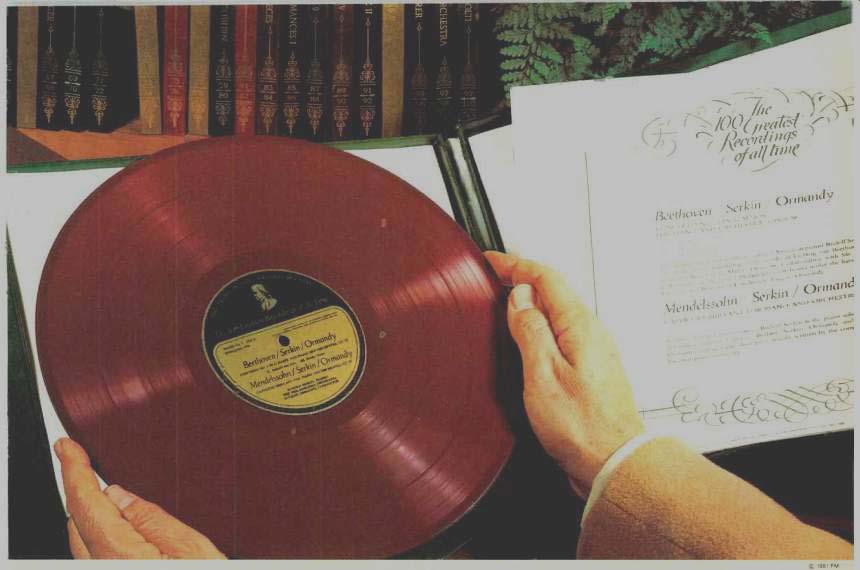 me.
A unique collection of the greatest performances ever recorded, selected by an international panel of music authorities and presented on 100 records of superb proof quality.
For the first time in history, the world's greatest works of music-- and the greatest recorded performances of those works--have been brought together in one unique collection of distinctively high-quality records. Truly the ultimate private collection of fine recorded music.
These are the supreme masterpieces of man's musical genius, performed by the most outstanding artists of the century. Together, they form a record library unprecedented and unsurpassed-in the entire history of music.
The greatest music--and the greatest performances An international panel of renowned music authorities was appointed to participate in the selection of these great recordings. This distinguished panel considered countless recordings of each of the greatest works of music-a momentous task.
For instance, members of the panel reviewed 24 different recordings of Beethoven's 7th Symphony and chose the one recording they considered superior to all others: Toscanini with the New York Philharmonic.
From 30 great recordings of Tchaikovsky's Nutcracker Suite, the panel selected the one greatest performance: Arthur Fiedler and the Boston Pops.
Similarly, the recordings of other great symphonies, concertos, sonatas, rhapsodies, ballet and vocal music were reviewed and the most outstanding performance in each instance was recommended.
The creation of this definitive collection has been made possible through the cooperation of leading record companies both here and abroad. And now, The 100 Greatest Recordings of All Time is being issued exclusively by The Franklin Mint Record Society.
Among the works chosen for this collection are immortal masterpieces by Beethoven, Brahms, Mozart, Tchaikovsky, Schubert, Rachmaninoff, Debussy, Verdi-performed by such superb artists as Vladimir Horowitz, Jascha Heifetz, Enrico Caruso, Van Cliburn, Isaac Stern, Arthur Rubinstein, Leontyne Price-with the world's finest orchestras under the direction of such great conductors as Toscanini, Ormandy, Bernstein, Stokowski, von Karajan, among others.
In every sense, the ultimate private library of recorded music-to be cherished for a lifetime, and presented as a legacy to future generations of your family.
Handsome library cases provided
To house these magnificent proof-quality records, special library cases are provided for all 100 records. Each hardbound library case holds two long-playing 12" records and is attractively designed. Displayed in a bookshelf or cabinet, these handsome library cases will be an impressive addition to any home.
The fifty library cases also include specially written and illustrated commentaries discussing the great masterpieces and their composers, and providing fascinating background on the orchestras, conductors and soloists.
Thus, you will enrich your understanding of great music--and introduce your family to a world of pleasure and cultural satisfaction.
Created solely for subscribers to this series
The 100 Greatest Recordings of All lime is produced solely and exclusively for those who enter subscriptions to this series. The collection may be acquired only by subscription from The Franklin Mint Record Society. It will not be sold in any record stores.
To begin building your private library of the world's greatest performances on proof-quality records, mail the attached postpaid application directly to The Franklin Mint Record Society, Franklin Center, Pennsylvania 19091, by March 31, 1981.
The Advisory Panel:
MARTIN BOOKSPAN, music critic, commentator of New York Philharmonic radio concerts
SCHUYLER G. CHAPIN, Dean of the School of the Arts, Columbia University
FRANCO FERRARA, member of the faculty of the Academia di Santa Cecilia, Rome R.
GALLOIS MONTBRUN, Directeur, the Conservatoire National Superieur de Musique, Paris
IRVING KOLODIN, music editor of The Saturday Review, faculty member, the Juilliard School
WILLIAM MANN, senior music critic of The London Times, author of books on Mozart, Bach, Wagner
MARCEL PRAWY. Professor, Vienna Academy of Music
ANDRÉ PREVIN, Music Director of the Pittsburgh Symphony Orchestra; composer, pianist
WILLIAM SCHUMAN, composer, first winner of Pulitzer Prize for music
H. H. STUCKENSCHMIDT, member of the Akademie der Kuenste, West Berlin
(Source: Audio magazine, Mar. 1981)
Also see:
Top of the Pile -- Audiophile stereo recordings (Feb. 1979)
= = = =