---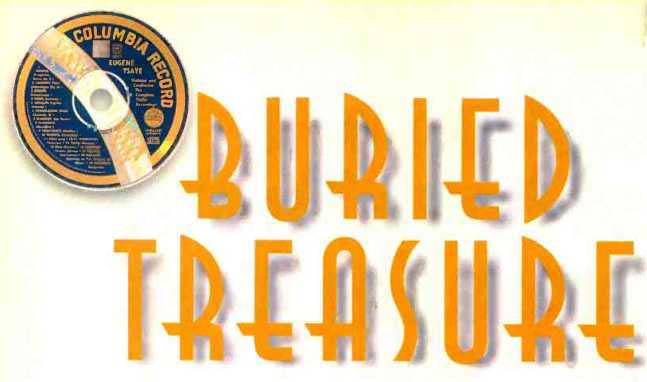 by Alan Lofft
About 80 miles north of New York City, deep in an underground vault, are stored 400,000 first-generation master tapes and lacquers, some dating back more than 50 years. On these are the ghostly voices and instrumental artistry of Columbia and CBS Masterworks recording artists. Sony Classical has begun to unearth and sonically refurbish this extraordinary musical legacy, using computerized noise-removal systems and Sony's own 20-bit technology and Super Bit Mapping process.
The Masterworks Heritage series encapsulates an almost-complete history of recording technology, beginning in 1900 with the acoustical years, when performers sang or played directly into a large acoustical horn connected to a diaphragm. (The latter was mechanically linked to the cutting stylus that engraved the grooves in the master disc.) The series also includes recordings from the mono electrical period, which began in 1925 when microphones, electrical amplifiers, and disc cutters replaced the acoustical horn. Recording technology then continued more or less unchanged up to the modern analog stereo era, which prevailed from 1957 to 1980.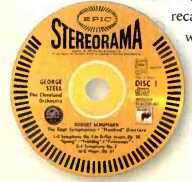 The artist roster includes the famous (tenor Richard Tucker, soprano Eileen Farrell, and conductors Leopold Stokowski, Fritz Reiner, Eugene Ormandy, Leonard Bernstein, and George Szell) and the familiar, names that I recall my parents discussing when I was a child (such as violinists Eugene Ysaye and Zino Francescatti and pianist Claudio Arrau). Moreover, there arc once-celebrated artists (sopranos Bidú Sayáo and Eleanor Steber and bass Alexander Kipnis) whose names and work, until now, have remained relatively unfamiliar to all but collectors, opera buffs, and musical historians.
According to Sony Classical's Masterworks Heritage executive producer Thomas Frost and a series consultant, Dennis Rooney, the process of transferring discs and lacquers has evolved significantly over the past decade. Previously, they were transferred to tape, and then the ticks and pops were removed through individual tape edits, an expensive and time-consuming process.
Now computerized digital systems, from such companies as Sonic Solutions and CEDAR Audio, enable the noise spectrum of the recording to be displayed and analyzed on-screen, and noise can be removed in the digital domain.
Rooney cited another advantage of digitally processing historic reissues: preserving the master recording's dynamics. These dynamics, available to CD listeners for the first time, were previously unheard because of inherent limitations of 78-rpm disc technology. For example, in 1947 Columbia cut 33 1/3-rpm master lacquers that embodied a wide dynamic range, which, regrettably, had to be compressed for transfer to 78-rpm discs because home playback equipment of the period simply couldn't handle the original dynamics without distortion.
"The difficulty with so much of this reissue work," Rooney told me, "is that it's incumbent on us to get the message across that this material is not the same old stuff that's been available for years-the 78-rpm discs and second-generation releases from 1939 to 1950. It's very much a departure from policy for us to go back to the first-generation stereo masters, such as the Leopold Stokowski and Eugene Ormandy recordings [The Philadelphia Orchestra Plays Bach, Sony Classical MH2K 62345].
"You see, Columbia was never an audiophile company like Mercury or London Decca. The releases were never treated the way Bob Fine handled his Mercury Living Presence series of recordings. And there was some awful analog disc mastering back then. Why, even the Shaded Dog Victors were wildly uneven; some of them were out of phase! " Columbia's marketing philosophy at that time was for the releases to sound loud, to have `presence'. The Leonard Bernstein/New York Philharmonic LPs, for example, were crude and crass-sounding, with no detail or subtlety. Yet when we listened to the original three-track, three-channel master tapes, the nuance, color, detail, and spaciousness were all there.
"For this Heritage series, all three channels were analyzed, track by track. Sonic Solutions NoNoise and CEDAR were used in tandem. They're excellent for removing small- and large-order crackles and ticks, but they're not perfect. We'd leave steady-state tape noise alone, out of respect for the material." To reclaim very old recordings, such as The 1903 Grand Opera Series (MH2K 62334), Rooney and his team would sometimes play a negative metal matrix (a mirror image of the 78-rpm disc) with a special Stanton biradial stylus that rides on top of the "groove"--in fact, on a ridge. During such a transfer, the turntable must revolve backwards because the metal matrix is a mirror image of the final pressing. This technique was used to dub a 1903 recording of baritone Antonio Scotti singing the Prologue from I Pagliacci for The 1903 Grand Opera Series.

How successful have Sony Classical's efforts at sonic restoration been? An afternoon's listening to seven Masterworks Heritage releases revealed some stunning musical and audio treasures plus one or two that might charitably be described as being of historical, archival interest only. (The Grand Opera Series fits into this latter category.) The winners include the radiant and crystalline voice--new to me--of Brazilian soprano Bidú Sayáo, on recordings done mostly from 1947 to 1950 (Opera Arias and Brazilian Folk Songs, MHK 62355); the beautiful sound and singing of former New York Metropolitan Opera star Eleanor Steber, in works by Berlioz, Bach, Handel, and Mendelssohn (MHK 62356); the wonderful string sound, deep bass, and Severance Hall acoustics in superb, early stereo recordings of four Schumann symphonies from sessions done in 1958 and '60 with the Cleveland Orchestra under George Szell (MH2K 62349); and similarly lush string sound and low bass available on the aforementioned Stowkowski/Ormandy Bach recording.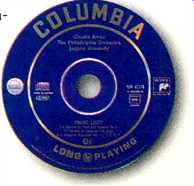 On the other hand, the slightly hard edge to the violin sound on Zino Francescatti's Great Violin Concertos (MH2K 62339) seemed exactly like that of the original '50s Columbia LP (I still own it), which I played many times on a mono tube audiophile system I built for my father in my early teens. By contrast, the smooth and spa cious sounds of the Philadelphia, Cleveland, and Chicago brass ensembles have been finely pre served on The Antiphonal Music of Gabrieli (MHK 62353), as have the acoustics of the Romanesque Hall of the Busch-Reisinger Museum at Harvard University and of Town Hall in Philadelphia, where the sessions took place. However, the dreadful sound, shaky intonation, wobbly pitch, and curiously slow tempos (all of which may be a product of the primitive acoustical recording technology) evident on Eugéne Ysaye: The Complete Violin Recordings (MHK 62337) did nothing to persuade me of the violinist's vaunted virtuosity.
The last disc aside, Sony Classical has accomplished wonders of audio restoration with its Masterworks Heritage releases, and there are many more to come. Incidentally, the art direction and packaging of the CDs are a knockout.
Rugged cardboard binders are used in place of standard jewel cases. The beautiful color art work of the original record jackets and all book let notes have been printed on heavy paper.
Even the original record labels have been perfectly silk-screened, in full color, on the Compact Discs. Buyers of the Cleveland Orchestra and George Szell's two-disc set, in particular, will reel with nostalgia when they see how perfectly Sony Classical has reproduced the original, black-on-gold Epic "Stereorama" label, under which the recordings were first released.
= = = =
Also see: Sonic Restoration of Historical Recordings--Part 1 (Jun. 1991)