---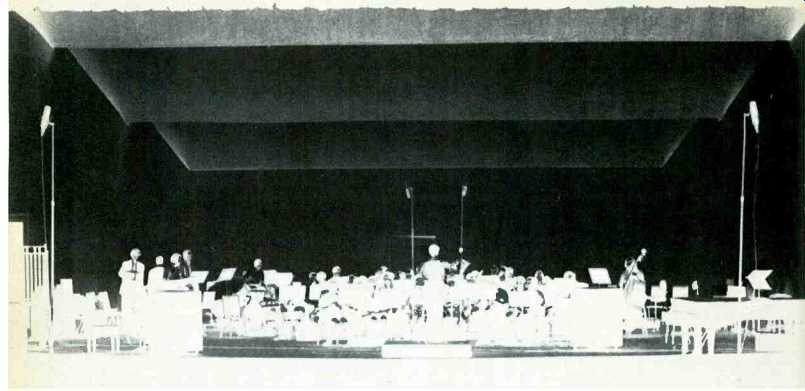 by DR. DONALD HUNSBERGER [ Eastman School of Music]
---- The photo above shows the Eastman Wind Ensemble recording on stage of Eastman Theatre using quadraphonic microphone set-up. Microphones being used are Neuman U 47's and U 67's. Distance from rear mics to stage mics approx. 40 feet. Dr. Hunsberger conducting.
THE DEVELOPMENT OF professionally equipped and operated recording studios in music schools throughout the United States has been a recent and most vital addition to the training of the performing musician. The recording studio has been integrated into traditional music education quite rapidly, considering the rather slow acceptance of many other technological advances afforded the educator during the recent emphasis on scientific development.
In most instances the resident engineer and the studio fulfill varied needs in the daily life of the music school: recording of recitals and concerts, and similar documentation which maintains the performance history of the institution; playback of concerts, both for the individual performers and the massed ensemble; duplication of recorded material for classroom use (as in language laboratories ), for individual use by the student in remedial theory instruction, for reference use by outside institutions in evaluating a student's performing ability; classroom recording services for writing skills programs; and, frequently, the operation and maintenance of sound reinforcement systems as well as playback equipment situated in faculty offices and studios.
These widespread demands for recording services have created a conspicuous need for professionally trained sound engineers. Never before have opportunities existed for professional-level engineers and technicians in educational institutions. To overcome some of this lack of trained personnel, the Eastman School of Music established a Recording Workshop in 1967 as part of its Summer Session institute training area.
The Recording Workshop offers two one-week courses in basic recording techniques, in both studio and location format, set-up procedures for all types of ensembles, basic through advanced experience in mixing techniques plus instruction in the electronic properties of recording and playback equipment. Phil Ramone, executive vice-president of A & R Recordings, Inc., and David Greene, director of quality control for A & R, are the guiding forces behind this pedagogical program. Professional ensembles, assembled for the Arranger's Laboratory Institute held concurrently with the Recording Workshops, provide varied types of recording situations including combos, large studio orchestra and dance band. Recitals and concerts of the Eastman School Summer Session are also recorded by Workshop participants. Dates for the 1970 Workshops are July 20-24 (Basic Recording Techniques) and July 27-31 ( Recording Workshop) . The Eastman School Recording Studio The Recording Services Department at Eastman is operated by Harry R. Ritchie with the assistance of several student employees. Mr. Ritchie is a former Director of Recording for both the United States Marine Band, Washington, D. C. and the Sound Department of Washington Cathedral. The studio utilizes a custom solid-state console by Suburban Sound, Bethesda, Maryland, with 16 channels in, simultaneous 4 and 2 out, or, 8 and 2 dry out; a Scully 280-4 tape recorder plus Ampex tape recorders for 2-track, full and 34-track tapes; MacIntosh monitor amplifiers; AKG, Altec, and Neuman condenser microphones, and, Altec 604 E and A7 Voice-of-the-Theatre speaker systems.
The Studio and the Large Ensemble Program
Critical analysis of one's performance and participation in massed or chamber ensembles constitutes an important facet of growth and development for the performing artist. As a firm believer in this tenet, 'I make frequent use of taping and playback of both rehearsals and performances, to provide insight into musical problems such as interpretation, balancing of melodic lines and harmonic structures, development of rhythmic solidity, tonal colorations, and so on, and possible solutions to these problems. While employing these recordings basically for the musical development of the young performers, it is also possible to present information which contributes to the technical knowledge of the player; thus, Mr. Ritchie is called upon to discuss topics such as characteristics, patterns, and placement of microphones relative to producing the recorded sound of a theatre versus a studio; speaker characteristics; ensemble seating variations, and the like.
The experience of being recorded must be a total one and each performer must become aware of what the microphone, mixing console, and tape machine can do for him as well as what it is capable of doing to his detriment.
The studio should function as a research laboratory as well as a documentation or reproductive center. An example of an extended series of recordings and experiments in recording will serve to illustrate the close relationship between the recording studio and the ensemble program.
A Spatial-Music Concert and a Quadraphonic Recording
Henry Brant, composer-in-residence at Bennington College, was invited to the Eastman School to present a program of his spatial ( geographically-separated) compositions with the Eastman Wind Ensemble on March 24, 1969. Coincidentally, Acoustic Research, Inc., was undertaking a series of experiments in quadraphonic recording, and the Brant concert was recorded in this mode. The combined experience of creating live spatial music along with a recording based on geographic areas of sound generation produced a most interesting session for the performers, the engineers, and subsequent audiences.
Among the works on the March 24 program was Mr. Brant's Antiphony I, scored for five separated ensembles, each with its own conductor. This work was conceived with a basic ensemble on the stage portion of the hall ( two versions of this ensemble exist: a string ensemble or a clarinet choir, the latter used in this performance). The other groups were distributed in this fashion.
Group I---Piccolos, oboes, E-flat clarinet; Uppermost portion of the top balcony
Group II---Muted trumpets, muted trombones; Left side of the Loges
Group III---Horns Mezzanine level, with bells projecting out over the front railing into the orchestra seating area
Group IV---Timpani, chimes, melodic keyboard percussion instruments; Right side of the Loges
All players faced their own conductor, who in turn, faced the stage area to receive entrance cues from Mr. Brant, who was conducting the clarinet choir. To accomplish this, Mr. Brant conducted facing the audience while the members of clarinet choir sat facing him with their backs to the audience.
The aural effect of the five widely separated groups was exemplified by the high woodwinds in Group I which were located at the very top of the grand balcony, approximately 80 feet above and behind the audience. This was a true demonstration of a live spatial effect, in that members of the audience experienced not only high frequencies of sound, but also the illusion of height being projected from the location of the sound source.
The recorded effect in four-channel reproduction also provided a gratifying sense of direction of sound source. A plat of the Eastman Theatre, with the location of microphones in relation to the five groups and the audience, will help to explain further the basic physical distribution of performers and equipment. See Fig. 1.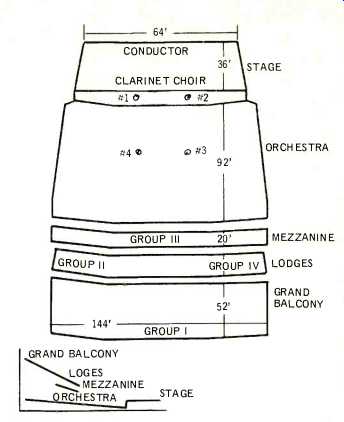 Fig. 1--Plan of Eastman Theatre
During the week following the concert with Mr. Brant, the Eastman Wind Ensemble presented a program of more traditionally-oriented music which was also recorded in the quadraphonic mode; an edited version of the two concerts was prepared and presented to recording industry representatives as demonstration of two- vs. four-channel recording.
During the past year further experimentation was carried out by the Eastman Recording Services Department with various ensembles of the Eastman School.
The most recent recording was made on March 12, 1970, and again involved the Eastman Wind Ensemble in the Eastman Theatre. This session resulted in an experimental quadraphonic recording which was presented as part of the first four channel broadcast from a single source (AR has been sponsoring four-channel broadcasts over two stations in Boston since last fall). Following this broadcast over WNYC in New York, the tape was played at the March meeting of the New York Section, Audio Engineering Society, devoted to discussion of quadriphonie recording.
The Studio and the Classroom
In addition to the reproduction of rehearsals and concerts for analysis by the performers, the recording studio plays an important role in classroom activities of the music student. The theory department, where the student is trained to develop his aural comprehension and writing skills, utilizes the studio to prepare dictation tapes both for classroom playback and for individual remedial study by the student. Most theoretical training begins with the analysis, dictation and writing of four-part chorales, particularly those of Bach. By recording chorales on four tracks, with the soprano, alto, tenor, and bass voices isolated each on its own track, playback procedures may be programmed to offer almost unlimited combinations of dictation possibilities. (With the average playback deck in the classroom being ¼- or 3/4-inch stereo, a mixdown from four to two tracks with a prepared programmed teaching syllabus enables the theory instructor to realize the benefits of multitrack recording on his two-track machine). As the theory class progresses from re-creative writing skills to original composition or arranging, good use may be made of actual classroom recording and playback as well as more extensive involvement of the full facilities of the recording studio for highly sophisticated recording problems.
Orchestration Analysis
An exciting adaptation of multitrack recording and playback becomes evident in orchestration and composition study, and in analysis and styles courses. It would be possible, for example, to utilize a twelve-track mixer and recorder to trace the development of orchestration techniques by simultaneously recording each orchestral voice or section on its own isolated track. ( This procedure is used daily in recording techniques, but the end result is a mix-down into mono or stereo mode.) The instructor would then play back the tape and isolate or highlight any particular voice desired. In a simulated demonstration the original score would appear in the form shown in Fig. 2.
The orchestral voices are recorded thus:
Track | Orchestral voice
1 Flutes
2 Oboes
3 Clarinets
4 Bassoons
5 Horns
6 Trumpets
7 Trombones
8 Timpani
9 Violins I
10 Violins II
11 Violas
12 Celli/Bass
The page of full score would have marked areas which illustrate a particular orchestration situation. For example, if one wished to illustrate the orchestration of an early classical symphony, staves (and tracks) 1, 3, 6, 7, and 8 would be blacked out. By adding staves 6 and 8 ( and tracks 6 and 8) the features of outdoor performance would now be present.
If one wished to demonstrate the classical wind serenade band, he would use tracks 1, 2, 3, 4, and 5. It is easy to visualize the tremendous possibilities inherent in this form of technological adaptation into traditional music study. Unfortunately, too many schools do not possess either the equipment or the trained personnel to make their recording studios meaningful participants in the daily lives of their students.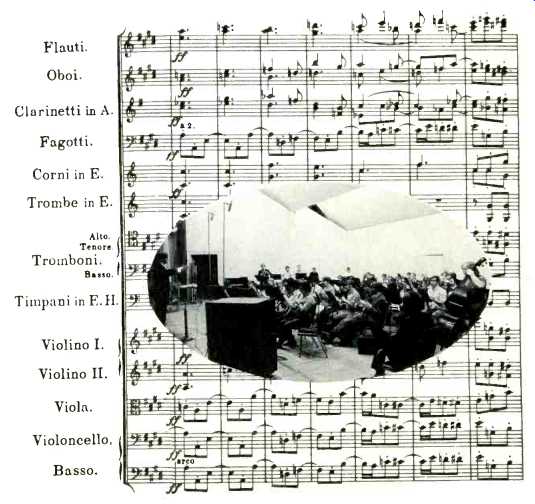 Fig. 2--Score from Schubert's Symphony in B minor
Conclusion
The time has arrived when the recording industry must join forces with educational institutions to find ways to educate the ever-increasing number of persons necessary to provide professional-level sound recording and technical assistance in music schools, fine arts centers, secondary schools, and university campuses.
The versatile sound engineer, equipped with both a musical education (theory, history, and actual performance) and engineering skills related to acoustics, circuitry analysis, and equipment maintenance, will fill a definite need in the educational processes of today and tomorrow.
(Adapted from: Audio magazine, Jun. 1970)
Also see:
Studio in the Home (or: home in a studio) (Apr. 1973)
Home Studios--Do It The Pro Way (Part II) (Dec. 1984)
Build A Microphone Preamp (Feb. 1979)
Have DAT ... will Travel (Sept. 1991)
= = = =