---
APPROACHING THE ULTIMATE -- Amplification by Bose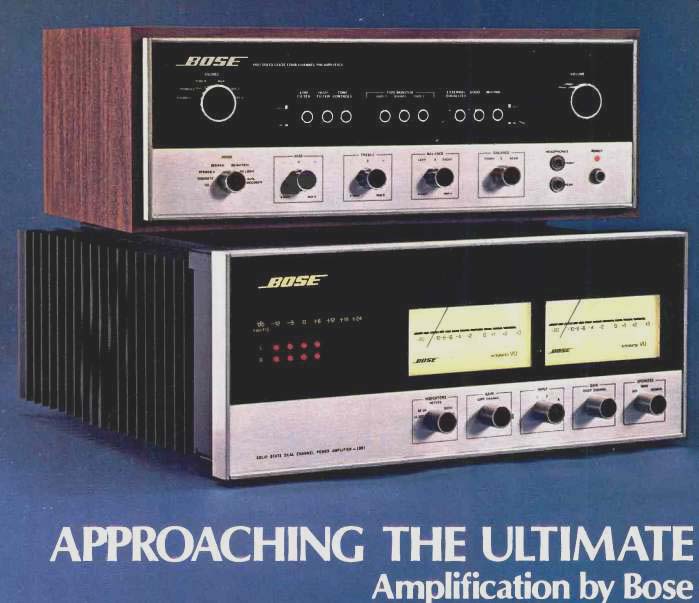 The ultimate in audio amplification is more than the achievement of audible perfection. It is also flexibility of operation, long term reliability, and adaptability to all future signal sources. Through excellence in Design and construction, the Bose 4401 Stereo/Quadraphonic Preamplifier and the Bose 1801 Power Amplifier establish standards of performance far beyond those of conventional components.
THE 4401 PREAMPLIFIER features stereo and true quadriphonic operation; a new concept in phono circuit design for the lowest possible noise; flexible tape recording circuitry or two tape recorders with full use of tone controls and filters during recording; internal provision for plug in of up to 3 multichannel decoders; professional "line driver" output circuitry; modular printed circuit board construction including horizontal mounting of input and output connectors for ease of installation.
THE 1801 POWER AMPLIFIER offers extreme reserves of power for reproduction at true concert hall volume in virtually any listening environment; complete speaker and input switching provisions; instantaneous light emitting diode display of power output in addition to standard meters; exceptionally conservative design, 14 power transistors, 1300 square inches of heat sink and modular construction of each amplifier section.
The 4401 Preamplifier and 1801 Power Amplifier. By design and construct on the nearest approach to the ultimate in audio amplification. From Bose. For information, write to us at room AE.
The Mountain, Framingham, MA 01701, USA.
(Audio magazine, June 1975)
Also see:
Bose Model 1801 Stereo Amplifier (Jan. 1974)
Bose 1801 solid state dual channel power amplifier (ad, Apr. 1973)
The Audio Interview: Direct Reflections from Amar Bose (July 1983)
= = = =