---
---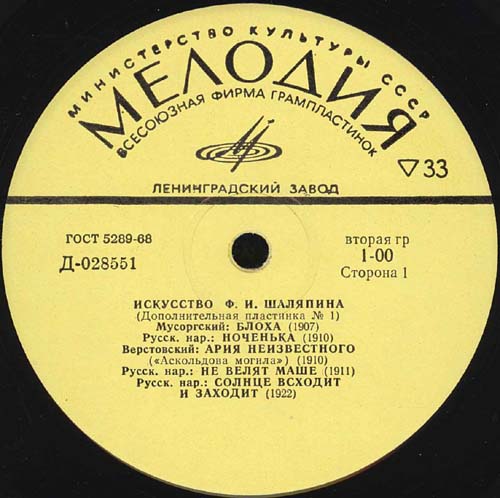 Anyone who collects classical records as a hobby is, in all probability, acquainted with the major West European record companies: DGG, Philips, Decca/London, EMI/Angel, and Telefunken. All of these labels are firmly entrenched in the American market place, and their products are widely distributed and well known.
But, unfortunately, few U.S. collectors have a wide knowledge of the record firms in the other Europe-the socialist nations of Central and Eastern Europe. This article is intended to introduce the American classical buff to some of the Eastern European treasures within his reach.
Unlike the West European firms mentioned above, the Eastern European record companies and labels have had, until recently, only a small following in the United States. For several decades after World War Il, Soviet and East European performances could only be heard on such labels as Artia, Parliament, Urania, Concert Hall, Bruno, and a few others.
These labels were (and are) little known and unevenly distributed, and while the companies mentioned had good intentions, the recordings were often poor, both from the technical and musical standpoints. Obviously, a way was needed to distribute high quality pressings of Eastern bloc performances. Finally, in 1966, a positive advance in this direction was made when EMI/Angel was given rights by the Soviet government to press and distribute Soviet recordings in the United States. At long last, recordings from an Eastern bloc source were given the representation they deserved here. These new discs were up to the typically high standards of Angel and the American classical record consumer, and the creation of the Melodiya/Angel label was deemed an artistic and financial success. Since then, DGG, Philips, Westminster, Turnabout, Columbia, London, Telefunken, Vanguard, Monitor, Musical Heritage Society, and Nonesuch have offered high quality performances from various Eastern European sources. In addition, the catalogues of several important Eastern bloc firms have been made available here through importers. Now the devoted discophile can choose from among the best of the Eastern bloc recordings.
Musically, much praise can be given to the majority of these recordings, for there are some wonderful things to be heard on these labels, both conventional and off-beat. One hasn't really heard Smetana's My Country, for instance, until you've heard the version on Supraphon with the Czech Philharmonic conducted by Karel Aricerl. To hear the music of Prokofiev, Chopin, Dvorák, Penderecki, and Shostakovich performed by their own native countrymen is to gain a new insight into the works being played.
Such ensembles as Leipzig Gewandhaus Orchestra, Bolshoi Opera, or Warsaw Philharmonic are fully the equal of their Western counterparts, and the outstanding recordings these and other groups have made should be heard by all music lovers.
Technically, the most recent East European recordings can hold their own with any Western discs. The Dolby system is now in use by most studios, and Western recording equipment is widely used. Eastern bloc pressings (produced for Western consumption) are generally of a high standard, and most discs can be purchased without any fear about low quality. Of course, there are some exceptions-some of the older Soviet mono items may have been big news in 1940, but by 1977 standards they suffer from poor surfaces, atrocious acoustics, and trite packaging. On the other hand, the most recent Soviet -produced discs are usually of very good quality, with relatively quiet surfaces. (One distinct advantage that East bloc discs enjoy over American ones is that they are thick and heavy--no Dynaflex here!) Those who purchase Eastern bloc recordings pressed by Western labels can expect the customary high quality of such firms as DGG, Philips, or Vanguard.
The labels discussed in this article are those that are believed to be of the greatest importance to the American classical collector. Czechoslovakia, Poland, the Soviet Union, Hungary, and the German Democratic Republic are represented. Romania, Yugoslavia, Bulgaria, and Albania are omitted since not enough information about them has been received to warrant their inclusion. Readers will also notice that, almost without exception, only one or two labels per nation are discussed. One has to remember that these are socialist nations with planned economies, and capitalist competition does not exist. In all cases, the State Ministry of Culture in each nation is in control of the recording firms, and the government determines the production, advertising, artists and their repertoire, and distribution of all records. This system has its faults, but all major performing groups can record without worries about high recording costs or profit/loss statements hanging over their heads.
The labels are grouped by nation, and a general overview of each label is attempted. At the end of each group a selection of three recordings representing the finest work done by each firm is given.
Hungary
The Qualiton label has become well-known throughout the Western world for its technical quality and imaginative programming. Qualiton has been exporting to the West for years, and the pressings and packaging are up to Western standards, in virtually every case. Their most ambitious project to date has been the Bartok Complete Edition, which endeavors to put every note the composer ever wrote onto microgroove. The project is virtually complete, and all Bartok freaks should definitely investigate the series. Kodaly is another featured composer given wide coverage, and especially interesting is a set of his works for chorus, in addition to his well-known orchestral compositions.
Lizst's virtually unknown sacred choral pieces have also been recorded. For Hungarian musicologists, a three record Musica Hungarica set traces the development of Hungarian music from its quasi -oriental roots to Franz Lizst, and a continuing (now 10 discs) Musica Rinata series chronicles the Baroque Age in Hungarian music.
A budget label, Hungaraton, numbers over 40 releases to date. This is the first budget label of any socialist nation, and the music of many composers is featured. On both the Hungaraton and Qualiton labels, conductors such as Janos Ferencsik, Antal Dorati, Vilmos Tatrai, Gyorgy Lehel, and others lead the Budapest Philharmonic, Budapest Symphony, Hungarian Chamber Orchestra, Hungarian State Orchestra, and the Orchestra of the Hungarian Radio and Television. Bartok's wife, Ditta Bartok Pasztorzy, is pianist in her husband's complete Mikrokosmos, and Imre Pallo and Ezserbet Hazy do operatic recitals. The complete Qualiton-Hungaraton catalogue is available from Qualiton Records, 38-39 58th Street, Woodside, NY, 11377. The discs are also available in most larger metropolitan record shops.
LIZST: Christus Oratorio. Nagy, Andor, Nemeth, etc. Hungarian State Orchestra, M. Forrai, conductor (stereo LPX 11506-8).
BARTOK: Scherzo for Piano and Orchestra, Kossuth, Scherzo from Symphony in E flat major. Erzsebet Tusa, piano; Budapest Symphony Orchestra, Gyorgy Lehel, conductor (stereo LPX 1033-35).
KODALY: Choral Works for Childrens' and Females' Choruses. "Kodaly Zoltan" Chorus, Ilona Andor conductor (stereo LPX 11409).
Poland
Muza issues records of Polish and international composers and performers, while carrying out exchange agreements with such firms as Deutsche Grammophon, Philips, and other western concerns. Muza has recorded every note Chopin wrote for piano, orchestra, vocalists, and chamber groups on a 25 disc set. Like several other East bloc record companies, Muza has its own old-music series, Musica Antiqua Polonica, which documents Polish music from medieval times. Extensive coverage of the music of such moderns as Lutoslawski, Baird, and Penderecki is provided, and a number of these items are quite outstanding. Among others, one item of interest is a four -record set entitled The Stars of the Polish Opera, 1900-1939, which features historical recordings of such luminaries as Brandowska-Turska and Roswaenge.
In the United States, the Chopin set was issued by the Musical Heritage Society (why was it deleted?!). Some of the Penderecki works are on Philips, and Rachmaninoff and Shostakovich compositions are available on DGG. Still, this is only a tiny bit of Muza's output, and fortunately the complete Muza catalog is available here via the Polish Record Center of America, 3055 Milwaukee Avenue, Chicago, IL, 60618. The quality of these records is quite good.
THE 8th INTERNATIONAL CHOPIN PIANO COMPETITION--WARSAW 1970: Chopin, Piano Concerto in D minor, various other works. Garrick Ohlsson, piano; Warsaw Philharmonic, conductor Witold Rowicki (stereo SXL 0678).
PENDERECKI: Psalms of David for Choir and Percussion; Sonata for Cello and Orchestra; Anaklasis for Strings and Percussion Groups; Stabat Mater for Three Choirs a cappella, Fluorescences for Orchestra. Siegfried Palm (cello), Warsaw Philharmonic Choir, Poznan Philharmonic Orchestra, Warsaw National Philharmonic Orchestra, conductor A. Markowski. (stereo SXL 0260).
RENAISSANCE MOTETS: Polish Radio Wroclaw Mixed Choir, S. Krukowski, conductor. (stereo SXL 0818).
Czechoslovakia
Two state recording organizations, Supraphon and Panton, deal extensively with classical music recording in Czechoslovakia. Supraphon is by far the largest of the two, with several hundred discs in its catalog, while Panton is much smaller and less well known outside of the Czech lands.
The main focus of Supraphon is on Czech music from the earliest times to the present. Three special historical anthology series appear on Supraphon, the first two, Musica Antiqua Bohemica and Musica Antiqua Slovaca, cover Bohemian and Slovakian old music, with much baroque and madrigal music represented. At the opposite pole, Musica Nova Bohemica et Slovaca is a series of very recent works of all types. The regular issues cover the traditional works of Dvorak, Smetana, Jáñacek, and other Czech and foreign composers. Panton has several historical recordings (Talich conducting Dvorak tone poems) and many of Jáñacek's little-known works.
Supraphon's standards are uniformly high. The world-renowned Czech Philharmonic is conducted by such men as Añcerl, Baudo, Sejna, Chalabala and Kletzki. The Vlach Quartet and Suk Trio are first-class chamber ensembles, while Jáñacek's operas are performed under the distinguished tutelage of Bohumil Gregor. Yvonne Loriod plays Messiaen, and Vera Soukopová is a featured vocalist in both operatic and solo works.
More recently Leopold Stokowski has recorded under the auspices of the Supraphon studios.
Distribution of the Supraphon catalog in this country has had a checkered history. In 1966, Columbia created a special series, Crossroads, expressly for distribution of Supraphon recordings in the United States. This was a budget label, well annotated and tastefully packaged, and many excellent recordings were introduced to the American public via Crossroads. Inexplicably, in 1969, Columbia liquidated the series, thus leaving a great void in the published phonographic literature. Artia, another company that had earlier distributed the Czech catalog, also ceased production of its discs from Supraphon master tapes. Fortunately, such labels as Musical Heritage Society, Vox, Nonesuch, Telefunken, and Vanguard have gained access to Supraphon material. In the meantime, imported Czech discs have become more widely available in larger record stores, and the importer is the same one who handles Qualiton.
The technical quality of the Czech recordings is fine. Supraphon was the first Eastern European firm to produce stereo discs (1962) and is planning to introduce four -channel SQ encoded discs as soon as the proper manufacturing facilities are set up. It is to be hoped some of these recordings will be available to collectors in the United States.
JÁÑACEK: Music for Male Chorus. Moravian Teacher' Choir; Anton Tucapsky, director. (Nonsuch stereo 71288).
DARIUS MILHAUD and GIAN FRANCESCO MALIPIERO: Concertos for Violin and Orchestra. Andre Gertler, violin; Prague Symphony Orchestra, Václav Smetácek, conductor. (110 1120 stereo).
DVORAK: Concerto in a for Violin; Romance for Violin and Orchestra. Josef Suk, violin; Czech Philharmonic, Karl Añcerl, conductor. (Vanguard stereo SU -3).
German Democratic Republic Of all the labels under consideration in this article, East Germany's Eterna is probably the least known of all to American discophiles. It's a pity too, because this enterprising label is tops in both engineering quality and programming.
A division of VEB Deutsche Schallplatten, Eterna is the prime classical label in East Germany. As such, it endeavors to cover all aspects of the East German musical scene, and performs its task quite well. With the coming of socialism to East Germany, both musical education and performance received major attention from the state, and the Germans have engraved into microgroove hundreds of performances by symphony orchestras, string quartets, vocalists, opera companies, and chamber ensembles. The GDR, after the Soviet Union, probably has more classical discs to its credit than any other East European nation.
Even during the height of cold -war tensions, the East Germans realized the importance of maintaining ties and exchange agreements with Western firms. They have helped produce their share of prize-winning recordings, one of the best recent examples being Carlos Kleiber's Der Freischutz (available here on DGG). Possibly the best set of all the Brahms symphonies is that of Kurt Sanderling conducting the Staatskapelle Dresden (available through import shops on Eurodisc). A 130-disc Bach series is due for completion by 1985, while an extensive Nova series chronicles the work of contemporary East German composers. Eterna has recently started a Melodiya/Eterna series featuring Russian recordings and the firm has extensive exchange agreements with most socialist labels. Western recordings are really nothing new to Eterna-Solti's Ring, the Arrau/Haitink Beethoven concertos, a number of Stravinsky's readings for Columbia, and several of Mahler's symphonies as done by the Utah Symphony and Maurice Abravanel are to be heard on this label. Pianist Bruce Hungerford has even recorded several discs of Wagner piano music.
Technically, the recordings are equal to the best Western efforts.
Eterna recordings released here on Philips and DGG excel in the pressing and packaging departments, although the domestic product is also quite decent in these respects.
Distribution of Eterna material on its own label has never existed on much of a scale in the U.S., but individual orders are filled by mail in East Berlin. A large number of these DGG/Eterna co-productions are found on DGG, and Philips has also released a number of items in the past few years. It is hoped that more Western record firms will take advantage of the vast amount of material on Eterna-its vast and alluring catalog certainly has much to offer.
STRAUSS: Don Quixote, Rosenkavalier Waltzes; Dresden State Orchestra, Rudolf Kempe, conductor. (Angel quadraphonic S-37406).
BACH: Toccata and Fugue in d, Passacaglia and Fugue in c, 2 Preludes and Fugues; E. Power Biggs playing the organ of the Thomaskirche in Leipzig. (Columbia stereo KM-30648).
ORFF: Der Mond; various soloists, Leipzig Radio Chorus and Symphony Orchestra conducted by Herbert Kegel. (Philips stereo 6700 083 two discs). Catalogs and mail-order information are available from VEB Deutsche Schallplatten, Reichstagufer 4-5, 108 Berlin, German Democratic Republic for those who wish access to material not available in the U.S.
Union of Soviet Socialist Republics (USSR)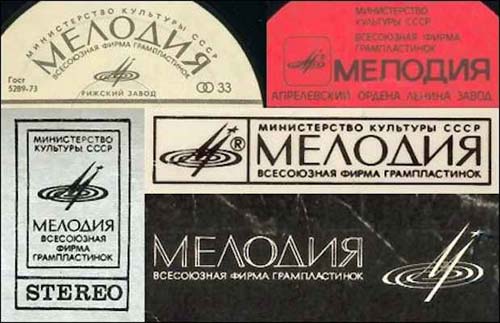 Melodiya is the state recording agency in the Soviet Union and is a branch of the Ministry of Culture of the USSR. Melodiya is a large enterprise, the sole classical label in the USSR, with insignia appearing on discs produced for both domestic consumption and export. In the United States, EMI/Angel, ABC/Westminster Gold, Monitor, and more recently, Columbia are all Melodiya licensees.
Melodiya/Angel has the largest number of releases, and scores of recordings are available on stereo disc, cassette, and cartridge. Annotation, packaging, and sound quality are up to the usual standard of Angel excellence. Several years ago, ABC Records also became a licensee of Melodiya, and several score of the Soviet-derived recordings have been released on the budget Westminster Gold label. Some of the items are mono, some stereo, but all are of at least adequate quality sonically, their only drawback being the somewhat trite and corny album covers. More recently, Columbia contracted for a reciprocal exchange of master tapes with the Soviets. Not very many Melodiya/Columbia discs have been released yet, but those that have point the way to a fruitful collaboration between Columbia and the Russians.
(Incidentally, Melodiya will release recent Columbia recordings of such artists as Miles Davis and Igor Stravinsky for domestic Soviet consumption.) Melodiya has left no stone unturned in its representation of the classical music of the USSR. The big romantics such as Tchaikovsky, Rimsky-Korsakov, and Rachmaninoff are represented by a profusion of recordings, as are such moderns as Prokofiev and Shostakovich. Much interesting material of Baltic, Central Asian, and Ukrainian composers has been given wide coverage. Melodiya is recording the complete works of such composers as Bach, Haydn, Brahms, and Beethoven for domestic consumption, in much the same vein as DGG's "The Symphony" editions. Such Westerners as von Karajan, Cliburn, Michelangeli, Klemperer, and Walter are available on the Melodiya label, and a group of Furtwangler performances, taken from captured German wartime tapes, are to be had only on Melodiya, although a few are available on Vox Turnabout, via Pye of England. One item of esoterica is a two record set of Igor Stravinsky conducting his own works with Soviet orchestras while on his historic visit to Russia in the autumn of 1962. All the famous Soviet performers, from Chaliapin to Rostropovich, have had their careers documented from the earliest days by Melodiya. The Russian operaphile will find riches galore on the Russian label, with virtually every piece in the Slavic repertoire engraved in microgroove.
One can plainly see that much material is not, and never will be available to discophiles in the West. Much of the stuff mentioned above has been released only in the USSR, but the collector need not despair, as there is a source of this material available in the U.S. The Four Continent Book Corporation, 156 Fifth Avenue, New York, NY 10010 has the most comprehensive stock of imported Soviet-pressed discs in the country, and they will be glad to send you lists of what items they have available. The cost is about five dollars per disc, and English liner notes are provided.
RACHMANINOFF: Vesper Mass. USSR Choir, Sveshnikov conducting. (Melodiya/Angel S-4214 stereo two discs).
PROKOFIEV: War and Peace. Vishneskaya Kibkalo, other soloists; Bolshoi Opera Orchestra, conducted by Alexander Melik-Pashayev. (Columbia/Melodiya M4 33111 stereo four discs). SHOSTAKOVICH: Symphony no. 15. Moscow Radio Symphony Orchestra, Maxim Shostakovich conducting. (Melodiya/Angel S-40213 stereo).
(Source: Audio magazine, Jun. 1977; by Greg Morrow)
= = = =