---
---
EVERY MUSICIAN SHOULD PLAY THIS KEYBOARD.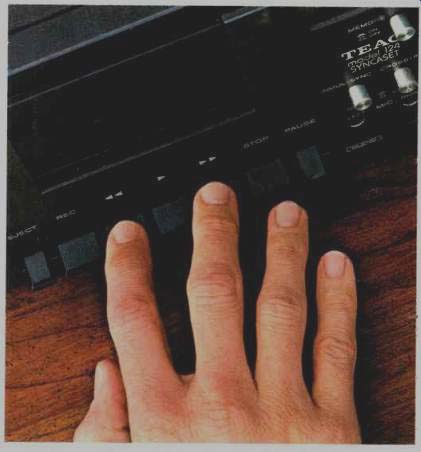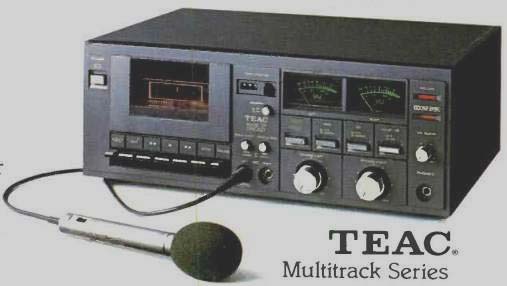 It controls the TEAC Model 124 Syncaset. Our first cassette deck that lets you record one track, then overdub the other to get two musical parts in perfect time. Later, you can mix live material with these two tracks and hear all three parts through your home sound system.
With the Model 124, you can accompany yourself or an existing piece of music, and record the result. Rehearse a tune or create one. Sharpen your ear for harmony and phrasing.
And develop your timing and playing skills while you're at it.
After you've worked on your own music, enjoy the sounds of others. The Model 124 is an outstanding stereo cassette deck. High signal-to-noise performance. Low wow and flutter. Wide, flat frequency response. There's Dolby NR (disabled in the "Sync" mode).
Memory rewind for fast tape checks. And illuminated VU meters for easy level adjustments.
Probably better than anyone, we know the Model 124 can't give you all the multitrack flexibility and open reel performance you want. But at a third the cost of an open reel multitrack recorder, it could be the start-up tool you need. And when you consider the savings on tape alone, you'll find the Syncaset a handy, economical instrument to work with.
So try out the keyboard every musician should play. See your TEAC Multitrack dealer today for a demonstration of the Model 124 Syncaset.
TEAC. Multitrack Series
1979 TEAC Corporation of America, 7733 Telegraph Road, Montebello, CA 90640.
In Canada. TEAC is distributed by White Electronic Development Corporation (1966) Ltd.
Also see:
TEAC 3300 open-reel tape deck (ad, Jan. 1973)
TEAC Model 3340 4-Channel Simul-Sync Tape Deck (Feb. 1973)
= = = =