By Anthony H. Cordesman
The world is full of CD players. thanks to the standardization of the Compact Disc format. A recent innovation is that you no longer nave to load and play discs one at a time: If you want to play several discs sequentially (or play random selections from several discs), you'II find that suddenly there are several CD changers around. If you go shopping for one you'll also discover, as I did in the course of testing four of them, that while the CD format has been standardized, the way CD changers handle multiple discs is, in fact, anything but standard.
In fact of the four units tested for this report no two even handle the same number of discs. Pioneer, the first company to surprise the world with a CD changer, uses a disc "magazine" that can house six discs. Nikko's mammoth NCD-600 comes close to being a CD jukebox, as it can story 60 discs in a huge disc tray. Sony's innovative Disc-Jockey car CD player puts most of the mechanics (including the CD magazine) it in a sealed container that hide in the trunk of your car, it can hold and handle up to 10 discs. Finally. the very recently introduced Mitsubishi home CD player. similar in many ways to the Pioneer unit use a magazine that holds five discs. So much for CD changer standardization! Features and programmability of these four CD players vary widely too. so let's take a look at them, one by one.
Pioneer PD-M6: Features and Controls
The Pioneer CD changer plays as many as six discs, loaded in a special magazine. Random-access programming of up to 32 tracks is possible on any of the discs and direct access to any track on any disc is also easily accomplished.
Repeat functions are available for repeat-play of ail six discs, one track of one disc, or all programmed tracks of all six discs. Audible scan of program material is possible at two speeds. The PD-M6 has a headphone output with an independent level control. A wireless remote control allows you to operate the player's functions at a distance and even permits full programming of the player.
Since "black boxes" to interface TV sets with CD players (for digitally generated still-frame pictures encoded on CDs) are expected to be available soon, the Pioneer PD-M6 is also equipped with a subcode output connector for such adaptors.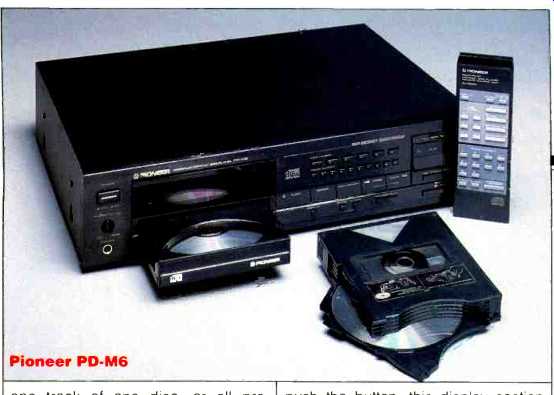 --------Pioneer PD-M6
Because the PD-M6 accepts a six-disc magazine in its loading slot, it is necessary to use the supplied single disc magazine when you want to play a single disc. The loading slot, about as wide as a VCR's cassette slot, is positioned below a multi-function display area on the front panel. To the left of the slot and display are the usual "Power" on/off button, the headphone level control, and the stereo head phone output jack. The fluorescent display has indications for "Repeat" play, "Program" memorization, program step (or time in minutes), disc number (or time in seconds), track number, and, finally, a series of one to six symbols showing which disc is being played. Six numbered buttons to the right of the display select the disc, while 10 numbered buttons just below are used to select tracks to be played or programmed. Below these are larger, light-touch pushbuttons to "Eject" the disc magazine and to actuate "Re peat" play, program memorization, and track advance or reverse.
A small "Display" key below this bank of buttons changes the information shown in a portion of the display.
Depending on how many times you push the button, this display section will show either the current track number and elapsed time within the track, or total playback time and the number of tracks on the disc, or the disc and track numbers of the selection being played. If the "Display" button is pressed a fourth time, the display changes back to its original mode. A "Check" key lets you review the con tents of a previously entered program, item by item, while a nearby "Clear" key allows you to erase previously entered program commands.
The "Random Play" pushbutton is another nice touch. Push this button when you've loaded six discs into the player, and the unit will continuously push the button, this display section will show either the current track number and elapsed time within the track, or total playback time and the number of tracks on the disc, or the disc and track numbers of the selection being played. If the "Display" button is pressed a fourth time, the display changes back to its original mode. A "Check" key lets you review the con tents of a previously entered program, item by item, while a nearby "Clear" key allows you to erase previously entered program commands.
The "Random Play" pushbutton is another nice touch. Push this button when you've loaded six discs into the player, and the unit will continuously play tracks on all the discs, in random order, until you stop the machine.
"Play" and "Pause" buttons are located at the right end of the front panel, and below them are the two-speed for ward and backward audible search buttons. These, if pressed for more than 2 S, increase the speed of the audible search. A "Stop" pushbutton is at the lower right of the front panel.
The rear panel of the Pioneer PD-M6 is equipped with the usual left- and right-channel output jacks, an unswitched a.c. convenience outlet, and the subcode output terminal.


Fig. 1-Frequency response, left (top) and right channels, of Pioneer PD-M6 (A), Nikko NCD-600 (9), Sony CDX A10 (C), and Mitsubishi DP-409R (D).

Fig. 2-THD vs. frequency, at three signal levels, for Pioneer PD-M6 (A), Nikko NCD-600 (8), Sony CDX-A10 (C), and Mitsubishi DP-409R (D). Note change in scales for (C).


Fig. 3-Out-of-band components reproduced when playing a 20-kHz test tone for Pioneer PD-M6 (A), Nikko NCD-600 (8), Sony CDX-A10 (C), and Mitsubishi DP-409R (D).
Nikko NCD-600: Features and Controls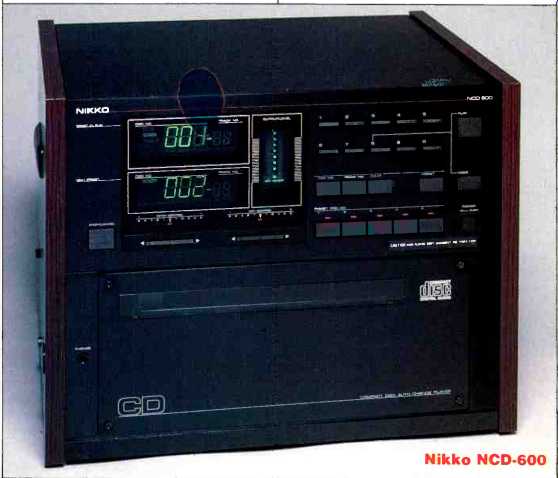 ---- Nikko NCD-600
Nikko says that this 60-disc changer was essentially designed as a professional or commercial-grade unit; nonetheless, it is finding its way into all sorts of places, including radio stations, discos, and even the homes of some audiophiles. The NCD-600 can play any number of discs in sequence, furnishing at least 45 hours of continuous mu sic if it's ordered to play all 60 discs in its tray. However-and this is an unexpected drawback-the number of randomly selected tracks you can program is limited to five (though those tracks can come from any of the discs). You can, on the other hand, have the programmed selections repeated over and over.
Two unusual innovations found only in the NCD-600 are independent pitch and rhythm (or tempo) adjustments. In other words, you can adjust pitch up or down and, if you choose, readjust tempo so that it doesn't increase or de crease when you change pitch. Try doing that with a turntable, all you analog die-hards.
Mounting discs into this machine is not a casual operation. It involves un screwing four hex-head screws from the front panel and then releasing the wide disc tray for loading. I wouldn't want to have to repeat this tricky operation too often, so, if you're going to load this tray to its full capacity, I'd suggest you carefully choose the discs you want to load and keep an accurate list of which disc is loaded into which numbered slot! In addition to the usual control push buttons, the Nikko's front panel has rocker bars for adjusting pitch (up to a half-octave in either direction) and tempo (±5%). Two multi-function displays plus an LED display for stereo output level are near the upper left of the control panel. The first display shows the currently playing disc number and track number as well as the player's status ("Play," "Standby," "Search," or "Error"). The second display shows the numbers of the preselected or programmed discs as well as the numbers of the preset tracks on those discs; it also indicates whether or not these discs and tracks have been correctly entered into the system's memory.
An output-level control on the rear panel controls both the headphone output jack on the front panel and the line-level output on the rear. There's also provision for connecting an alternate program source (such as a tuner or tape deck) to the NCD-600. A rear-panel slide switch selects either the player's output or the signal from the alternate source for output through the player's rear-panel jacks. If you can reach the rear-panel selector switch and output-level control, and feel no need for a preamp's tone controls, you could use the NCD-600 as the control center for a two-source audio system, feeding the output directly to a power amplifier.
If 60 CDs aren't enough for you, this unit can be linked by fiber optics to additional NCD-600s (at $4,395.95 a pop), expanding program access to as many as 240 discs. An optional modification to later production runs (which will be made available for installation in existing NCD-600s) will also add un limited programmability, nonvolatile memory to store programs for reuse, programmable pitch and rhythm control, and RS-232 serial interfaces for control by computer systems, which would expand the programming possibilities even further.
Sony CDX-A10: Features and Controls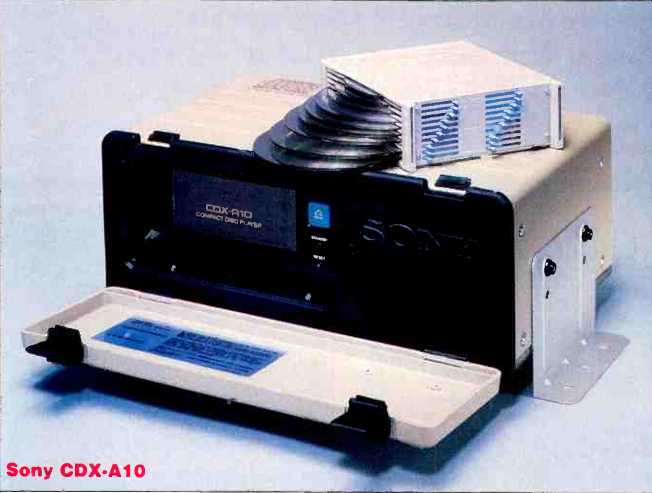 ----Sony CDX-A10
Billed as the world's first Compact Disc changer specifically designed for the requirements of a car, the Sony Disc-Jockey is offered either as a changer only or with a fully integrated AM/FM synthesized tuner module (the Model XT-10, $129.95). It can be used with power amplifiers alone or can be linked (via the optional XA-39 switching unit, $29.95) to a previously in stalled head unit.
The only part of the CDX-A10 you need to have up front, where the driver can access it, is a tiny control unit which Sony has dubbed the Disc-Jockey Remote Commander. This unit has the same height and width as DIN-sized head units, so it can be mounted in standard radio slots. However, since it's only an inch thick, many more mounting choices are possible: The Commander can be mounted in an optional, gooseneck control pod (handy if the radio slot is already filled), can be attached with Velcro strips to the dash or any other convenient surface, or can be hung from a small hanger. The latter two options let you remove the Commander and pass it to other passengers. The unit can even be stored under the front seat when it's not being used, so passersby will have no clue that there's a stereo present.
The heart of the Disc-Jockey is its 10-disc magazine changer, which is in stalled in a vehicle's trunk. The mechanism floats freely on a sub-suspension to resist shock and road vibration. The changer's outer casing is built of dust-resistant, high-impact material. The changer provides rapid access to any selection on any disc, and can send up to six different operating-status messages directly to the control Commander's displays.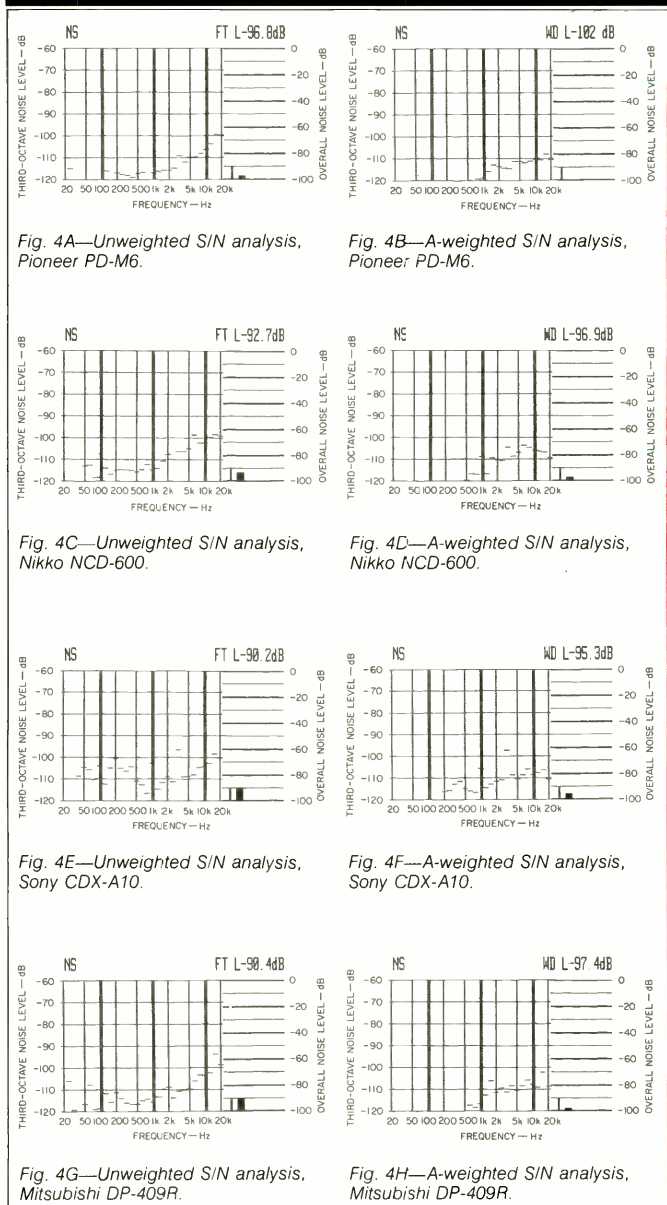 Fig. 4A-Unweighted S/N analysis, Pioneer PD-M6.
Fig. 4C-Unweighted S/N analysis, Nikko NCD-600.
Fig. 4E-Unweighted S/N analysis, Sony CDX-A10.
Fig. 4G-Unweighted S/N analysis, Mitsubishi DP-409R.
Fig. 48-A-weighted S/N analysis, Pioneer PD-M6.
Fig. 4D-A-weighted S/N analysis, Nikko NCD-600.
Fig. 4F-A-weighted S/N analysis, Sony CDX-A10.
Fig. 4H-A-weighted S/N analysis, Mitsubishi DP-409R.


Fig. 5--Separation vs. frequency for Pioneer PD-M6 (A), Nikko NCD-600 (8), Sony CDX-A10 (C), and Mitsubishi DP-409R (D). Note change in scale for (C).
When you activate play mode on the Commander, the CDX-A10 checks to see which of the magazine's slots are filled; playback begins from the first filled slot, regardless of its position in the magazine. If all 10 discs are present, you can have more than 10 hours of continuous music without having to replace the magazine in the changer.
The unit has two modes of programmed operation. One, called the Random Music Sensor, lets you program up to five selections from any of the discs, but this memory clears whenever the system is turned off. In addition, the Program Play feature al lows programming 10 selections, with memory status maintained even if you change listening sources (such as switching to the tuner) or if you turn the unit off. You can also begin play from anywhere within the program, not just from the first programmed selection. In effect, you can program a total of 15 selections using the two memory systems, though you must press separate buttons to begin each of the two sequences. Other playback options include direct selection by disc and track number, skipping from one se lection to another in either direction, and audible music search for sampling the music at 10 times normal speed in either forward or reverse.
The optional XT-10 tuner module (see sidebar) has no controls whatever. It simply plugs into a receptacle on the back of the changer module, and connections are provided for the antenna input and a power-antenna control. With the tuner module installed, when you switch to radio mode, the Commander's button functions change appropriately. The XT-10 offers 20 station presets (10 AM and 10 FM), automatic scan tuning, manual tuning, and a local/distant/mono switch.
Back in early 1983, when I was introduced to the intricacies of Compact Disc hardware and software manufacture during a visit to Philips and Poly gram in Europe, one of the engineers at Philips predicted that it wouldn't be long before we'd all be listening to CDs in our cars. At the same time, he suggested it would be a good idea if car CD players were equipped with option al compressor circuits so that the wide dynamic range recorded on many CDs could be fully appreciated under actual driving conditions. The first car CD players, introduced almost two years ago, ignored this suggestion, but now Sony has practiced what the Philips engineer first preached. The CDX-A10 is equipped with a two-position compressor (or Dynamic Range Suppressor, as they call it). Sony has also tossed in a defeatable surround-sound circuit for arbitrary-matrix decoding to feed ambience to the rear speakers while regular stereo emanates from the front; since this is on the same button as DRS, you can't use surround and compression at the same time.
To keep the size of the Commander module as small as it is (just over 7 inches wide by 2 inches high by 1 inch thick), Sony wisely assigned multiple functions to its controls. The volume button, for example, also serves to alter tone-control settings, channel balance and even front-rear fader set tings; its function is determined by a small associated "Select" key. As this key is depressed successively, indicator lights tell you what function the up/ down button is performing; a few seconds after any adjustment is completed, the control and display revert to volume-adjust mode. The usual controls found on any CD player's front panel are also found on this tiny Commander module, including numbered keys for programming desired track selections.
If you have connected the optional XT-10 tuner pack, pressing a key at the lower right of the CDX-A10's Commander switches you over to radio mode. As if by magic, the displays and buttons which previously governed the CD player suddenly assume new roles.
The controls for CD fast search and track advance become manual and automatic radio tuning keys. Numbered buttons are now used to call up preset AM and FM stations, and the large display window tells you the frequency to which you are tuned, whether reception is mono or stereo, what preset number you have selected and whether you are in the local or distant reception mode.
Mind you, all that's connecting the Commander module back to the main unit in the trunk (and the tuner pack, if you've installed it) is a thin multi-conductor cable. This cable is easily hid den beneath the carpeting of your car, and requires only a small hole through the rear wall of the car's interior to the trunk space.
Extra magazines which hold 10 discs can be purchased at a suggested price of $19.95 each. Because a multi-disc magazine generally takes up less space than the corresponding number of CD jewel-box cases, the 10-disc Sony, six-disc Pioneer and five-disc Mitsubishi magazines can all be used as handy CD storage devices in the home. If you're wondering what to do with the booklets that normally ac company each CD, Sony has an answer to that too: With each of their 10-disc magazines, the company sup plies a transparent folder (similar to a billfold credit-card holder) whose 10 pockets are just the right size for these booklets.
Mitsubishi DP-409R: Features and Controls
The Mitsubishi Compact Disc changer allows more selections to be programmed than any of the other changers tested here: A total of 30 selections from any of up to five discs can be loaded into its disc magazine.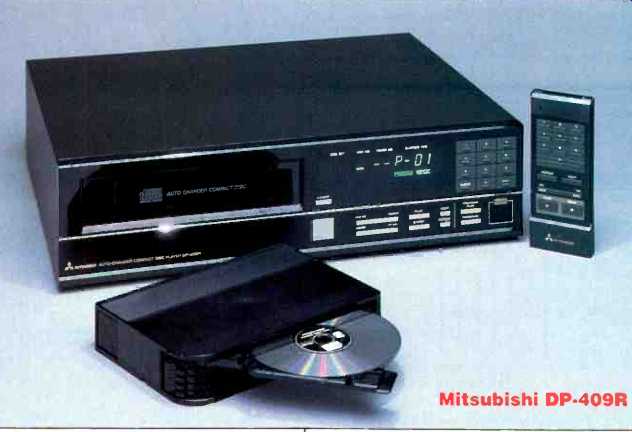 ------Mitsubishi DP409R
If you own a VHS VCR and have a cabinet with compartments for storing videocassettes, you'll find that you can store the Mitsubishi CD magazines in those same compartments. In fact, the slot on the front of this player looked so much like that of a front-loading VCR, for a moment I thought they had sent me the wrong component to test! In addition to manual playback of an entire disc in sequence, the DP-409R allows you to program disc and track selections very easily. The player also has two repeat-play modes, for play back of programmed selections or of its entire five-disc magazine. Other features include the usual track-skip, fast-forward and-reverse (audible) scan, and scanning of the next disc.
The unit does not have a headphone jack or an output-level control, but it does include a wireless remote control which duplicates most of the front panel's functions. This player is also offered without the remote control, as the Model DP-309, for a lower price.
The moment you insert the disc magazine into the loading slot, a series of bars lights up in the display to the slot's right; these bars tell you which disc trays have been filled. (Both the trays and the illuminated display bars are numbered 1 through 5.) The rest of the display area provides the kind of information we've all gotten used to on CD players, such as track number, disc number and elapsed time. During programming operations, the program number (1 through 30) is displayed instead of the elapsed time. Illuminated words also tell you if you are in the program mode or in a repeat-play mode.
Separate sets of forward and re verse keys are used for audible music search and for track advance or re verse. A button labeled "Next" advances play- from one disc to the next, and the usual array of numbered keys and program buttons is used to memorize up to 30 desired selections from any of the five discs in any random order. When entering selections either for immediate play or for programming, the first button pressed will register as the disc number desired; the subsequent numbers pressed will automatically be entered as the desired track numbers of that disc. These steps make using the DP-409R very simple and straightforward.
Measurements: The Quartet of Changers
As you can well imagine, I did not measure these four CD changers at the same time-or even in the same month. I saved up my data, one model at a time, until I could do a side-by-side analysis of measured results. I also kept an accurate set of notes concerning the musical listening tests that I conducted for the three home players. I had an opportunity to listen to the Sony car CD changer at this past Winter Consumer Electronics Show in Las Vegas. Since it's pretty hard to do a serious listening test at such an event, I had hoped that Technical Editor Ivan Berger would get a chance to road-test the unit. Unfortunately, that was not possible.


Fig. 6--Reproduction of a 1-kHz square wave by Pioneer PD-M6 (A), Nikko NCD-600 (3), Sony CDX-A10 (C), and Mitsubishi DP-409R (D).


Fig. 7--Unit-pulse reproduction by Pioneer PD-M6 (A), Nikko NCD-600 (8), Sony CDX-A10 (C), and Mitsubishi DP-409R (D).


Fig. 8--Interchannel phase difference when reproducing a 20-kHz test tone for Pioneer PD-M6 (A), Nikko NCD 600 (8), Sony CDX-A10 (C), and Mitsubishi DP-409R (D). Horizontal scale. 5 uS/div . for Pioneer only, 10 uS/div. for all others.

Fig. 9--Input vs. output characteristics for Sony CDX-A10, without compression and with each "DRS" compression setting.
Rather than spell out the test results for each player, I've summarized the results in Table II and have presented most of my usual plots and spectrum-analysis photos. My comments will be limited to how the players' measurements compared with each other.
I found it interesting that all four of these CD changers exhibited the familiar out-of-band spurious components that I've been seeing from other players. These "beat" components have occurred when I've reproduced a 20 kHz test tone and examined the output spectrum from 0 Hz to 50 kHz, as I did for Figs. 3A, 3B, 3C, and 3D. Notice, though, that while all four players produced an output above 20 kHz (caused by an IM beat between the 44.1-kHz sampling rate and the 20-kHz test tone itself), only two of the players produced low-level, "in-band" beat signals (at around 16 kHz). To be sure, the level of these in-band beats is so low, and normal high-frequency pro gram content is so far below the maxi mum 0-dB level at which this test was made, that this form of spurious signal will certainly not be audible under real-world listening conditions. Still, the difference in results between the Sony and Mitsubishi units versus the Nikko and Pioneer units suggests that each pair of companies is using a different type of chip for their D/A conversion.
I have the feeling, too, that the manufacturers' spec sheets do not reflect the new EIAJ-approved method of measuring dynamic range. As you can see from Tables I and II, my results are much better than the published specs of dynamic range for all four units. I doubt if it's a case of conservative specification writing; rather, the specs were likely written before the new EIAJ Standard was issued. In any case, dynamic range is no problem with any of these CD changers, and here Sony's car unit is the winner, with a possible dynamic range of 114 dB. That's ironic, because you don't really need (and can't possibly appreciate) this amount of dynamic range in an automobile environment--unless, of course, the car is standing still.
All of the units had more than adequate stereo separation at mid-frequencies, but all but the Mitsubishi unit exhibited rather rapid reductions in separation as higher and higher test frequencies were reproduced from a single channel. Check this out for your self by looking at Figs. 5A, 5B, 5C, and 5D. Still, even the worst case of de creased separation at 10 kHz (about 50 dB) is more than twice as much as I ever measured for a phono cartridge at that high frequency.
From looking at Figs. 6A, 6B, 6C and 6D, it was evident to me that all of these units have steep, multi-pole analog output filters rather than digital filtration. I'm told that the most commonly available (and least expensive) multi function chips that are used in small portable CD players and in lower cost units are designed to be used with analog filters. To keep costs reason able, what with the complexity of changer mechanisms and all of the added memorization circuitry involved in programming multiple discs, these manufacturers have probably elected to use such chips instead of those that provide digital filtration prior to D/A conversion.
It's also evident to me, from Figs. 8A, 8B, 8C and 8D, that each player em ploys only a single D/A converter. Left-and right-channel digital-to-analog processing is done by time multiplexing, which results in a time delay of just under 12 uS between signals. How ever, if the time delay in Fig. 8A seems as though it's greater for the Pioneer unit than it is for the other three, this is my fault: I used a different horizontal sweep rate (5 uS instead of 10 uS per division) when testing the Pioneer. In fact, all four units exhibited the same time-delay error for the 20-kHz signals on opposite channels.
All of the units were able to track all of the built-in "defects" on a special test disc. This is especially important for the Sony car unit, which is going to have to track perfectly, even under conditions of extreme vibration and external shock. When you add the problem of imperfect discs with opaque or scratched areas to the problem of external shock and vibration, it is almost miraculous that units such as the Sony car CD changer perform as well as they do.
The Nikko unit delivered a whopping 4.7 V of output for 0-dB recorded level when its rear-panel level control was turned fully up. I don't believe the de signers should have allowed for such a high level, especially since. if you allow the unit to operate at that level, the Nikko's own analog output stages are overloaded and distort audibly.
While all of the units exhibited extremely fast short-term access time (the time it takes for the laser pickup to get from one track to an adjacent track), the Pioneer PD-M6 was the clear winner when it came to long-term access time (getting from one disc to another), performing this feat in 6 S.
The slowest, in this regard, was the Nikko, at 15 S, but it's certainly understandable when you consider the number of discs and the size of the disc tray that has to be traversed.

above: TABLE I MANUFACTURERS' SPECIFICATIONS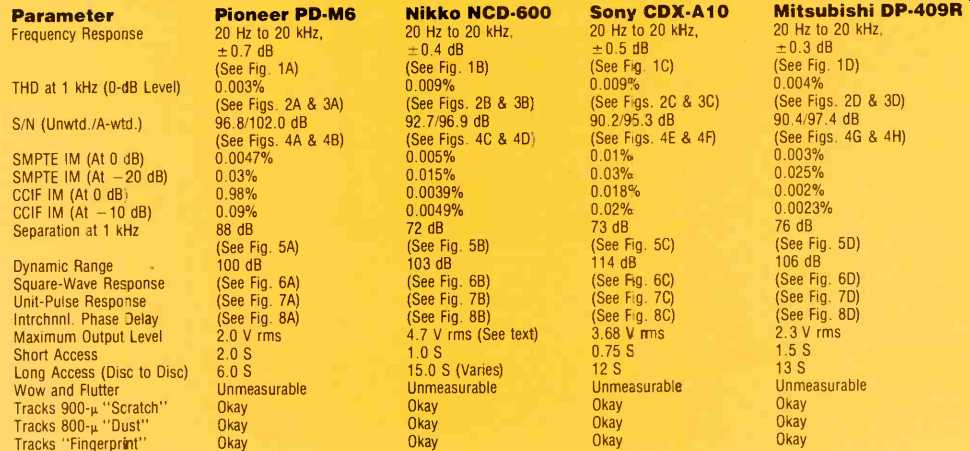 above: TABLE II MEASURED DATA
The action of the Sony CDX-A10's compressor circuits was checked both in listening tests and on the bench. Figure 9 shows how output level varied with input level for the three settings of the compressor: No compression (linear response), the moderate "DRS-1" setting, and the more extreme "DRS-2" setting.
Use and Listening Tests
As indicated earlier, I wasn't able to test all of these CD changers at the same lab session, nor was I able to listen to them in side-by-side comparisons. As a result, I should not offer a definitive answer as to which model sounds best.
I found the Pioneer, Sony, and Mitsubishi units easy to load and use. I would reserve the Nikko unit for applications in which you really want to load up to 60 discs and, because of the difficulties of installing the tray, don't expect to change the complement of discs too often.
According to the notes I kept of my listening sessions, none of these units delivered sound quality that I can fault in any major way. In fact, since all of the players employ pretty much the same kind of digital circuitry, any differences that I would be likely to hear would arise from the analog output stages used in these four machines and from any minor deviations from perfectly flat response.
If I had to vote for the combination of best sound quality and best human engineering of the three home units, I'd pick the Mitsubishi DP-409R. The Pioneer PD-M6 would be a close runner up, and the Nikko unit would place third. The Sony unit's ease of use was impressive on the test bench; its sound quality was also impressive in the listening room. I suspect that the two compression settings will be a most welcome feature for those car-audio buffs who have been hoping for a way to listen to CDs without either rupturing the cones of their car speakers or turning down levels so low as to miss the quieter passages of music. I found the "DRS-1" compression setting to be extremely effective and ideally set for my taste, but it would take a road test to fully qualify this feature, and the unit as a whole, in this "sweepstakes" of CD changers.
===========
SONY'S XT-10 TUNER MODULE: An evaluation
Adding an AM/FM tuner module to Sony's 10-disc CD changer doesn't take up any more interior space in side a car or other vehicle: The tuner module itself is just another "black box" (actually silver colored) that can be hidden in the trunk and plugged into a receptacle on the main CD changer unit also located there.
Once the connection is made, the Remote Commander in the car's passenger compartment becomes the control panel for tuner functions as well as for CD playing tasks.
Since anyone purchasing the CDX Al 0 CD changer may want to add the XT-10 tuner module initially, or at some time in the future, I thought it would be only fair to evaluate the tuner module's performance in terms of the total system. The accompanying Table compares Sony's published specifications with those I measured in my lab. Figure B1 shows how signal-to-noise ratios and 1-kHz distortion levels vary with increasing signal strength in both mono and stereo modes. As is true of most car FM tuners, the left and right channels are deliberately blended at low signal strengths, reducing background noise considerably to make the signal usable, but at the expense of some stereo separation. This action is the cause of the by-now-familiar dip in the stereo S/N curve shown in Fig. B1, where S/N actually improves a bit as signal strength falls from 30 to 25 dBf. The tuner also has an impulse-noise suppression circuit, which may be contributing to the S/N performance. Frequency response for AM reception is shown in Fig. B2.
I found the station presets easy to program, and station seeking and scanning worked well on the test bench. My overall assessment of the Sony XT-10's performance is that, when used in conjunction with the CDX-A10 changer, it compared very favorably with some of the better separate car-stereo tuners I have measured over the past few months.
--L.F.

Fig. B1--Mono and stereo quieting and distortion characteristics, Sony XT-10 FM tuner module used with Sony CDX-A10 car CD changer.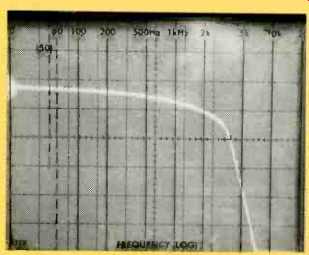 Fig. B2--AM frequency response, Sony XT-10 tuner module used with Sony CDX-A10 car CD changer.
========
(Source: Audio magazine, Jun. 1986)
Also see:
One Listener's CD Player Survey (by Anthony H. Cordesman) (Auricle, Jan. 1986)
= = = =