---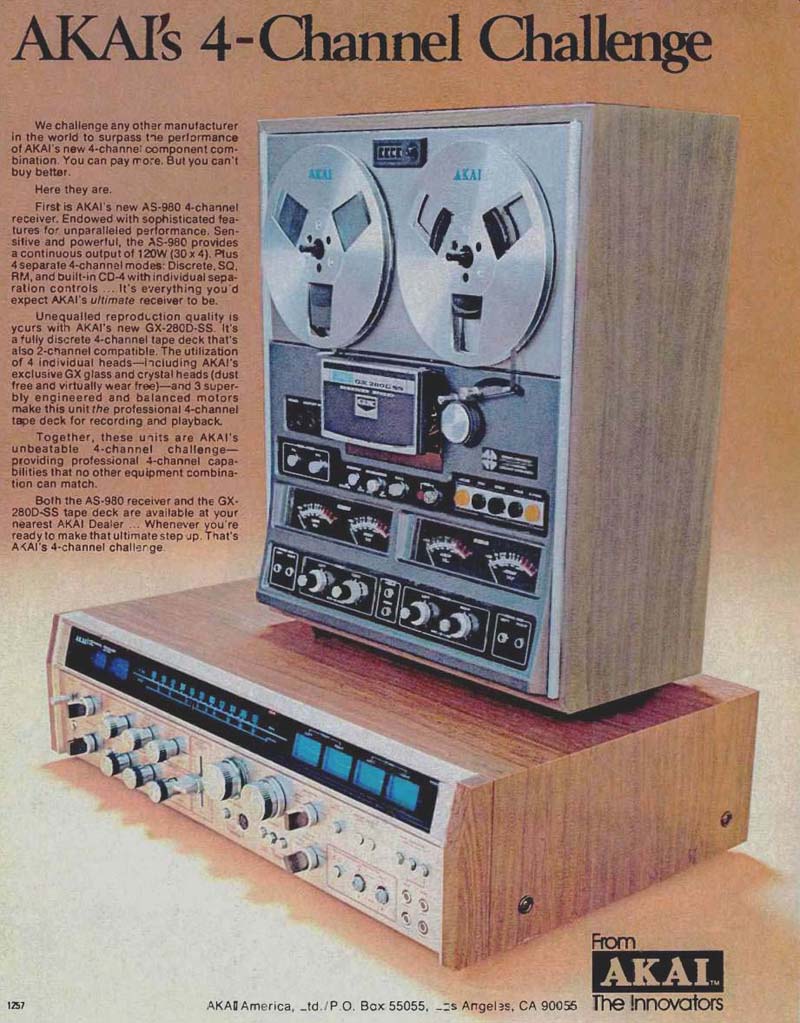 AKAI's 4-Channel Challenge
We challenge any other manufacturer in the world to surpass tie performance of AKAI's new 4-channel component combination. You can pay more. But you can't buy better.
Here they are.
First is AKAI's new AS-980 4-channel receiver. Endowed with sophisticated features four-paralleled performance. Sensitive and powerful, the AS-980 provides a continuous output of 120W (30 x 4). Plus 4 separate 4-channel modes: Discrete, SQ. AM, and built-in CD-4 with individual separation controls ... It's everything you'd expect AKAI's ultimate receiver to be.
Unequalled reproduction quality is yours with AKAI's new GX-280D-SS. It's a fully discrete 4-channel tape deck that's also 2-channel compatible. The utilization of 4 individual heads-including AKAI's exclusive GX glass and crystal heads (dust free and virtually wear free)-and 3 superbly engineered and balanced motors make this unit the professional 4-channel tape deck for recording and playback.
Together, these units are AKAI's unbeatable 4-channel challenge providing professional 4-channel capabilities that no other equipment combination can match.
Both the AS-980 receiver and the GX280D-SS tape deck are available at your nearest AKAI Dealer ... Whenever you're ready to make that ultimate step up . That's AKAI's 4-channel challenge.
(Audio magazine, Dec 1973)
Also see:
AKAI 4000DS Tape Deck (Equip. Profile, May 1974)
= = = =