---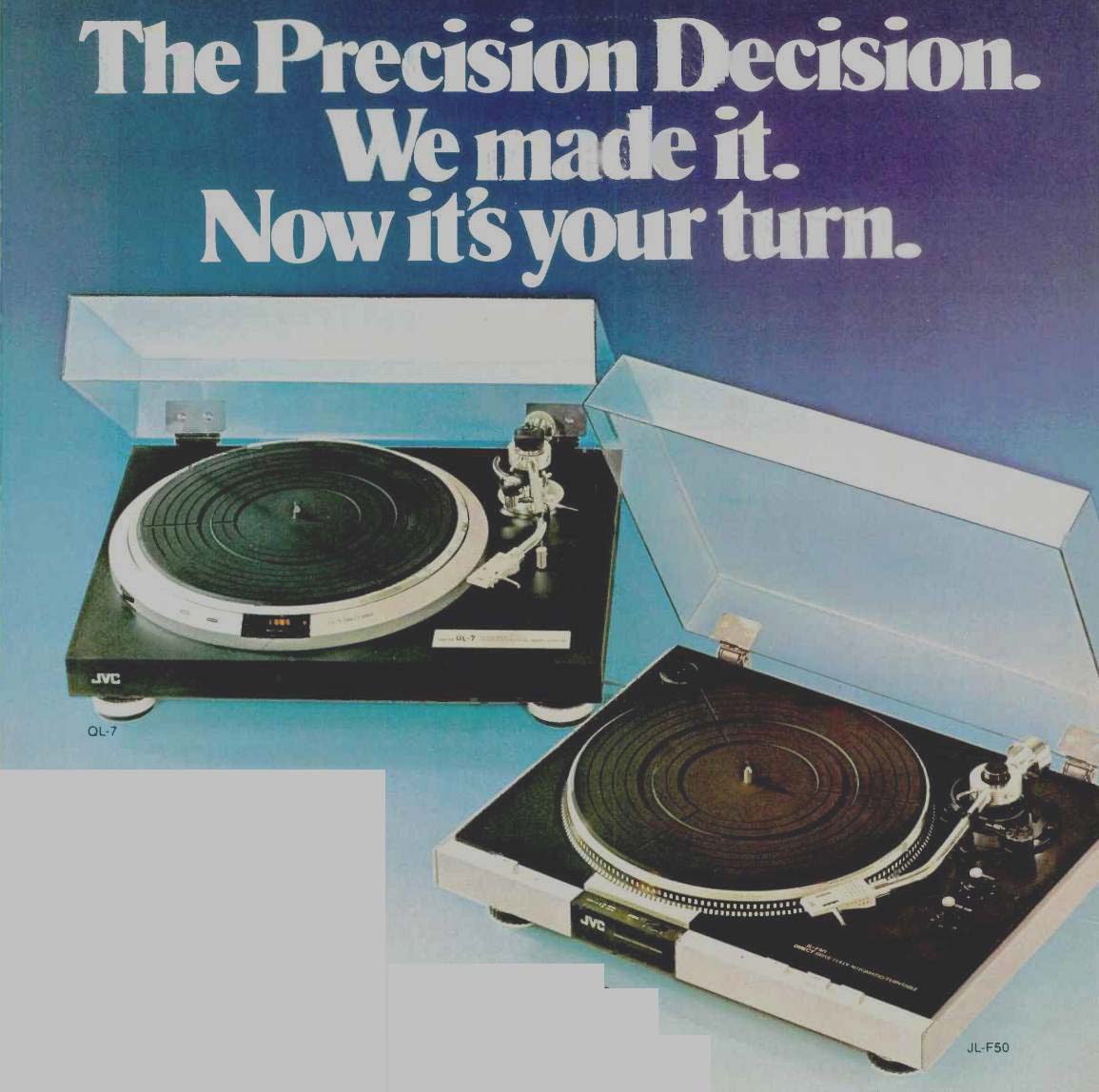 We believe that precision is the most important factor in turntable design and performance. Which is why we've built such a high degree of precision into our advanced new line of turntables.
So you'll need a whole new set of reasons to choose the one that's right for you. And when it comes to value, all seven will play second to none.
Take our new QL-7 Quartz-Locked and JL-F50 Fully Automatic direct drive, shown above. They're both unusually close when it comes to some important specs, but what will surprise you most is that they're also both in the same price range.
For instance, the JL-F50 checks in with 0.03% wow and flutter (WRMS); 70dB signal-to noise ratio (DIN B). And it offers a host of convenience features as well, with most controls up front so you can operate them without lifting the dust cover. Its fully automatic operation gentles your favorite records, and lets you repeat them from one to six times, or infinitely.
A built-in strobe makes speed adjustments easy and accurate.
And the JL-F50's looks are in keeping with its precision design.
The QL-7's looks are equally great. And in its electronic heart, it's a tiger. All business, with the incredible accuracy only a Quartz-Locked machine can boast. Truly for a perfectionist, the QL-7's wow and flutter measures only 0.025% (WRMS); S/N is more than 74dB (DIN B). Figures that no other QL turntable we've seen in its category can touch. It's totally manual, with strobe speed indicator, and priced less than any other QL machine on the market.
The way we see it, you're left with a superb decision: our JL-F50 at less than $250X, with all the convenience and performance most people could ever want, or our QL-7, the finest under $300* turntable available today for the discriminating audiophile.
Either JVC you choose, you'll have made the right decision.
JVC America Company, Division of US JVC Corp., 58-75 Queens Midtown Expressway, Maspeth, N.Y. 11378 (212)
476-8300. Canada: JVC Electronics of Canada, Ltd., Scarborough, Ont.
For your nearest JVC dealer, call toll-free (outside N.Y.) 800-221-7502
*Approximate retail value.
JVC--We build in what the others leave out.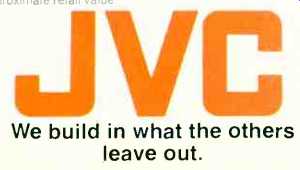 (Audio magazine, Dec. 1977)
Also see:
JVC Quartz-locked turntables (Feb 1979)
JVC Quartz-locked turntables (advertisement, July 1978)
= = = =