---
---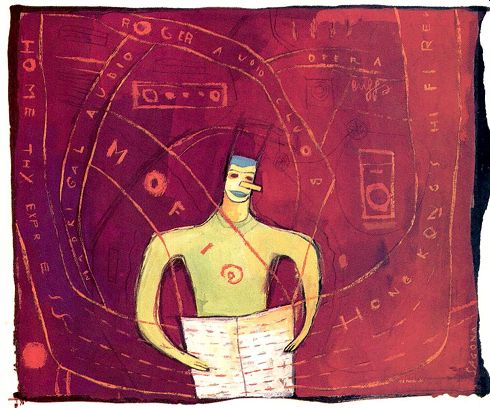 MAIL BONDING
Not content with magazines, audiophile clubs, and the Internet? Then how about the most deliciously self-promotional fanzines of them all? Many hi-fi crazies are completely unaware that a number of their fave brands publish newsletters, ranging from illustration-free, laser-printed two-pagers to slick, full-color booklets. I've been told of mail-outs as high as 3,000 and as low as 30. Maybe the lesson is a simple one:
Always send in your warranty cards, because this seems to be the quickest method of getting onto the mailing lists.
Without question, one of the most polished mailings I've seen so far is Madrigal's 16-page, pocket-sized booklet, a semi-regular publication.
The first arrived with full details of the Mark Levinson No. 33 mono power amp, a profile of Rob Kingsland (head of Madrigal's Management Information Services and a studio engineer whose track record is enviable), a page of speaker placement tips, some listening recommendations (Ella and Louis topped the list), and an interesting letter from Madrigal's chairman, Sandy Berlin, regarding his meeting with the legendary Josephine Baker.
More of the same followed in the second issue, including a profile of video maven Joe Kane, some learned words about jitter, news of Harman International's acquisition of Madrigal, and the announcement that Quarter Notes was the name chosen for the publication in a reader com petition. The winner received a Proceed AMP 2, incentive enough for joining in, although I must say I was sorely disappointed to find that my entry, Berlin Diary, was among the losers. Most definitely aimed at the public rather than the dealer net work, Quarter Notes is my yardstick for company 'zines. (For information on where to drop a line to Madrigal and others mentioned here, see "Company Addresses.") It's a pity that the equally professional The Thiel Speaker is dealer-oriented. Even so, roughly half of the latest issue-a six-page, fold-over glossy-contained enough non-trade items to make it interesting to both Thiel owners and owner wannabees. Recipients learned that 2 the CS7 and CS.5 speakers earned awards from Hong Kong's Hi-Fi Review and that optional new grille colors were available. Issue 39 contained t e details of the forthcoming CS6 (months before its Consumer Electronics Show launch), a sneak pre view of a new in-wall speaker, and a wonderfully insane photo of the Thiel crew and CES officials in matching sunglasses. Mas, there is a lot of sensitive trade info, but I'm sure that if enough of you write in, Thiel might prepare a civilian edition.
In keeping with Ivor Tiefenbrun's not-inconsiderable ego, Linn Products' suitably named The Record is tabloid-sized. The latest full-color, four-page missive is a real keeper for Linn crazies and one of the most lavish of all the newsletters.
Highly readable (because Linn-related matter is never less than contentious), one issue contained articles about Linn multiroom installations, news of the company's Web site (reported here in the July issue), details of the company's entry into home theater, a feature called "How To Select an A/V System," software news, praise for its U.S. distributor, and more.
Often, the motivation for launching a newsletter-not a minor undertaking if the standards equal those above-comes from outside pressure. Rogers' recent revival is a case in point. It's enthusiast-fueled rather than a mass-marketing cop-out. The company's loudspeakers have enjoyed a renaissance in numerous markets, partly because of the long-overdue arrival of a subwoofer for the LS3/5A and partly because the company has returned to amplifier manufacturing. According to Rogers' spokesperson, Anne Bailey:
For some time now, we have been receiving "fan" mail from many long-standing Rogers owners who are keen to air and share their views with the company and staff who work here. We have also recognized that along with many general enquiries are regular demands for news about Rogers, as well as a definite desire amongst Rogers owners to somehow "be involved" with the internal affairs of the company. As a direct result of, and in response to, this demand, the Rogers Audio Club was born.
Although I've not yet seen it, Rogers produces a newsletter for some 3,000 enthusiasts worldwide. Its content includes competitions, news snippets, a letters section, and a feature called "Meet the Team." This is the most "interactive" of the magazines and the most club-like, in that Rogers is undertaking factory tours, issuing tickets for hi-fi shows, announcing offers on CDs, and more. Owning Rogers speakers doesn't seem to be a prerequisite for joining the club.
Another publication with a readership falling under the heading of "users' group" is the funky four-pager from Beam Echo/Avantic. This reborn company makes tube amps. Run by a couple of crazies (who else would resuscitate a brand no normal person under 70 even remembers?), Beam-Echo is so British that it hurts. But Echo Soundings is a tonic for tube psychos. The first issue contains a history of the company and details of its rebirth, mouthwatering photos of vintage hardware, and news about user groups. But my favorite page has information about buying and selling old equipment; to prevent hassles, the Echo Soundings team contacts the buyer or vendor, thereby eliminating time-wasters. And while I'm too late to enquire about them, the first batch included a Thorens TD-124 turntable with SME 3009 tonearm for $180, a Garrard 301 turntable for $130, and a mint pair of original Quad ESLs for $550.
[Cue deep sigh of longing.] Since this is a tiny operation, don't be offended if they ask for a few bucks per copy.
Like clockwork, Mobile Fidelity Sound Lab issues not one but two monthlies. MoFi has for years alerted trade, press, and public to new releases. Its flyers are now split into Vinyl-New Releases and plain old New Releases, which means CDs. Each four-page issue features full descriptions of the new titles plus cover art, reprints of reviews of earlier titles, and ordering information.
Interested in home theater developments? Wait'll you see Home THX Express. This four-pager arrived out of the blue (which means that Home THX Program Director Anthony Grimani hasn't crossed me off the THX mailing list), and it's essential reading if you like sound emanating from more than two speakers. The Winter 1995/1996 issue contained an interview with director Philip Noyce (the cover feature), articles about center-channel speakers and digital signal processing, and listings of new THX licensees. This one's a bit tradish, not that I found anything in it too confidential for public consumption, so maybe if you ask nicely...
No doubt there are dozens more, but these are the ones that arrived during the past few months without me so much as asking. Others of a more obscure, regional variety include Opera Buffs (published by the U.K. distributor of the Italian-made Opera speakers, it has a circulation of 30 copies), an incredibly professional mailing from another U.K. distributor called Audiofreaks, and the annual newsletter from yet another British importer, Absolute Sounds.
=========
COMPANY ADDRESSES
BEAM-ECHO: Christchurch Business Centre, Grange Rd., Christchurch, Dorset BH23 4JD, England
LINN c/o Audiophile Systems, 8709 Castle Park Dr., Indianapolis., Ind. 46256; 800/546-6443
LUCASFILM, THX DIVISION: P.O. Box 2009, San Rafael, Cal. 94912
MADRIGAL AUDIO LABORATORIES P.O. Box 781, Middletown, Conn. 06457; 203/346-0896
MOBILE FIDELITY SOUND LAB: 105 Morris St., Sebastopol, Cal. 95472; E-mail, mofi@mofi.com; 800/423-5759
ROGERS INTERNATIONAL: Unit 3, 310 Commonside East, Mitcham, Surrey CR4 I HX, England
THIEL: 1026 Nandino Blvd., Lexington, Ky. 40511; 606/254-9427
=========
And do check out the major record labels; MCA, for example, produces a wonderful newsletter just for the restored Chess catalog. Sundazed and Rhino offer regular catalogs that read like insane rock magazines of the late '60s, and I can't remember the last time I bought a British CD single that didn't include a postcard so that you could get yourself on a mailing list for individual artist news. Rykodisc and Rounder are kind to their customers, too, and getting on their mailing lists is often the only way to learn about--let alone acquire-limited edition sampler CDs. Hot tip for magpies:
Send in any postcards that come with CDs or hardware, because you never know if the publicity materials you receive might suddenly turn into collectibles.
If all of this worries the paper-saving tree-huggers among you, look at it the way my father did, before he retired from the U.S. Postal Service: Junk mail keeps mail men employed.
(adapted from Audio magazine, Aug. 1996)
= = = =