---
---
The source of perfection in stereo sound ... Pickering's new XSV/3000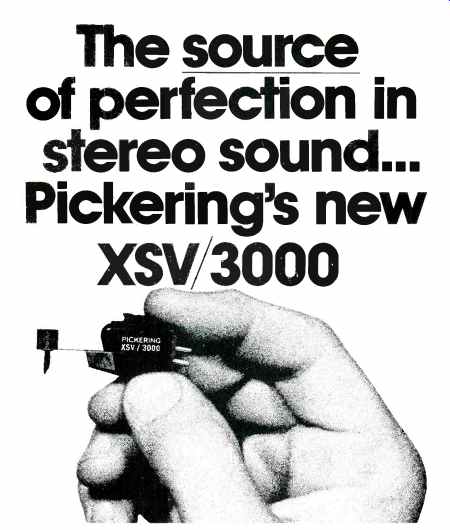 The reviewers applaud as never before!
... we don't see how you can do better at any price." -- Hirsch-Houck Laboratories. Stereo Review. February 1977
"The new unit offers the stereo performance of the XUV/ 45000 (or perhaps a little better than that) at a lower price. It seems hard to go wrong with such a combination." --High Fidelity. February 1977
"Congratulations to all concerned on a fine contender amongst the world's best stereo pick-ups." -- John Borwick. Gramophone. United Kingdom 1977
Pickering's new XSV/3000 is a remarkable development. It possesses a totally new and different design that makes it the precursor of a whole new generation of sophisticated, advanced stereo cartridges.
This has been made possible by technological advances in two areas. First, it has an unusually tiny, samarium cobalt (rare earth) magnet of remarkably high power that permits extremely low mass, and also offers high output.
Second, this cartridge features the new Stereohedron stylus tip, a Pickering first! This extraordinary shape has a far larger bearing radius, which provides increased contact area in the record groove. This assures gentler treatment of the record groove, longer record life, and also, far longer stylus life.
This cartridge provides remarkably smooth and flat frequency response; its channel separation is exceptional, its transient response possesses superb definition.
Truly, Pickering's XSV/3000 represents a whole new concept of excellence in stereo cartridges ... the true Source of perfection in stereo sound.
For further information write to Pickering & Co., Inc. Dept. A 101 Sunnyside Blvd., Plainview, New York 11803
PICKERING "for those who can hear the difference".
PICKERING & CO., INC., COPYRIGHT 1977
(Source: Audio magazine, Oct. 1977)
Also see: Pickering phono cartridges (June 1975)
Pickering XSV/3000 phono cartridge (Dec. 1976)
= = = =