---
---
CONTENTS:
CLASSES OF LOUDSPEAKER ENCLOSURES, etc.
SPHERICAL TWEETER REPRODUCER
BASS REFLEX HORN
TUNE PORT BASS REFLEX ENCLOSURE
LIBRARY ENCLOSURE
MINIATURE HORN LOADED REFLEX ENCLOSURE
12" MINI-HORN
KARLSON ENCLOSURE
SEMI-FOLDED HORN
INFINITE WALL BAFFLE
BASS REFLEX ENCLOSURE
180 DEGREE BALANCED REPRODUCER
CORNER FITTING LONG CHANNEL HORN ENCLOSURE
LONG CHANNEL ENCLOSURE
REAR LARGE HORN SLOT LOADED ENCLOSURE
MINIATURE ENCLOSURE WITH 12" / 15" SPEAKERS
NOVEL SEALED CABINET
REAR HORN REFLECTOR ENCLOSURE
FOLDED HORN ENCLOSURE
DISTRIBUTED PORT ENCLOSURE
GIANT AUDITORIUM ENCLOSURE
USING TABLES A - F
GENERAL CONSTRUCTION HINTS
EMBELLISHING SPEAKER ENCLOSURES
CRITICAL DAMPING
CROSS OVER FILTERS
PHASING LOUDSPEAKERS
QUADROPHONY
FURTHER DEVELOPMENTS IN STEREOPHONY
QUASI-QUADROPHONY
DUMMY LOAD AND SPEAKER SWITCHING SYSTEM
FREQUENCY RESPONSE OF SOUND REPRODUCTION
DECIBEL AND POWER RATIOS
LOUDNESS LEVELS
FUNDAMENTAL FREQUENCY OF SOUND SOURCES
MUSICAL FREQUENCY SCALE
SPEAKER POWER DISTRIBUTOR
DIAGRAMS WITH DIMENSIONS FOR ALL SPEAKER DESIGNS
---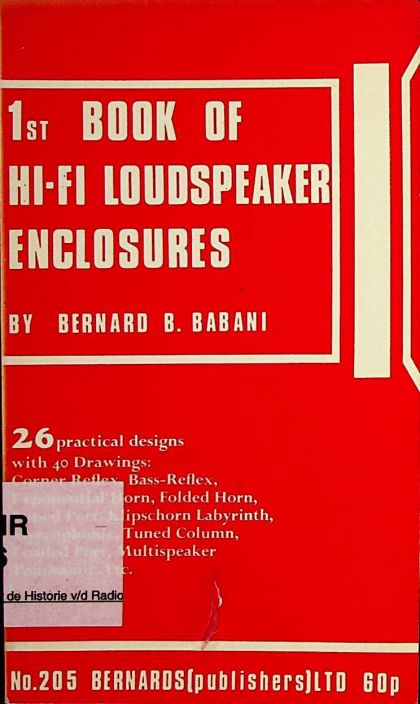 FOR READERS WHO ARE MORE USED TO THE METRIC SYSTEM, THE FOLLOWING EQUIVALENTS WILL ENABLE THEM TO CALCULATE ANY OF THE DIMENSIONS SHOWN IN THIS GUIDE.
If readers experience any difficulty in obtaining the components or speakers mentioned in the text of this guide, they should be guided by their Radio Parts Dealer who will recommend the best make to use as an alternative.
Certain portions of this guide were previously published in the guide entitled "High Fidelity Loudspeaker Enclosures'' by B. B. Babani. This guide is now out of print.
BERNARDS [publishers] LTD The Grampians Shepherds Bush Road London W6 7NF
Although every care is taken with the preparation of this guide the publishers will not be responsible for any errors that might occur.
We Invite all authors, whether new or well established, to submit manuscripts for publication. The manuscripts may deal with any facet of electronics but should always be practical. Any circuit diagrams that may be Included should have been thoroughly checked by the author. If you are considering trying your hand at writing this type of guide we suggest that you let us have a short summary of the subject you intend to cover. We will then be able to let you know the size of the guide required and perhaps give you advice on presentation.
© 1974 by Bernard B. Babani
I.S.B.N. 0 900162 39 2
First Published April 1974
Reprinted October 1975
Printed and Manufactured in Great Britain by C. Nicholls & Company Ltd., Manchester M114AU
---
Also see:
Hi-Fi Loudspeakers & Enclosures (1956)
An Introduction to Loudspeakers and Enclosure Design (1989)
Installing Hi-Fi Systems (1960)
Understanding Hi-Fi Circuits (1957)