---
"A MASTERPIECE OF HIGH FIDELITY"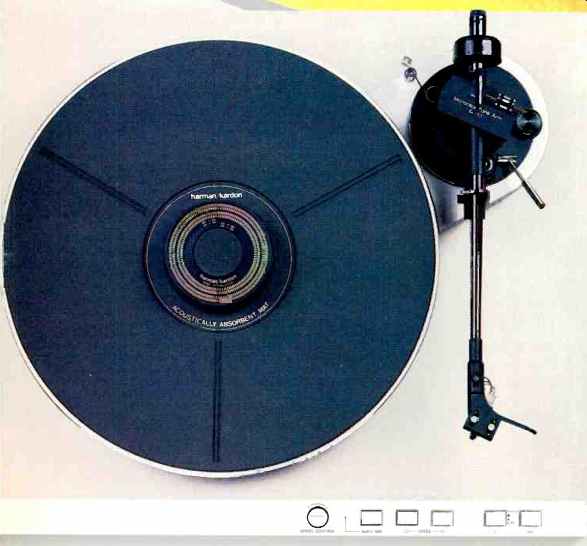 In a true masterpiece, subtle details combine with unique design to become the ideal. Harman Kardon has achieved this ideal with the introduction of the technologically advanced T65C Turntable.
An example of disc reproduction excellence, the T65C incorporates a sophisticated 3-point suspension system, counter-balanced to center tie moving mass at the platter spindle. This keeps the platter, tonearm, and belt drive system isolated from vibration. The T65C's AC sine-wave driven motor is crafted to turn with pure harmonic motion. a dramatic improvement over conventional turntables that use a series of DC pulses, resulting in high frequency deviations in platter rotation.
The T65C's tonearm exemplifies Harman Kardon's technological know-how. A straight, tapered tube to suppress natural resonances, it features a weight and wire anti-skating mechanism for additional precision. Its high mass pivot assembly acts as a high frequency vibration filter, and a lateral balancer on the tonearm compensates for unlevel surfaces.
A carbon fiber headshell provides low resonance and vibration damping. The T65C's massive 3.3 pound platter, disc stabilizer, capacitance trim and optically-sensed auto-lift further illustrate Harman Kardon's commitment to the art of high fidelity. A commitment that is reflected in all Harman Kardon products.
SPECIFICATIONS:
Wow & Flutter (WRMS): 0.025%.
Rumble (DIN-8 WTD):-70dB.
Pitch Adjustable Range: ± 3%.
Effective Tonearm Mass: 9.5 Grams.
Stylus Overhang: 18mm.
Offset Angle: 25.5%
Effective Tonearm Length: 216mm.0
Tracking Error: +/2 degrees.
Phono Capacitance: 70/170/270.
Tracking Force: 0-3 Grams.
Harman Kardon ... Dedicated to mastering the fine art of high fidelity.
(Source: Audio magazine, Sept. 1985)
---
Compare T65C to T60 ...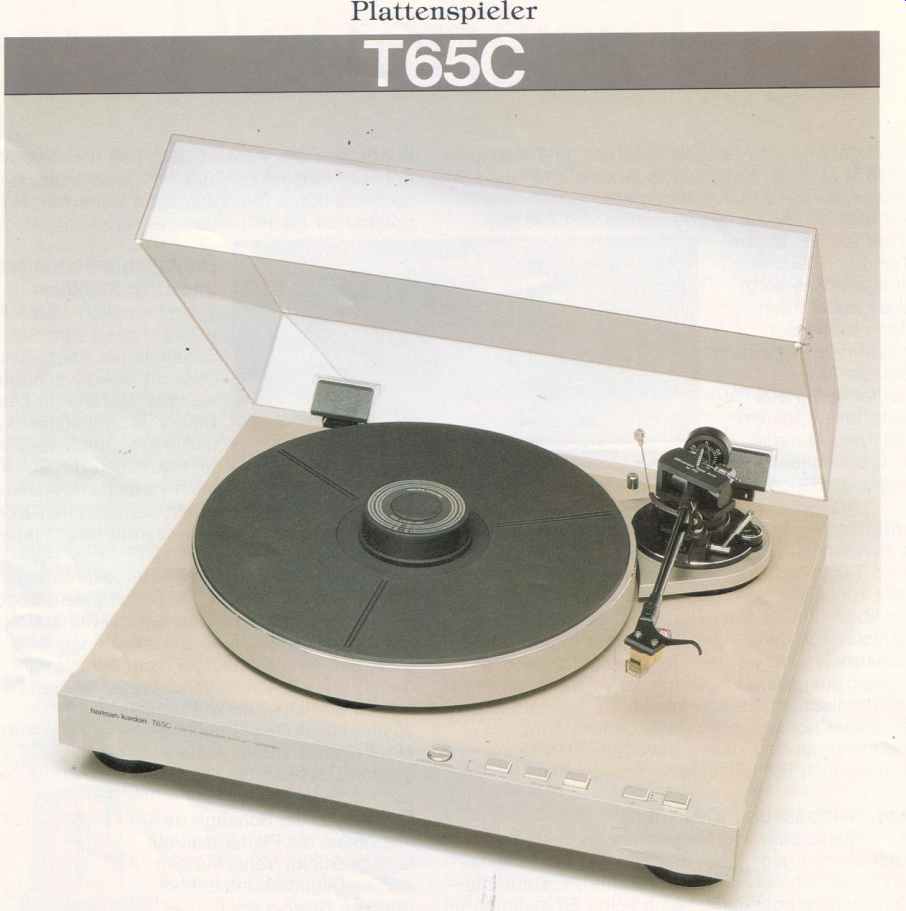 Above: T65 (1985 German HK catalog)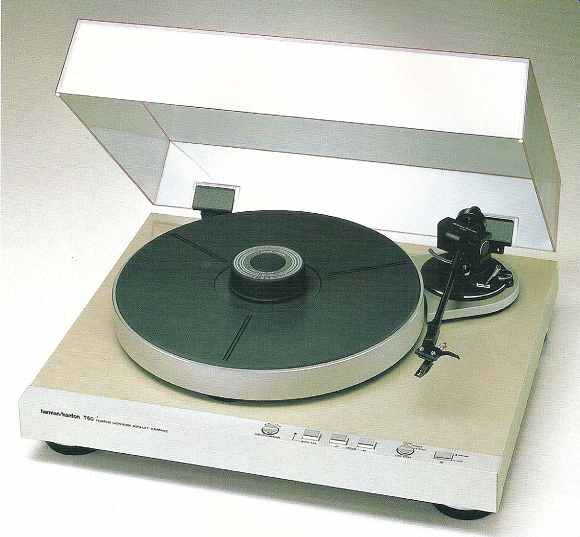 Above: T60 (1983-4 USA HK catalog)
= = = =
Audiokarma.org thread (diff. between T60 and T65c)
Also see:
Harman Kardon T-Series turntables (Jan. 1983)