---
"A MASTERPIECE OF HIGH FIDELITY"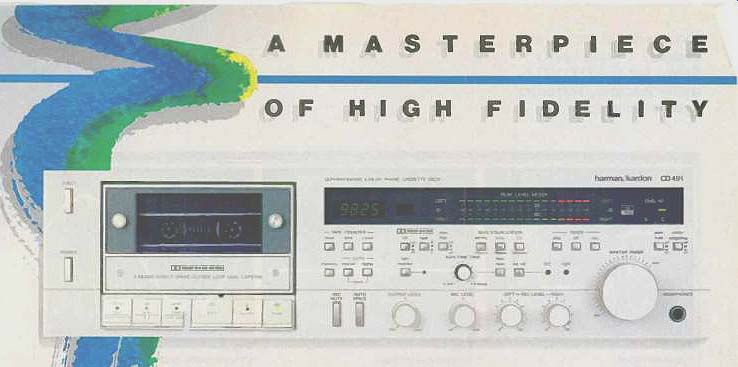 Of the many elements inherently necessary for the production of a lasting, true work of art, perhaps attention to design fundamentals is the most crucial. Time must be devoted and painstaking attention to detail must be asserted on every level for an authentic masterpiece to result. It is that commitment to precision that makes Harman Kardon's CD491 stand apart from other cassette decks.
An audiophile demands nothing less than the fine quality inherent in the CD491 Harman Kardon's most advanced cassette deck and one of the few in the world that can equal the range of human hearing. With a frequency response of 20Hz to 24k Hz (± 3dB) with any tape formulation, the CD491 is a classic of technological excellence.
Incorporated in the CD491 is Dolby HX Professional; a headroom expansion system that extends frequency response at high record levels while significantly reducing distortion. Added to this is a signal-to-noise ratio of 75dB. The dramatic result of this combination is the ability to accurately record more dynamic audio signals than was previously possible. This makes the CD491 a truly enduring technological triumph as more demanding forms of software, such as digital audio and hi-fi VCRs, emerge.
Three heads improve performance and offer the convenience of monitoring while recording. A Sendust record head withstands high record levels without overload and a ferrite playback head assures high frequency response. Both heads are precisely aligned in one housing. The CD491 is such a unique expression of artistry that one shouldn't compare it to any other cassette deck, but rather to the source being recorded.
This strong commitment to achieving the ultimate in audio listening pleas re is reflected in the many fine products Harman Kardon makes.
Harman Kardon ... Dedicated to mastering the fine art of high fidelity.
SPECIFICATIONS:
Frequency Response, -20dB (IFH std) All tape Formulations (No Ferrichrome position): 20Hz-24kHz ± 3dB; Metal: 20Hz-26kHz ± 3dB.
Large Signal Response (0 dB, with Dolby on, Metal Tape): 20Hz-20kHz -/+ 3dB.
Wow-and-Flutter (NAE, WRMS): 0.025%.
Signal-to-Noise Ratio (CrO2) Dolby C; on: 75dB.
Total Harmonic Distortion, 1 kHz, metal tape, Dolby level: 0.9%.

(adapted from: Audio magazine, Nov. 1984)
---
= = = =
Also see:
Harman/Kardon CD491 Cassette Deck (Equip. Profile, Mar. 1984)
harman/kardon cassette decks (Dec. 1978)
harman/kardon VCD1000 High Fidelity Audio/ Video Cassette Deck (Feb. 1985)
Kenwood KX-660HX Cassette Deck (April 1988)
Harman Kardon T65C turntable (Sept. 1985)