---
(Multi-page ad section from Audio magazine, Nov. 1986)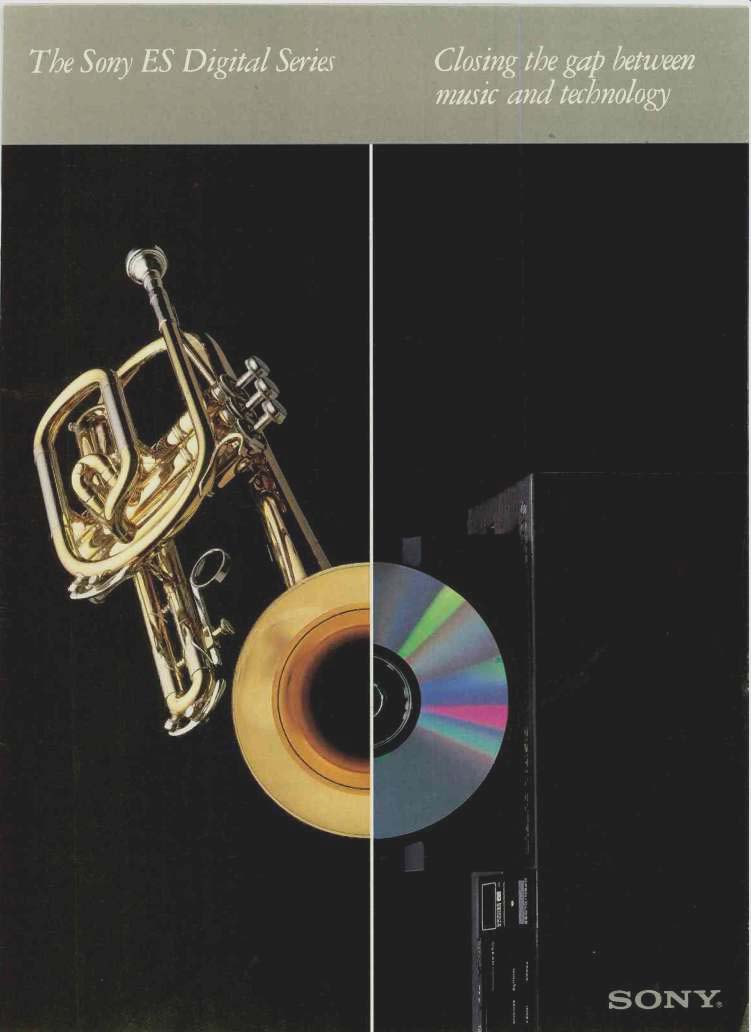 Closing the gap between music and technology
Once there was a goal that seemed only theoretically possible: the enjoyment of "perfect" music reproduction in the home environment.
Yet today, this goal is rapidly approaching reality due to the enormous impact made by digital audio technology.
But reality does not come easily. And in the world of digital audio, while many companies conduct basic research and development, only one company's engineers pursue this goal with absolute determination and zeal. Combining superior engineering with superb craftsmanship.
And always with an appreciation for music in its most faithful form.
These are the ES Digital engineers from Sony.
Engineers who refuse to compromise between technology, convenience and price.
Engineers who use their technical expertise as an expression of personal creativity, as they work further to narrow the gap between music and technology.
These are engineers whose successes have been measured not just in state-of-the-art technology, but in award-winning products. Including the industry's first digital PCM recorders, Compact Disc players and signal processing components.
Each ES digital component stands as a benchmark of uncompromising quality.
Because each represents an engineer's dream an achievement of a lifetime spent in pursuit of a musical reality.
The Sony ES Digital Series. Dedicated by the select few... to the select few who are truly dedicated .
CDP-520ESII--The Most Affordable ES Series Player
With a wide selection of playback options, including full programmability and multi function infrared remote control, the 520ESII incorporates the most sophisticated technology of any CD player at its price.
Technology like a unique, single-clock Unilinear Converter with 96th order digital filter that eliminates "beat" frequencies found in typical multi-clock oversampling designs; Envelope Differential Detection Servo control that "freezes" the laser pick-up when no tracking signal is present; and a high-speed Linear Motor that's built on a Cerasin chassis, to dramatically lessen the effect of both internal and external vibration on player performance.
"I tried to not only lower the amount of internal vibration, but also find ways to reduce the effect of external 'vibration on the player's overall sound. To resist external vibration, we developed a ceramic and poly-resin base material, along with a high-rigidity chassis. Then, to limit internal resonance, we created a new high speed linear motor drive system to replace the conventional gear-drive mechanism.
After completing our computer analysis and listening tests, we knew we had achieved an optical device that was properly isolated from both types of vibration. We were amazed at the improvement in sound, especially the vividness--and transparency."
- Yukio Onoe--Manager, Digital Engineering Modal analysis comparing vibration patterns of conventional chassis and Sony Cerasin chassis.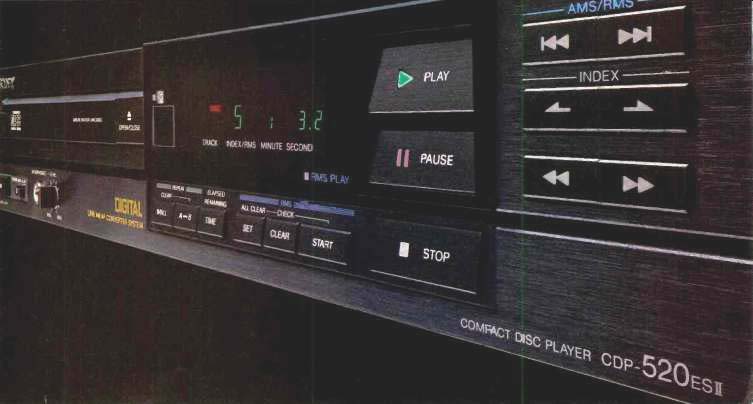 ------"The new Sony CDP-520ESII is an excellent example of the state of the art in CD players ... unquestionably a top contender in a crowded field, besides being a very good value for the money."
---
CDP-620ESII--Elegant as the State of the Art
The CDP-620ESII represents a new direction in Compact Disc player design, offering enhanced display features, one-touch Direct Music selection, and the convenience of remote control programming and line-out volume control.
Yet the CDP-620ES's elegant operation never overshadows its awesome technical and sonic capabilities.
Dual D/A Unilinear Converters and digital filters eliminate undesirable interchannel phase delay characteristics; the Linear Motor with Cerasin chassis minimizes internal and external vibrations; a new Optical Transfer circuit isolates digital data from noise generated in the analogue stage; and the remarkable Envelope Differential Detection Servo Control system maintains disc tracking under difficult playback conditions.
"Despite our success with all types of test discs, I was repeatedly frustrated in my attempts to design a tracking system that could play back badly scratched or defective discs without audible dropouts or mistracking.
Finally, we determined that an improvement in servo response would help to eliminate track jumping and skipping under poor conditions. So we designed a new servo detector that instantly freezes' the movement of the laser pickup when no RF signal is present. This provides faster recovery from large errors, and when listening, fooled even us into believing that the 'missing data' was still there!"
- Yukio Onoe--Manager, Digital Engineering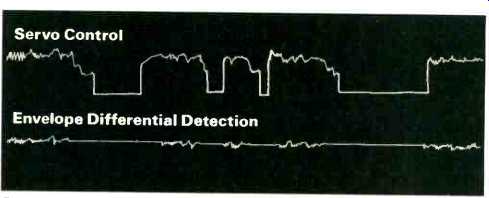 ----- Comparison of servo voltage signal recovery response between conventional servo control and Sony's Envelope Differential Detection system.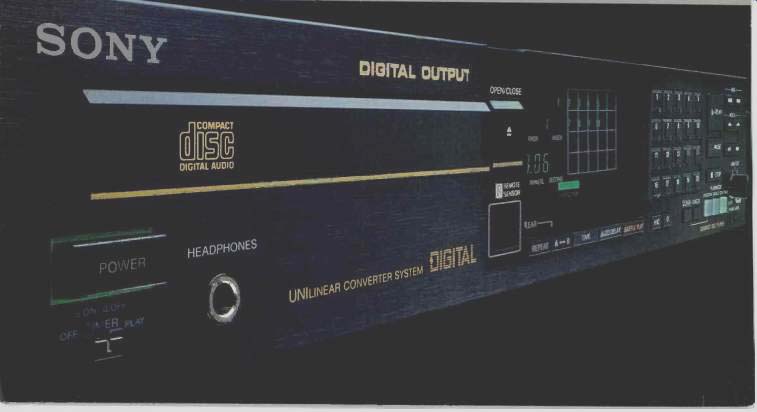 ---
CDP-650ESDII--The "Reference Standard" of an Industry
The remarkable construction and unprecedented performance of the CDP-650ESDII have garnered it more international acclaim than any other CD player of its time. It's also the world's first player to offer a digital output port, so that music "data" can be interfaced directly with other digital components of the future. And, of course, the most advanced Sony digital technology ever developed has been incorporated into every aspect of the 650ESDII's overall design.
But, there are other subtle, yet important, touches. Such as an anodized copper chassis that holds magnetic radiation to a minimum.
Low impedance solid copper busbars to offset electrical noise. Special insulation feet and high-compliance rubber bushings to reduce shock and insulate the player transport. And, the entire analog and digital circuitry is internally isolated via an Optical Transfer stage that avoids hardwiring to keep mutual interference at a minimum.
"In our research, we normally put the digital data through the D/A converter then the analog circuits. But when I tried to feed the data directly to the amplifier; I was surprised to hear music that seemed constricted and harsh. Therefore, it became very important to solve this problem so we decided to isolate the digital signal from the player's analogue section by transferring the data through optical means?"
- Y. Onoe--Manager, Digital Engineering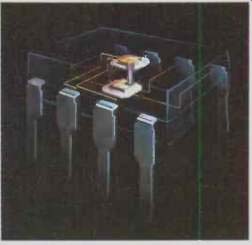 ---Illustration of Optical Transfer device that eliminates hard-wired connections between the analogue and digital circuitry stages.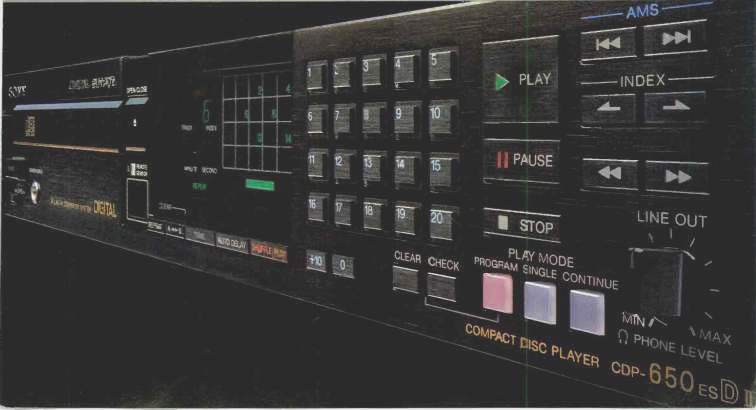 ---
SDP-505ES--The Next Step in Digital Sound Reproduction
In the future, every high-fidelity component will offer the benefits of digital sound reproduction. The SDP-505ES takes the next step as the world's first digital surround processor designed for consumers. It features five different digital delay modes, including Dolby Surround Sound. The 505ES also offers independent left and right channel adjustment between 0 and 90 m/secs, a built-in "pink noise" generator for level calibration; three delay memory presets and a built-in rear channel stereo amplifier.
The heart of the SDP-505ES is a new CXD-1079 digital signal processing IC, which creates a true digital delay line that is ideal for high definition reproduction of surround sound and ambience effects. Unlike analogue delay units, this is achieved with a 44.1 kHz sampling rate and full 16 bit linear quantization--the identical parameters as the Compact Disc system. As a result, the same wide dynamic range, low distortion, and uniform frequency response have been realized.
"In designing the delay line, I concentrated my efforts on the system's ambient noise level. During quiet passages, I wanted full attention to be focused on the front 'center stage', so that even the ringing of a tiny bell would be both dramatic and startlingly realistic. To do this, it was imperative to reduce the ambient noise to the vanishing point. I knew this could only be accomplished through digital signal processing of the delay effect?"
- Teruhisa Ide--Assistant Manager ES Group


-------Input/output waveform comparisons between conventional analogue delay line and Sony digital delay processor.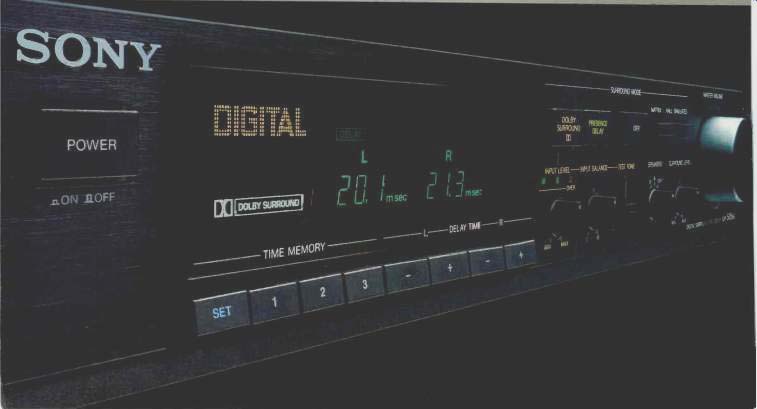 ---
DAS-703ES--The Digital Component of the Future

The DAS-703ES is an outboard digital converter that employs four different sampling rate systems to decode not just Compact Discs, but PCM processors and future PCM broadcasts and digital audio tape (DAT) recorders.
Because the 703ES performs its tasks without the restrictions imposed by chassis size, signal path integration, and heat generation, it can reproduce each of these digital sources with more depth, detail, and imaging than was ever before thought possible.
"I wanted the listener to be able to picture the entire sound field; the opera singer on the stage; the pianist's keyboard action; or the location of the soloing musician in a jazz ensemble. This should be the essence of digital audio, whether the sounds are direct or reflective; strong or delicate in nature. In most CD players we discovered that even a small amount of noise or phase misalignment can destroy this sonic balance. So, we used tremendous care in developing an outboard D/A converter that would overcome these limitations. For if the data on the disc is 'perfect,' then the D/A converter should strive for that same perfection.". . .
- Hiroshi Musaoka--Manager, ES Product Development
---
PCM-601ESD--Enter the World of Digital Recordings

The PCM-601ESD is the newest member of the most renowned family of digital recording processors. It provides 14 or 16 bit recording capability, along with Optimum Video Condition (OVC) circuitry to help correct for tracking and dropout errors.
The 601ESD is the industry's first con sumer digital processor to offer a unique input/ output interface. This allows both direct decoding of digital output-equipped CD players and serial data transmission between components.
"In analogue audio, each waveform is processed knowing the potential for sonic degradation. Since the dream of the recording engineer has always been to maintain consistently high performance through every link of the reproduction chain, the goal should always be keeping the music information digital, from the microphone to the speaker; without any analogue processing being introduced. The digital I/O port is the first step from the digital mixing session to the listening room."
- Hiroshi Masanka--Manager, ES Product Development
(adapted from Audio magazine, Nov. 1986)
Also see:
Sony's ES--Digital Audio (Sept. 1985)
Sony CDP-R1/DAS-R1 Compact Disc Reference System (ad, Jun. 1986)
= = = =