---
---

Handcrafted in the United States by dedicated, highly trained craftspeople.
McIntosh instruments are the best. Conservative claims and specifications are not only the philosophy of McIntosh but are a time proven tradition at McIntosh. McIntosh alone guarantees the advertised performance capabilities of each McIntosh, of your McIntosh, to further assure you that you own the world's best! "Rated with honesty and conservatism..." are the words of independent authorities when writing of McIntosh. Every performance requirement is carefully and diligently analyzed and verified using the latest, most sensitive test equipment following internationally recognized and accepted testing procedures. McIntosh refuses to indulge itself in performance claims and ratings that result from scientifically indefensible allegations. Every McIntosh must meet rigid demanding and meaningful performance standards.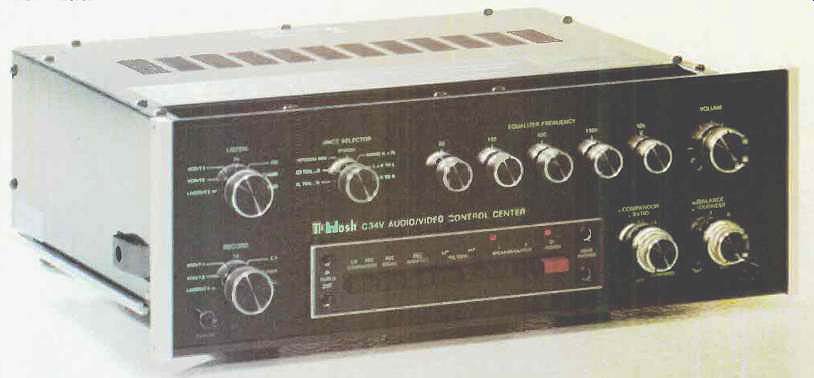 When you invest in your McIntosh you know you are investing in The Best! McIntosh is the ultimate in United States technology, United States design and United States manufacturing. McIntosh is at the very top of the scale of excellence. Each one incorporates the latest developments in electronic circuit components to give you the musical reproduction that you need. Whether music is live, digitally encoded, FM or AM in any format, analog, recorded from tape or compact disc, McIntosh is designed to reproduce with quality and without limitation.
Every McIntosh is designed, developed and manufactured to reproduce sound that is natural, sound that is authentic, sound that is pleasing, sound that is clear, sound that has full frequency dimensions, sound that has full space dimensions, sound that has life scale loudness dynamics, and finally, sound that is as close to a perfect copy of the original as possible.
Every McIntosh is designed by thinking, feeling human beings for the use of other humans. Human engineering, to make this equipment easy to operate, easy to maintain in new condition, easy to look at and a joy to own is at the basis of every design decision. We often use computer programming to solve complex mathematical problems to assist our designing. But we keep computer designing in its place. The final criteria are always determined from the ears, the eyes and the hands of discriminating, sensitive listeners.
Quality is a quantity of values. Reliability, long trouble free life, ease of mounting, ease of operation, repairability, and the highest standards of performance are the foundation for the McIntosh reputation for quality. The McIntosh reputation is one of the most highly prized in the world. This reputation is and has been the work of a group of completely dedicated people. Scientists, mathematicians, sound experts, technicians, craftspeople and every kind of worker combine together to make every McIntosh product capable of delivering its promise of ultimate value. This kind of dedicated cooperation is what has kept McIntosh in business, surviving some 70 other "also rans" in the last 40 years.
In each and every McIntosh is the promise of great musical moments in your home, when you need them, and wherever you need them. The McIntosh promise is supported by more than 31 patented inventions of outstanding achievement in stereo technology.
In this stack of McIntosh are: McIntosh MCD 7007 Compact Disc Player McIntosh MR 7083 AM1FM Tuner McIntosh C 34V Audio Video Control Center McIntosh MC 7270 Digital Dynamic Power Amplifier
**High Fidelity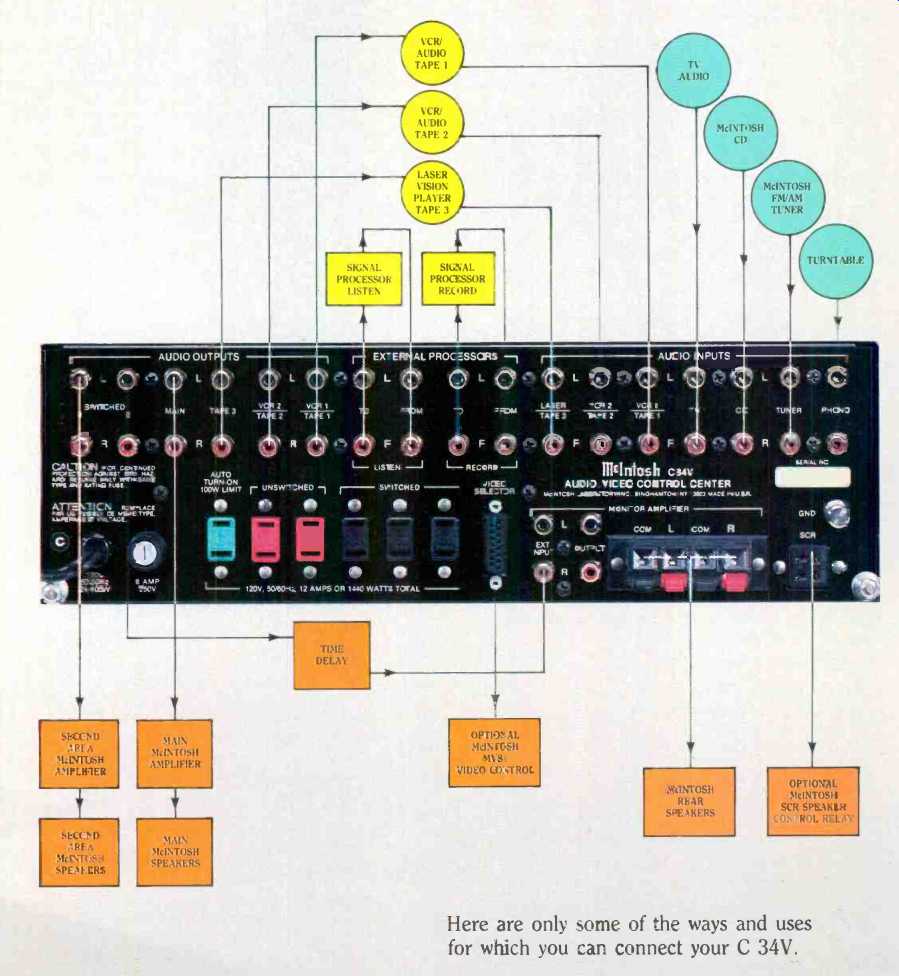 Here are only some of the ways and uses for which you can connect your C 34V.
MCD 7007 Compact Disc Player
The McIntosh MCD 7007 Compact Disc Player moves performance to a new pinnacle of technological achievement which delivers the highest quality music reproduction. Every aspect of performance is at the leading edge of technological development: focusing and tracking, decoding, error correction, digital filtering, digital to analog conversion. Even with dirty or damaged discs, even when the player is bumped or knocked, the music retains its surpassing purity. The full integrity of the sound is preserved beginning with the first track readout from the compact disc straight through to the gold-plated1connectors on the output.
Truly, the McINTOSH MCD 7007 Compact Disc Player sets superlative new standards for musical purity and enjoyment.
MR 7083 AM/FM Digital Tuner
Selectivity with the lowest distortion obtainable is one of the characteristics that make McIntosh tuners sound better. Providing accuracy of FM signal to the detector allows the extraction of a complete audio signal with the greatest freedom from interference at the lowest distortion of any tuner today.
The McIntosh MR 7083 tuner, taken as a whole, the Sensitivity, RF Selectivity, frequency synthesized tuning system, tuner signal to noise ratio. RF overload protection are all at the limits of achievement using the latest innovations, with exciting leadership in technology, circuits and components.
Designs for human beings require not only technical superiority, but human operational requirements as well.
Ease of tuning with presets for 8 stations is enhanced with a real tuning knob with automatic switching to manual tuning and an audio processor that enhances stereo or processes mono to give an aura picture that's more stereo like. These are just two examples, of engineering brought to its highest point with enhanced satisfaction for you when you operate and listen to the MR 7083.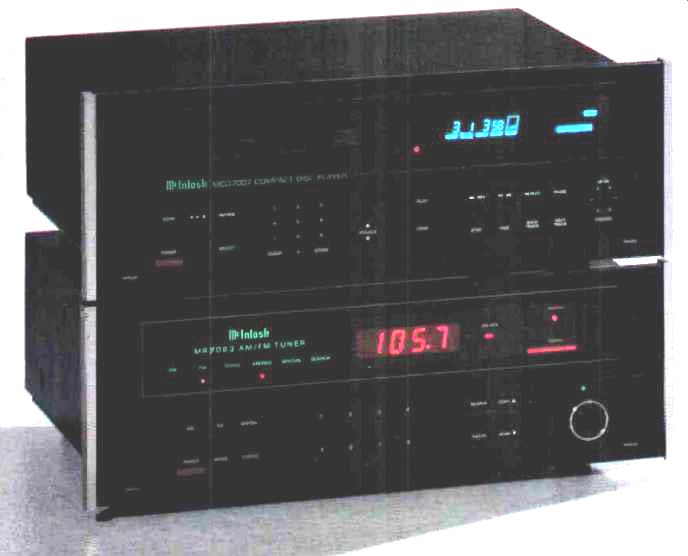 MC 7270 Power Amplifier
McIntosh not only promises performance, McIntosh delivers...270 watts per channel with all forms of distortion at the vanishing point. The advanced technology of a McIntosh is your assurance of technological superiority, long operational life and design integrity. For you,-McIntosh performance is satisfaction, McIntosh performance is pure sound.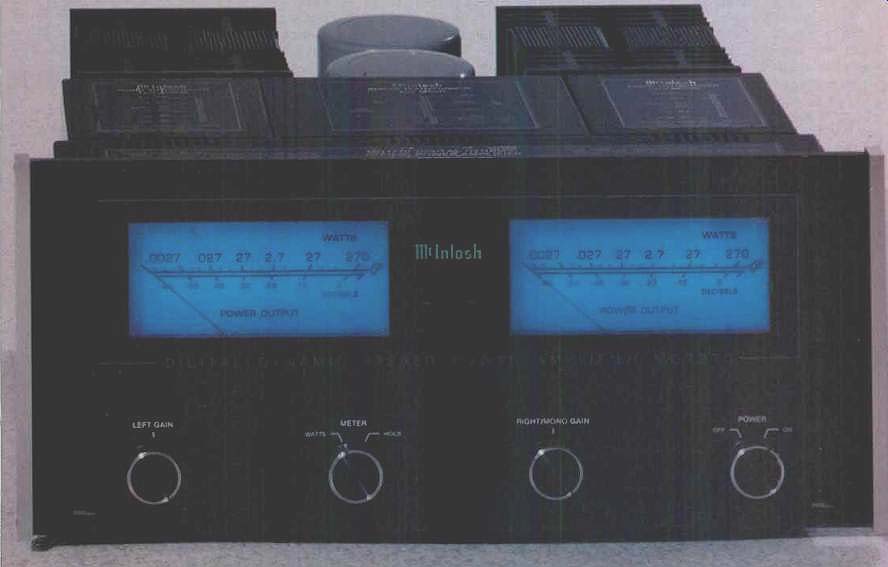 McIntosh performance is protection of your listening pleasures through creative engineering.
Among the many special McIntosh circuits are:
1. POWER GUARD
Protects your music to absolutely prevent the distortion generated from amplifier clipping (US Patent #4048573)
2. Sentry Monitor Circuit: Protects the amplifier from self destruction should there be component failure (US Patent #3526846).
3. True Power Reading Meters Electronics that overcome the natural time error introduced by ballistics and mass, of the meters (US Patent #3,783,399).
It is no accident that McIntosh amplifiers sound better.
It is no accident that a McIntosh is a better investment.
It sounds better
It is more reliable
It lasts longer
Its resale value is the highest
If good enough will do, there are at least 100 answers for you. But if the best is what you need, then there is only one real answer....
....the amplifier that in '40 years has outlived some 70 others who have simply faded away.
For information on McIntosh products and product reviews, please send your name, address and phone number to:
McIntosh Laboratory Inc.
Department A110, PO Box 96 East Side Station
Binghamton, NY 13904-0096
----------------------
(Source: Audio magazine, Nov. 1990)
Also see:
McIntosh -- Sounds Better (Nov. 1988)
= = = =