---
---
CONTENTS
---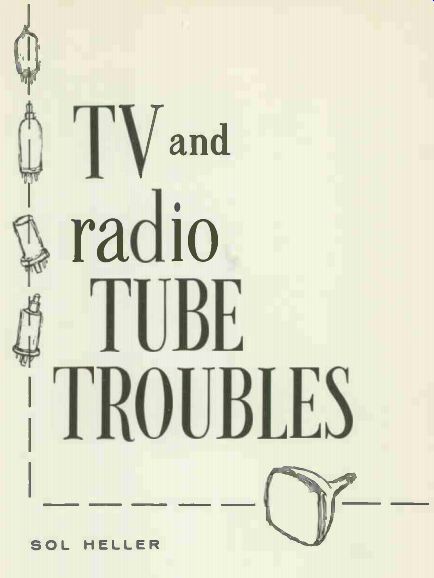 Introduction:
TUBE faults are, by far, the most frequent ones encountered by the TV-radio technician; he runs into them in perhaps 70% (and quite possibly more) of his service jobs. Even the best service technician not infrequently spends an undue number of minutes in localizing some tube defect; less experienced men may waste one or two hours in tracking down some tube-caused faults. The author recalls a case in which a service technician spent several hours in tracing a condition known as "Christmas-tree effect" to a weak video amplifier tube. It had just never occurred to the man to link this particular cause and effect together. Numerous similar in stances could be cited. This guide is intended to minimize such roundabout troubleshooting.
The reader will find here an organization of TV and radio tube troubles, both familiar and unfamiliar, into a handy form that permits fast reference to needed information. TV-radio service data form a peculiarly elusive body of knowledge in the average technician's mind; information he hasn't used for some time is quite likely to slip away and be missing when it is needed most.
This guide is intended to act as a memory guide with respect to tube troubles when fast refreshing is needed. The author hopes that even advanced service technicians will find material here with which they are unfamiliar.
A guide of this type should prove most valuable for less experienced service technicians and beginners. The outside service technician with a sketchy technical background will find it very helpful; so will the shop owner or manager who wants to train--or increase the efficiency of--a home service technician.
The intent of the guide is not only to speed tube troubleshooting directly--it also aims to do so indirectly, by presenting a wealth of service data about tubes. The author knows of no other book, incidentally, that covers this territory.
The author and publishers acknowledge with thanks the cooperation of the following companies during the preparation of this book: Admiral Corp., DeWald Radio Mfg. Co., Allen B. DuMont Laboratories Inc., Emerson Radio & Phonograph Corp., General Electric Co., Hoffman Electronics Corp., The Magnavox Co., Motorola Inc., Packard Bell Electronics Corp., Philco Corp., RCA, RADIO-ELECTRONICS Magazine, Radio dr Television News, Sylvania Electric Products Inc., Technician, Traveler Radio Corp., Westinghouse Electric Corp., Zenith Radio Corp.
-SOL HELLER
Soft cover design by Muneef Alwan; Cover design of the clothbound edition by Thomas Falletta
---
Also see:
Air Time--An Intro to Television Broadcasting