---
---
Adcom announces the cure for the common receiver.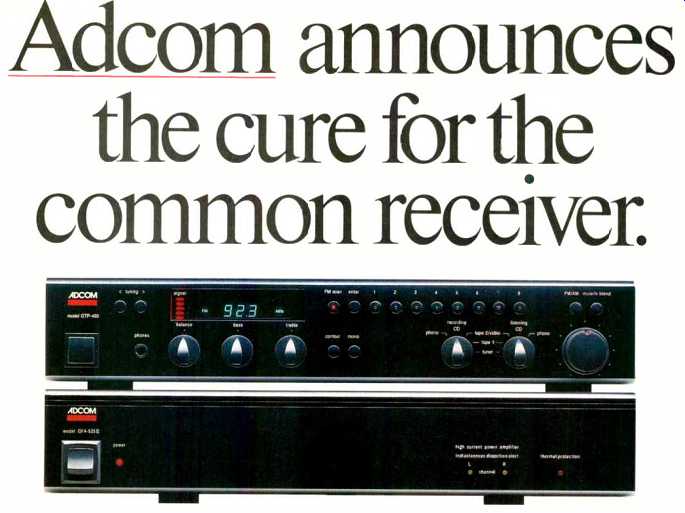 Today, there is no reason to compromise your favorite music by listening to a common receiver. Because the Adcom GTP-400 tuner/ preamplifier with GFA-535 (60 watts per channel)* amplifier gives you all the benefits of Adcom's legendary clear, dynamic sound for a price close to that of an ordinary receiver.
Why Separates?
The limited space in receivers prevents the use of heavy duty, high-current, high-voltage power supplies found in the best separate components.
Consequently, the performance of receivers is compromised for their questionable advantage of all-in-one convenience.
By dividing the tuner/preamplifier from the power amplifier, Adcom isolates low-current, low-voltage circuits from high-current, high-voltage elements ensuring sonic purity and demonstrably superior performance.
More Sound--Less Money
Many of Adcom's components have been favorably compared to other components costing two and three times more. The GTP-400 with GFA-535 is a combination that promises to keep faith with this tradition of offering superb performance at a reasonable cost.
The price of these Adcom separates is close to that of an ordinary receiver. But no receiver will deliver the wide dynamic range and musical satisfaction of an Adcom system.
Ask your Adcom dealer for a demonstration of these affordable separates. You'll never listen to a common receiver again.
*Power output, watts/channel, continuous both channels driven into 8 ohms, 20 Hz 20 kHz <0.09% THD.
--details you can hear--

Elkins Road, East Brunswick, NJ 08816, U.S.A.
(908) 390-1130
= = = =
Also see:
Adcom GFT-2 AM/FM tuner (Jun. 1983)