---
---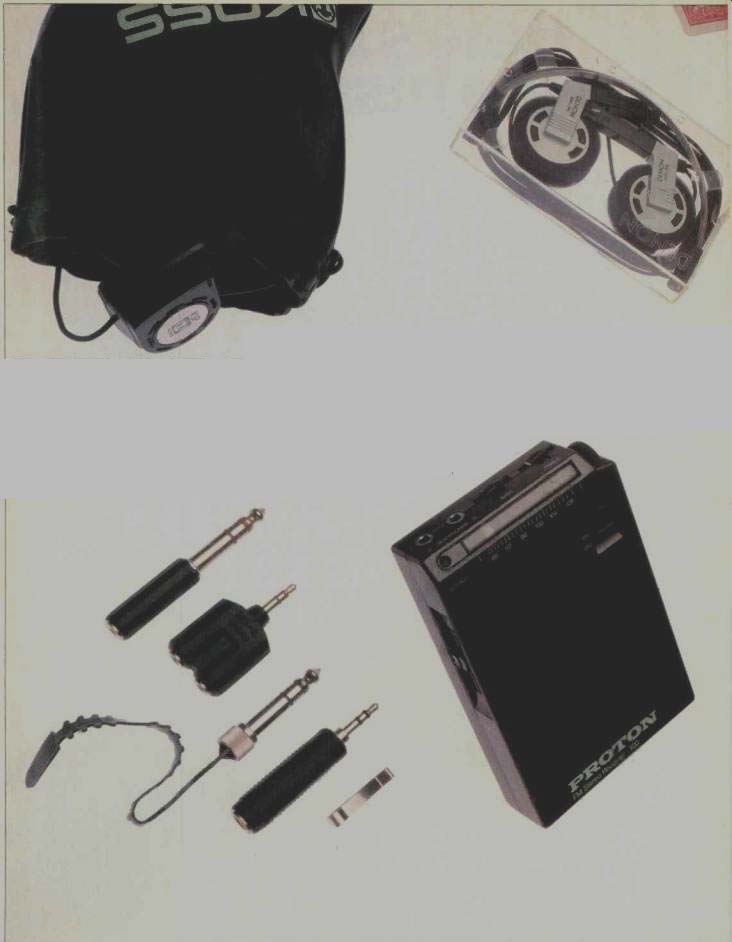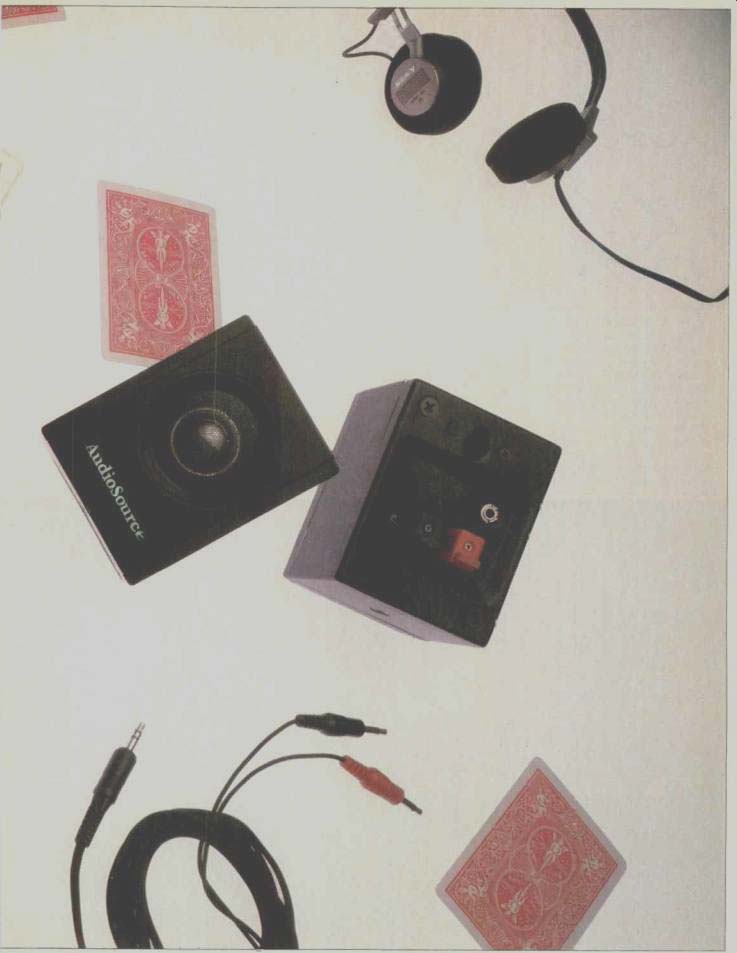 ANDREA LYNNE HECKER
Pictured here is a selection of accessories for use with your lightweight headphones; the Proton FM stereo receiver is representative of all the minis which can use these items (explained overleaf).
1. The Koss Sound Partner is "in the I bag," its own leather-like pouch.
You can see the headphones peeking out, and they are constructed to collapse into a small circle with a hook-closing, making the unit secure, while the pouch protects the headphones from dirt.
2. The Denon AH-P5 Pocket Headphone uses a folding design. Two flicks of the wrist, and the phones change from flat to fully extended. They are housed in a clear plastic box, the exact size and shape of a cassette box, providing safe storage and easy transport.
3. The Sony MDR 80 headphones can upgrade your personal portable. With its "look ma, one hand" design, they are easily adjusted with a slight push of one headphone-up tightens and down loosens.
4 AudioSource has small compact speakers that can be used with any mini, offering big sound. The LS-One comes with its own Y-connector harness (shown below the speakers [4A1), linking the speakers with your portable. I noticed that when used with the Proton, the speakers tend to drain the batteries quickly, so I suggest that you use an a.c. adaptor.
Adaptors come in many varieties, and items 5 through 8 are some of the most useful and innovative on the market.
5. Adapts from a mini jack to a standard phone plug, the type probably found on your receiver.
6. Adapts two mini jacks to one mini plug.
7. Sony's threaded adaptor is from a mini jack to a phone plug, with the threads insuring a solid connection. The notched plastic tail, with a threaded portion, allows the adaptor to be secured when not in use. Available from Sony with some microphones and headphones.
8. This adaptor is from a phone jack SO to a mini plug, allowing use of a regular headphone with a personal portable. Note that sensitivity variations can make this an unworkable combination.
9. Jerking phone wires can be eliminated with this clip by attaching the wire to the clip and the clip to your lapel or other piece of clothing.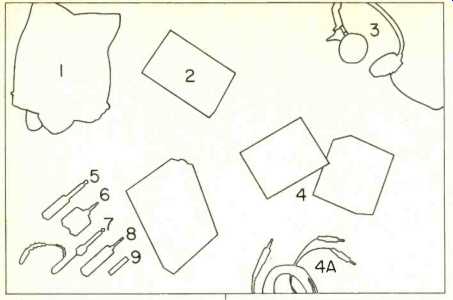 (Source: Audio magazine, May 1982)
Also see:
Headphones--How they Work (May 1982)
Headphones around the house (May 1974)
Headphones: History and Measurement (May 1978)
Illusions for Stereo Headphones (Mar. 1987)
A History of Binaural Sound (Mar. 1986)
Build a Stereo Headphone Amp (May 1983)
= = = =