---
---
Introducing the ADC 1700DD turntable. The quality begins with the tonearm...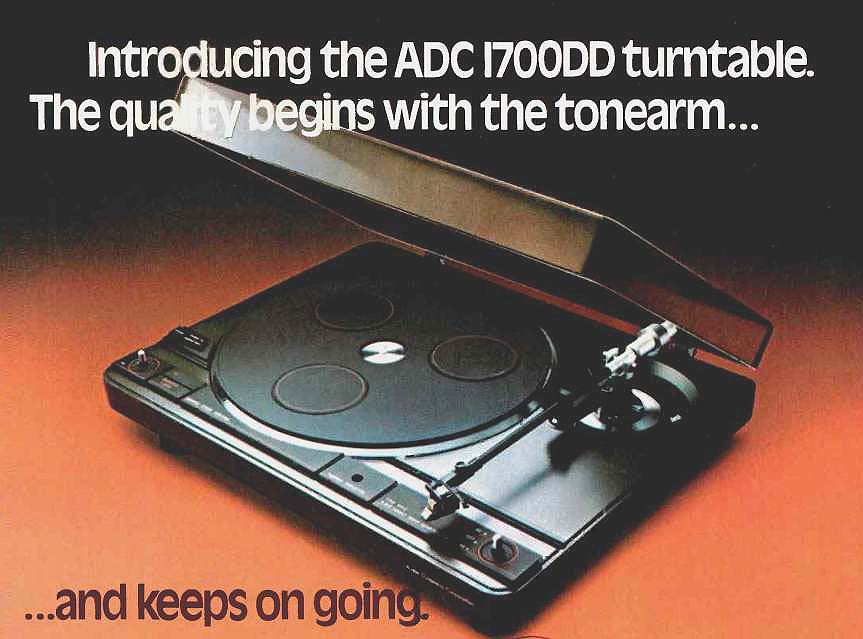 ...and keeps on going.
The tonearm you'll Find on the ADC 1700DD reduces mass and resonance to new lows. So the music you hear comes out pure and clean.
Our engineers have combined the latest advancements of audio technology to create the amazing 1700DD, the first low moss, low-resonance turntable.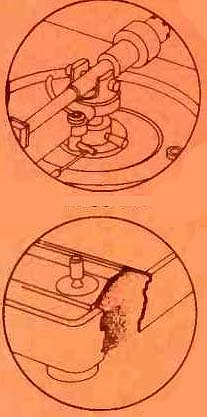 The famous IMF carbon Fibre tonearm was the model for the sleek black anodized aluminum tonearm found on the ADC 1700DD. The headshell is molded carbon Fibre, long known for its low mass to high tensile strength ratio. The viscous cueing is a gentle 4 mm/sec., and the tempered spring anti-skate adjustment is infinitely variable to 3.5 grams. The pivot system uses stainless steel instrument bearings, which are hand-picked and perfectly matched to both the outer and inner races for virtually frictionless movement. All this makes it the best tonearm Found on an integrated turntable.
The base on the ADC 1700DD turntable is constructed of a highly dense structural foam which absorbs and neutralizes resonance and feedback. The speed selection control s on electronic microswitch which will respond to your lightest touch.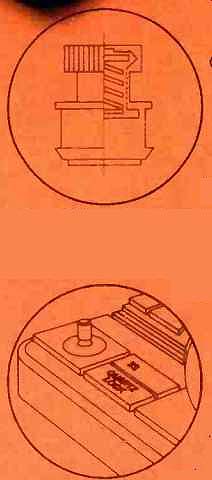 Supporting this resonance-cancelling base are energy absorbing, resonance-tuned rubber suspension feet. These suspension Feet help to stabilize the base while con trolling resonance.
The motor in the ADC 1700DD is also present standard of excellence: Direct Drive Quartz Phase-Locked Loop. A quartz crystal is used in the reference oscillator of the motor. An electronic phase comparator constantly monitors any variance in the speed, making instantaneous corrections. Even when out of the Quartz-Locked mode, the optical scanning system keeps drift at below 0.2%.
Wow and flutter are less than 0.03%. Rumble is an incredible -70dB Din B.
The result of all these breakthroughs is pure, uninterrupted enjoyment.
We invite you to a demonstration of this and the other remarkable ADC turntables at your nearest franchised dealer.
Or write for further information to: ADC Professional Products, a division of (BSR Consumer Products Group, Route 303, and Blauvelt, N.Y. 10913.
Distributed in Canada by ASA ( Canada) Ltd., Ontario.


A-D-C-- ADC. We build breakthroughs.
(Adapted from: Audio magazine, Sept. 1979)
Also see:
ADC Model 1700DD Semi-Automatic, Quartz-Lock Turntable (Dec. 1979)
ADC 1700DD turntable (ad, Nov. 1978)
ADC cartridges (Oct. 1977), ADC tonearms (Sept. 1978)
= = = =