---
---
1976: ADC CLAIMS THE XLM MK II SHOWS "NO PERCEIVABLE WEAR OVER THE LIFE OF A RECORD" AND PROVES IT.
1977: ADC CLAIMS THE NEW ZLM WITH THE ALIPTIC STYLUS HAS EVEN LOWER WEAR AND BETTER PERFORMANCE. AND PROVES IT AGAIN.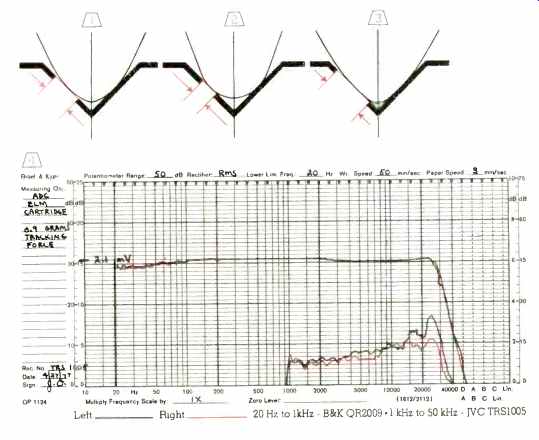 above: [1], [2], [3], [4], respectively.

Introducing the ADC ZLM cartridge with the ALIPTIC [1] stylus systems. It's a revolutionary new cartridge design that has taken the state of the art a giant step closer to the state of perfection.

Because of last year's XLM MK II record wear test results, we confirmed our thinking on how to design the perfect stylus tip shape. It combines the better stereo reproduction of the elliptical [2] stylus shape with the longer, lower wearing, vertical bearing radius of the Shibata [3] shape. The result is our revolutionary new ALIPTIC stylus.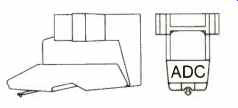 And that's only the beginning.
The ALIPTIC shape is polished onto a tiny .004" x .008" rectangular nude diamond shank, which has reduced the tip mass of the XLM MK II by an incredible 50%. This tiny stone is mounted on our new, tapered cantilever, which reduces effective tip mass even further.
The XLM MK II tests also proved the importance of tip polish in reducing record wear. So the ZLM is polished with a new, more expensive, more effective patented polishing method.
The ADC XLM MK II has long been known for its uncolored, true sound reproduction. The ZLM goes even further. Sound reproduction is completely open and spatial. And individual instrument placement can now be identified with even greater ease.
The ZLM tracks between 1/2 and 1.25 grams. Frequency response is ±1dB to 20kHz and is flat to even higher frequencies; out to 26kHz ± 1-1/2dB. As you can see, by reducing the tip mass even further, we've come closer to the ultimate in pure sound reproduction. To prove it, every ZLM comes with its own individual frequency response curve [4], signed by the ADC technician who tested it.
This means that the ZLM cartridge will reach every sound lying dormant in your records, transmitting them faithfully through your hi-fi system without altering the sound or the health of your records.
Not only do we think the ZLM is one of the most exciting cartridge designs to come along in years, but we can prove it.
Superior performance we can prove.

A-D-C-CARTRIDGES -- A BSR COMPANY.
Audio Dynamics Corporation, Pickett District Road, New Milford, Conn. 06776, USA.
(Source: Audio magazine, Oct. 1977 )
Also see: ADC cartridges (Mar. 1975)
= = = =